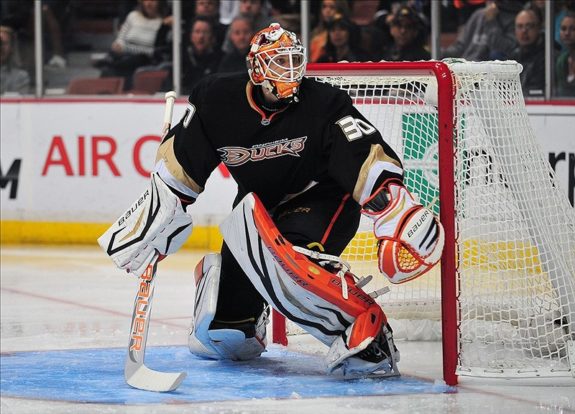 The NHL trade deadline – or as I've creatively renamed it, 'Christmas Two' – is usually more hype than substance. After all, us Canadians see it as the second coming of a primo holiday (at least I do), which is tough to live up to. Growing up, I'd have a plethora of excuses ready to miss a day of school so I could plant myself in front of TradeCentre for eight hours.
But this year's deadline day certainly lived up to the excitement with big names like Martin St-Louis, Marian Gaborik, Thomas Vanek, Matt Moulson, and Roberto Luongo changing area codes.
All 30 NHL rosters are set for the remainder of the season. Each team's brass has transitioned from hockey architects to hockey cheerleaders as the 3pm deadline passed on Wednesday. GMs can only observe and evaluate what their roster does until season's end.
The big winners, or teams that seemed to have improved with the flurry of transactions, would be the teams that got the big names. So Montreal, St. Louis, and Los Angeles are the deadline giants of 2014.
After numerous deadline days and deals though, it's usually the understated moves that end up being the most impactful. Trading for the biggest fish in the market doesn't guarantee an invite to the party – the NHL playoffs – or any guaranteed success.
The Islanders traded a ton for Ryan Smyth in 2007 and only had five playoff games to show for it, after moving picks, prospects, and losing Smyth in the summer as  a UFA. The Pens snagged Marian Hossa a year later, but couldn't capture the Cup. And the Sharks picked up top offensive blueliner Brian Campbell that same year only to be knocked out in the second round.
Those were the biggest names at the deadline, and they yielded little return. In comparison, how about Carolina acquiring Mark Recchi in '06, who was a key leader in their Cup run while chipping in seven goals? Or Edmonton adding struggling goalie Dwyane Roloson a day before the '06 deadline, who went on to lead the eighth-seeded Oilers to the Cup Final against those same Canes?
The teams that have the most success at the deadline are the teams that have a good gauge on where their hockey club is, the level they can compete at, and if they can meet a certain expectation. Self-awareness is key. An example of not being self-aware, for example, is Garth Snow and the Isles. They misjudged their team throughout the whole year, mortgaging the future for Vanek in a deal only a contender should make. Snow's team has been exposed after 60 plus games, and ultimately ended up trading Moulson, a first round pick, and second round pick for Sebastian Collberg.
It's for these reasons GM Bob Murray and the Anaheim Ducks had the perfect deadline day.
What the Ducks Did: Needs over Wants
Despite being a major contender in the West, and watching L.A. and St. Louis load up at the deadline, Murray has an excellent gauge on his team and only made moves that were necessary. And anyone following the Ducks knew their two big needs heading into March 5th: an experienced top-four defenceman and to clear up the goaltending logjam.
Before Vanek was moved, there were lots of talks and rumors (naturally) that the Ducks were going hard for him, as well as some of the other top UFA forwards.
Ducks very much involved in talks for the big boys… Vanek, Cammalleri, Kesler, Moulson. They are poised to get one.

— David Pagnotta (@TheFourthPeriod) March 5, 2014
That was a bit perplexing, as the Ducks already possess a deep and diverse top-nine and have no troubles scoring – they sit second in the NHL averaging 3.22 goals per game.
Murray kept focused, and thanks to understanding and properly evaluating his team, made moves that were needs as opposed to wants, similar to the Recchi and Roloson deals.
The Ducks defense have done an excellent job this year, as the hodge-podge group of blueliners have played steady and reliable in front of star goalie Jonas Hiller. Ben Lovejoy is a completely different player, Hampus Lindholm has been a rookie revelation, and Cam Fowler emerged as a legit two-way minute muncher. The problem is experience.
Not including veteran stalwart Francois Beachemin, the Ducks' top six defense only has 52 combined games of post-season experience. Fowler and Lindholm are incredibly young still, and it would be asking a lot for them to take on the high-powered Hawks or the punishing Blues in a long series.
Enter Stephane Robidas. Picked up for a mere fourth-round pick from the Dallas Stars, Robidas is the perfect veteran addition to the backend. The 14-year NHL veteran has 44 playoff games under his belt and is comfortable in a leadership role. His steadying influence will be invaluable when playoff time rolls around. Though he's injured right now, Robidas plays both ends of the ice effectively; he has a booming shot, which he can unleash on the second PP unit, and loves to play the body. This is the Recchi-type deal that is understated but should ultimately be effective.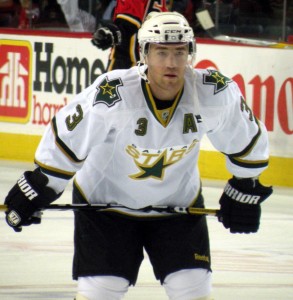 The Ducks other pressing need was clearing up the goaltending conundrum. With Hiller as the undisputed number one, Anaheim still had two quality backups in Viktor Fasth and Frederik Andersen. Not to mention super goalie prospect John Gibson, who could be NHL-ready next season, and the rapidly improving Igor Bobkov who currently backstops the Norkfolk Admirals.
Though Murray didn't get much for last year's rookie sensation – remember Fasth was 15-6-2 with a .921 SV% and 2.18 GAA last year – only a couple of mid-round picks, but he cleared the $2.9M/year in salary, which is steep for a backup. Andersen, who makes $1M and $1.3M the next two seasons, is a cheaper option with Gibson even cheaper still as he's on an entry-level deal.
The Ducks had a ton of cap room to work with, but in the end only took an additional $400K in salary between adding Robidas and subtracting Fasth. Regardless of the extra space, Murray had the self-awareness and gauged his club diligently, understanding he didn't need the extra cap room to improve his hockey club. Instead, he addressed his team's needs and didn't get sucked into the frenzy despite his Western rivals loading up.
So the Ducks didn't have the exciting, high profile deadline day like the other contenders. But it's hard to argue that they didn't have the perfect deadline day for their club.