If I was still the back up I coulda came in and mopped this game up nicely…..

— Strombone (@strombone1) March 7, 2014
Roberto Luongo wasted little time sticking it to his old team.
Let's just hope Lu doesn't get torched in his Panthers debut, because that would just be awkward. [The Province]
Meanwhile, how did the Canucks go from President Trophy winners to complete tire fire so quickly? [Puck Daddy]
Is John Tortorella the right man to coach this team? [Vancouver Sun]
Many people believe the majority of Wayne Gretzky's records will never be broken. But some can be, as rookie Nathan MacKinnon just demonstrated. [Toronto Sun]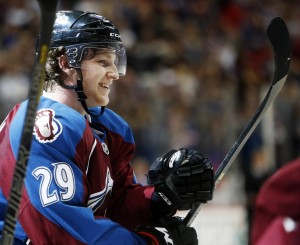 Steven Stamkos made his return to the ice, with a fresh C on his jersey. [Toronto Star]
How will the Lightning fare without Martin St. Louis? Will Ryan Callahan replace the heart and soul? [Raw Charge]
The surprise trade of the deadline was Tomas Vanek to the Habs. [Montreal Gazette]
How does Garth Snow still have a job? [Forbes]
Is the recent criticism of Sidney Crosby justified? [Pensburgh]
And finally, some footage of Nick Lidstrom's number being retired. [NHL]
Marcy, a former hockey player, is a hockey correspondent on CTV News and TSN radio. She began her career as a Sports Journalist in 2009 and has been part of The Hockey Writers since 2010, where she is currently a senior writer and editor.