Current PairWise Rankings, as of March 7 (via USCHO.com):
1. Minnesota
2. Wisconsin
3. Clarkson
4. Cornell
5. Boston College
6. Harvard
7. Robert Morris
8. Mercyhurst
9. Quinnipiac
10. North Dakota
T-11. Boston University
T-11. Minnesota Duluth
13. Syracuse
T-14. Northeastern
T-14. Ohio State
16. Princeton
17. Vermont
ECAC Championship
Semifinals (Saturday, March 8):
#1 Clarkson (27-4-5) vs. #4 Quinnipiac (22-5-9) (1 p.m. EST)
#2 Harvard (23-5-4) vs. #3 Cornell (22-5-4) (4 p.m. EST)
Championship Game: Sunday, March 9 at 1 p.m. EST
Clarkson swept Dartmouth with a pair of 2-0 wins last weekend to move on to the semifinals here against Quinnipiac. Golden Knights forward Jamie Lee Rattray was just named a top-three finalist for the Patty Kazmaier Award. She'll be a crucial part of their offense this weekend, and Carly Mercer and Brittany Styner will help her lead the offensive effort. Clarkson hasn't lost a game since falling to North Dakota on Dec. 6. They've separated themselves as the ECAC's best team and two big reasons for that are the conference's best defense anchored by Erin Ambrose and Vanessa Plante, and Erica Howe's excellent goaltending. Clarkson doesn't have the most explosive offense but they do have multiple contributors up front, and are the deepest team in the ECAC at all positions.
The Golden Knights had the edge over the Bobcats in the regular season, posting a 1-0-1 record against them. Quinnipiac has had a tough second half of the year after earning national recognition over the first couple of months. But they swept St. Lawrence with a 5-1 win and a 2-1 win last weekend in the quarterfinals. Both Shiann Darkangelo and Kelly Babstock had a pretty good series, which is good news for the Bobcats' offense heading into this weekend. Whether or not they have the ability to play consistently well for a full 60 minutes is questionable, but they do have a few dynamic players who can change a game. Quinnipiac will need good performances out of top defenseman Cydney Roesler and goaltender Chelsea Laden if they want to upset Clarkson.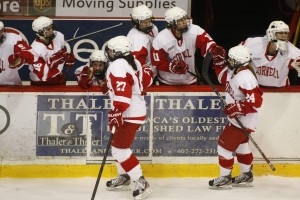 Cornell also has a top-three Patty Kazmaier Award finalist in forward Jillian Saulnier. They swept Princeton last weekend with a 3-2 win and 5-3 victory, but the Tigers put up a tough fight. The Big Red had to erase a 2-0 lead in the third period on Friday and were down 1-0 early on Saturday, but they came back to win both games. With Saulnier leading the way, Cornell has perhaps the best offense in the conference, but the team has had its share of defensive mishaps this season, and goaltending hasn't been the most stable. Still, if they can make sure they score goals, they'll have a great chance of getting past a thinner Harvard team.
It took three games and a double overtime winner, but the Crimson scraped past Yale last week, winning the series two games to one. Harvard fell to the Bulldogs in the first game of the series 3-2 in double overtime, and it took two extra periods again for them to stay alive with a 3-2 win on Saturday. They clinched a birth in the semifinals with a solid 4-0 win on Sunday. The Crimson really don't have a lot of depth, but their top players have come through all season and they continued to do that last weekend. They're going to continue to rely heavily on Miye D'Oench, Hillary Crowe, Samantha Reber, and Sarah Edney, and will need good performances out of those four in order to get past Cornell.
Hockey East Championship
Semifinals (Saturday, March 8):
#1 Boston College (26-5-3) vs. #4 Vermont (18-13-4), 1:30 p.m. EST
#2 Boston University (22-12-1) vs. #3 Northeastern (19-13-2), 4:30 p.m. EST
Championship Game: Sunday, March 9 at 1:30 p.m. EST
Boston College advanced to the semifinals with a big 8-1 win over last-place New Hampshire last weekend. The Eagles were led by a two-goal, five-point outing from standout forward Haley Skarupa, who will be a key player for them the rest of the way. Boston College has come a long way since an inconsistent start to the year, and have looked a lot better in the second half with the exception of a 2-0 loss to Connecticut. Emily Pfalzer has quietly improved all year, which has helped out their blue line a lot. The Eagles are much deeper up front than the Catamounts, but they still need to make sure they execute and stay sharp defensively.
Vermont skated past Maine last weekend in an exciting 3-2 win in triple overtime to move on to Cape Cod. The Catamounts had a 2-0 lead in that game after the first period and dominated the first 20 minutes, but Maine looked a lot better over the next two periods and tied it with two goals in the third. Vermont's got a solid amount of talent in Amanda Pelkey, Brittany Zuback, Victoria Andreakos, and Dayna Colang, and though this is by far the best season in their program's history, they still haven't really stepped up to become one of the conference's top teams. That being said, a big game from Roxanne Douville in net and a concerted defensive effort would help them slow down Boston College and greatly improve their chances at a win.
Boston University has tailed off over the past couple of months, going 8-9-0 since the start of January. They ended the regular season getting swept at the hands of the Eagles, but got past Providence 3-2 to advance last weekend. Besides Sarah Lefort and Louise Warren, the Terriers haven't been able to find too much consistency scoring, though freshmen Maddie Elia and Samantha Sutherland have had good rookie seasons. They'll need a big game out of top defenseman Kaleigh Fratkin, and more than anything they need to have a strong game for a full 60 minutes.
Northeastern's second half of the season has been the polar opposite of BU's; they've gone 12-3-1 since the new year and vaulted themselves back into serious Hockey East contention. They pulled off a dramatic win over UConn last weekend, tying it with 2:24 remaining in regulation and then scoring the game-winner with just 1:01 left. The Huskies don't have a whole lot of star up front, but they do have a number of forwards who have been able to chip in this year. They've also got a pretty well-rounded defensive corps with Colleen Murphy, Sonia St. Martin, Maggie Brennolt, and Heather Mottau, and a steady performance on the back-end will come in handy this weekend.