Ducks trade Jiri Sekac to Blackhawks for Ryan Garbutt
The Anaheim Ducks trade forward Jiri Sekac to the Blackhawks for forward Ryan Garbutt. This is the third week in a row that Ducks GM Bob Murray makes a trade. The Ducks acquire a true bottom six player that can be a staple on one of the bottom two lines for a player that was only used sparingly throughout this season.
BREAKING: #NHLDucks acquire LW Ryan Garbutt from Chicago in exchange for LW Jiri Sekac. https://t.co/7rTmMGE8uB pic.twitter.com/VADI0zQrX8

— Anaheim Ducks (@AnaheimDucks) January 21, 2016
Sure the Ducks have trouble scoring, but Sekac couldn't find his way into the lineup with any regularity. He's an offensive player that cannot play on a checking line. The trade fills a need for the Ducks to add more grit and size to the third or fourth line.
Who Gets What
Ducks Get:
C, RW, LW Ryan Garbutt, 30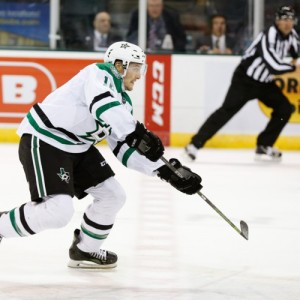 The Edmonton native joins his third team in his career, ending last season with the Dallas Stars. He is a rough-and-tumble kind of player that can throw his weight around, amassing 94 hits in 43 games this season. He can chip in offensively once in a while even though he's had a bad year on that front with only six points. In his last two seasons in Dallas, he showed his worth on offence with 17 goals and 15 assists in 75 games in 2013-14, and eight goals and 17 assists in 67 games last season.
Being 6' and 195 lb., Garbutt's body type fits the role the Ducks are looking to fill a lot more than Sekac and his slender size can. He can play on the penalty kill and take a bit of pressure off of Kesler and the boys. Where he really excels though is on the forecheck. The man works hard and is relentless at retrieving the puck from the corners. Garbutt has a cap hit of $900,000 for this season and the next, as the Hawks are retaining half of his salary. He then becomes an unrestricted free agent.
Blackhawks Get:
LW Jiri Sekac, 23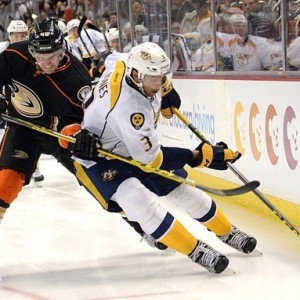 Already on his third team in not even two seasons, Sekac leaves the O.C. for the Windy City. He started off his NHL career in Montreal, where GM Marc Bergevin was able to convince him to join the Habs from HC Lev-Praha of the KHL. A dozen teams were after his services.
This doesn't bode well for a player that went undrafted and traded twice already. But the Blackhawks have been able to resurrect seemingly finished careers before. Take Brad Richards for example. The Blackhawks are back into championship form. They're a crimson tide of destruction. Sekac is going to have to get on that wave or he's going to sink as he has for the Ducks this season.
At 6'1" and 185 lb., he has devastating speed and smooth hands that would serve well to the Hawks style of play. He was part of last year's All Star festivities showing his speed at the fastest skater competition.
He has 10 goals and 16 assists in 91 career games. A player of his talents needs to produce more and have his name on the scoresheet more often than not. Perhaps having Toews, Kane and the gang will help him with his game. This is the last year of his contract before becoming a restricted free agent. His cap hit is $925,000.
Who Wins This Trade:
As it stands, the Ducks win this trade because they picked up a player who can play every day in a bottom six role. However, Sekac has the opportunity to become a better and more productive player if he changes his attitude and becomes a sponge in Chicago. He needs to learn from the best. Calder Trophy favourite Artemi Panarin is the living proof of that.