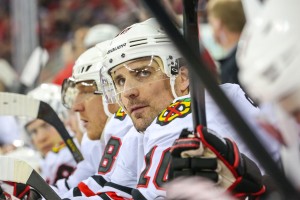 The 2014-2015 season is over, but that only means trade speculation will reignite as we draw closer to the 2015 NHL Entry Draft. This is a strange time for the NHL. Teams are finishing their evaluations of their season (unless you're the Chicago Blackhawks, then you're having a parade). Otherwise, teams are realizing who on their depth charts they need to keep, and those who have become expendable. The New Jersey Devils are no different, and like they did back at the 2013 draft, they once again can come out of nowhere and make a steal of a trade.
Bo Horvat had a nice rookie season for the Vancouver Canucks, but acquiring Cory Schneider has been one of the biggest steals in years. He had a .925 save percentage, a 2.26 GAA and five shutouts on a team that finished 28th in the league in goals-per-game. Horvat played in 68 games while finishing with 25 points.
Exploiting a Bad Situation
Now that was almost two years ago, but there are many situations around the league that the Devils can exploit. What made the Canucks so vulnerable was they were swept out of the playoffs in the first round by the San Jose Sharks, and their ex-general manager Mike Gills was under immense media pressure to figure out the goaltending saga of Roberto Luongo and Schneider. The draft that year was in New Jersey, which made it the perfect situation for Lou Lamoriello to pull the trigger on the trade.
Fast forward to 2015, and there aren't situations like the Canucks were in, but the Devils can still swoop in and make something happen either before or during the draft.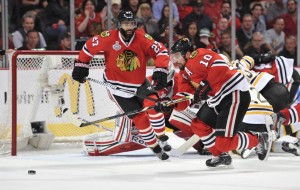 The most obvious choice that everyone in the league is looking towards is the team who just hoisted the Stanley Cup. Blackhawks general manager Stan Bowman is in a tough spot with Patrick Kane's and Jonathan Toews' $10 million plus contracts kicking in next season. Not only that, but the Hawks have to resign one of their core top-six forwards in Brandon Saad, who is primed for an offer-sheet, along with Marcus Kruger. Add in pending UFAs Michal Rozsival, former Devil Jonny Oduya, Brad Richards and Antoine Vermette, and the Hawks will be an interesting team to watch throughout the next two weeks.
The biggest member of the Hawks that has been in the news is 33-year-old Patrick Sharp. Sharp is so interesting because if the Hawks don't trade him, then they won't be able to re-sign half of the guys I just listed. Now, speculating on what the Devils may give up for Sharp is fruitless because nobody knows Chicago's asking price. One thing is for certain, though; it absolutely won't be the Devils' sixth-overall pick in the upcoming draft. The question though is would Sharp be a good addition on the Devils?
Patrick Sharp on trade speculation: "Blocked a lot of things out this year. It was a pretty unfair year, some of the stuff I was hearing."

— Mark Lazerus (@MarkLazerus) June 17, 2015
Absolutely. Sharp is a heck of a player, and he has burned the Devils in recent meetings. However, that's just if you're looking at solely next season. Any longer than that and the Devils risk losing the culture that they will be trying to build for this upcoming season. This is a team that needs to get younger, and that's a fact that the front office has finally embraced. The fans have called for this for the past few years, and if the Devils were to trade for Sharp, then they would be making the same old mistake they have made for several years now.
Other Prime Suspects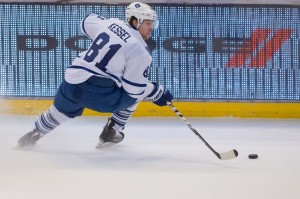 Phil Kessel of the Toronto Maple Leafs is another player I'm sure the Devils are looking at. Kessel is a far better player than Sharp, and he's also six years younger. The $8 million dollar price tag is tough to wrap your head around, but it's not like the Devils don't have the cap room to make it happen. Getting Kessel will come at a very high price, and if it were to happen at the draft, it would cost the Devils at least their top pick; a top defensemen like Adam Larsson or Damon Severson and a prospect, for example. Would Ray Shero take a gamble on something like that? Probably not. However, there is always the chance that Shero comes out of nowhere and makes a trade nobody is expecting.
The last guy I wanted to mention is Ryan O'Reilly from the Colorado Avalanche. He's being paid over $6 million and his relationship with Avalanche management isn't the greatest. It's almost a certainty that he will be traded. It's another situation where the Devils could jump in and nab a solid No.2 center. They already have Travis Zajac and Adam Henrique at center, but Zajac has proven incapable of producing points over the past couple of seasons. A trade is unlikely, but if Colorado's situation only worsens, then there's always a chance.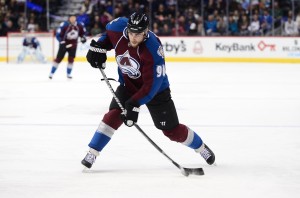 Nobody knew what the Devils were plotting with Lamoriello at the helm, which allowed them to come out of nowhere in the Schneider trade. We are in an age with social media that makes it very difficult to hide information, and rumors can spread like wildfire. The Devils are no Penguins, and even though Shero is the general manager, there's no doubt in my mind that Lamoriello is patently bidding his time to strike … and that time is close.
Subscribe to our Devils stories to get email updates every time a new story is published.
Corey Spina is a New Jersey Devils staff writer for The Hockey Writers. You can follow him on Twitter, @CSpinaTHW.