In the world of Poker, the term "on tilt" describes the reckless and undisciplined actions of a player who's suffered tough luck at the table. In comparison, the Philadelphia Flyers did just that in their opening game against the New York Rangers. And although the Flyers entered the playoffs as the NHL's most penalized team, their lack of discipline in Game One suggests that they are the player at the table that is already on tilt.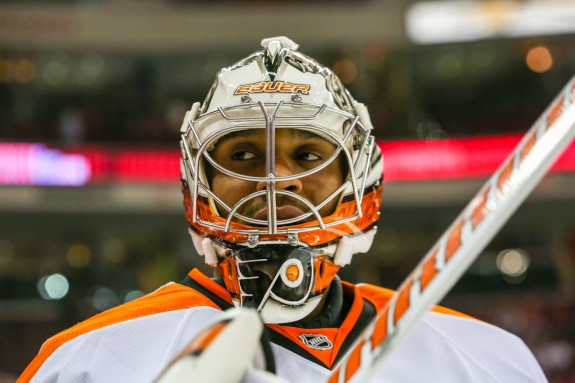 Penalties, Penalties, & More Penalties
While it's well known that the Flyers were the most penalized team in the league throughout the regular season, it should come as no surprise that they trail only the Tampa Bay Lightning for the most penalty minutes. And before thinking the Flyers are going in the right direction in the discipline department, Tampa Bay's lead for time in the sin bin comes with two games played to Philadelphia's one.
In Thursday's 4-1 loss to the Rangers, the Flyers were penalized four times in the third period; and although the Flyers have countered their numerous penalties over the course of the season with the NHL's seventh best penalty kill, these penalties changed the complexion of the game, and possibly series.
"That bothers me," said Flyers coach Craig Berube when asked about his team's collection of third period penalties. "There's no reason for it. You've got to control your emotions. You've got to stay in check. We don't need that. (Brayden) Schenn's penalty, I thought he got crosschecked, too, and it could have gone either way."
Schenn's cross checking penalty was his second penalty of the game, and the team's fourth in the third period. The Flyers committed two high-sticking penalties, which included their most costly offense, a Jason Akeson double-minor. While Akeson unintentionally whacked New York's Carl Hagelin in the face, the contact drew blood from Hagelin's lip, resulting in a four minute power play chance for the Rangers.
"I went to hit him and my back leg kind of swung out," said Akeson after skating in his first career NHL playoff game. "I don't know what happened, I think I got hit or something, and my stick came up. It was obviously unfortunate, but it happened."
On Tilt At MSG?
Before Akeson's double-minor, the Flyers and Rangers were deadlocked in a 1-1 third period tie. But since Andrew MacDonald opened the scoring at the 7:28 mark of the first period, the Flyers struggled to create any legitimate scoring chances. Philadelphia mustered up only a single shot on goal in the third period, giving New York their second lowest shots against totals in a playoff third period.
Claude Giroux no shots on goal tonight. 3rd game in a row vs Rangers without a shot. Flyers have lost 9 straight at MSG.

— John Steigerwald (@Steigerworld) April 18, 2014
Giroux, Hartnell, and Voracek combined for only 2 shots on goal. Not gonna win very many games that way #Flyers

— Brady Trettenero (@BradyTrett) April 18, 2014
"We didn't get a lot of shots but we did a lot of good things," said Flyers captain Claude Giroux. "There's a reason why there are seven games. We'll see what we did wrong and we'll be ready for Game 2.
"We're going to be fine. It's not time to hit the panic button. It's only one game."
While it's true that it takes four wins to move on, the Flyers appeared to have already hit the panic button, coming completely unglued with their four third period penalties. With eight shots on net in the second period, the Flyers were massively outshot by a 36-15 margin throughout the entire contest. When Giroux and his teammates "see what they did wrong," they'll have to look no further than their undisciplined play, which was caused by unadulterated frustration.
Since winning at Madison Square Garden in March of 2011, the Flyers extended their winless streak in New York's building to nine straight. After losing complete control and finding themselves down multiple goals, the Flyers allowed the MSG aura and the turn of events to get under their skin. With the Rangers holding home ice advantage, the Flyers have to find a way to pull out a win at MSG and they know it.
"A loss in Game 1 puts a lot of pressure on Game 2 because as tough as the 0-1 deficit is, it obviously only gets tougher down 2-0. The success rate then for teams down is 12.7 percent. Still not a death sentence on your season but that's tough sledding. The last time a comeback from down 2-0 happened, even in this era of "competitive balance," was 2010 when the Flyers climbed out of their 3-0 deficit to the Bruins." — CBS Sports
A Boost In Net?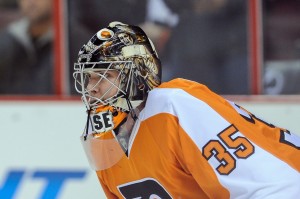 Although Claude Giroux's calm response to the Flyers' Game One loss exuded anything but a team on tilt, Game Two now unofficially becomes a must-win for the orange and black. With the threat of returning home in an 0-2 hole, the Flyers did receive some good news in goalie Steve Mason's expected return to the ice for Game Two. But unlike the history of goaltending woes, Ray Emery's performance in net was anything but the problem.
"He made so many big saves for us," said Flyers forward Wayne Simmonds. "We had a chance to win because of some of the saves he made. I don't think he had a chance on any of the ones that went in."
Although Emery finished the game with an .889 save percentage, the veteran backup kept his team in the game until Akeson's double-minor in the third. But with Mason's likely return for Game Two, Emery will more than likely have to get past his most recent loss from the bench.
"We come in here for two games, we have to get one," said Emery. "We would like to get one. We thought it might be that one, but I guess it'll be the next one."
If the Flyers continue to allow the Rangers to get under their skin, it won't matter who's in net. After all, a team on tilt is their own worst enemy.
"We've been a disciplined team all year long," said Rangers coach Alain Vigneault. "It shouldn't surprise anybody that we play whistle-to-whistle and a smart, hard game. It's been one of our strengths all year long and it's not going to change now."
While the Rangers didn't stray from their disciplined ways, the Flyers must break away from their usual undisciplined ways. If they continue to play as a team on tilt, the Rangers could make quick work of Philly. And after all it took for the Flyers to get to the playoffs, a quick first-round exit would be beyond disappointing.