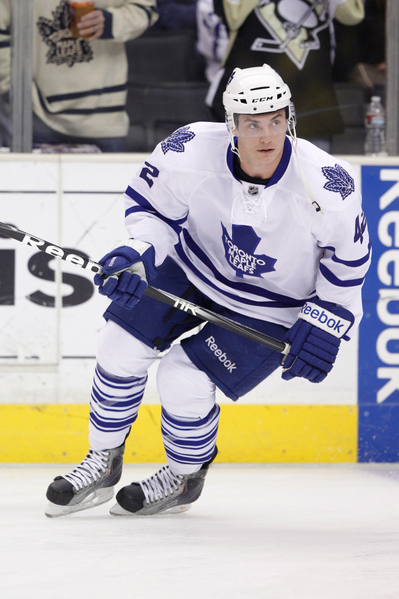 A 24 year old native of Saskatchewan having 37 games of NHL experience under his belt, Tyler Bozak was more than ready to take on the job as the Toronto Maple Leafs first line centre a year ago.
That was the perception entering Leafs training camp last year, it was a foregone conclusion. Unfortunately, it didn't turn out as good as coach Ron Wilson and company envisioned. A plausible explanation as to why Bozak looked like an AHL road runner is because there was too much pressure threshed upon his shoulders.
To play first line centre for a storied franchise like the Maple Leafs, a team that has failed to reach the playoffs since the lock out is a job probably not worth living through. All exaggeration aside, it is a very difficult situation to be put into for a player like Bozak with only 37 games of NHL experience and having played in the Collegiate ranks a year prior. It gets even worse when the coach singles you out for the spot before training camp doors even open and when you have to feed Phil Kessel.
Bozak failed miserably. He didn't play anywhere near the calibre of an NHL first line centre and in fact looked more like an AHL player. He survived any possible demotions to the minors thanks to his contract situation otherwise there was no doubt in the world he belonged in the AHL.
One year ago today, training camp 2011 and the Maple Leafs organization is at it again.
Another player has already been singled out for a high prestige position on the Maple Leafs roster. A 23 year old out of Morweena, Manitoba with only 37 NHL games under his belt.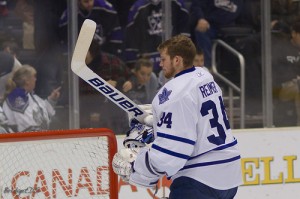 Many hockey enthusiasts and faithfuls believe training camp can determine a lot for a franchise when it comes to determining their opening day roster. But in this case, without a doubt James Reimer will be the Maple Leafs number one net minder for the upcoming season. No matter what happens in training camp (barring injury).
Reimer posted a sparkling 2.60 goals against average followed up with a .921 save percentage. He was the primary reason why the Leafs even made it interesting down the stretch last season as they were hungry for a playoff spot.
Although he played great last season, it is a stretch to say he is ready to be the guy for the Leafs. Goaltending is the greatest component to a good team in hockey and that aspect now rests upon a sophomore, a 23 year old. The Leafs are in fact taking a big risk. If Reimer produces to the extent he did last year then the Leafs have a legitimate shot for a post season spot. But if he falters, the whole team will go down with him. It would be devastating consider Jonas Gustavsson, who is fighting his own set of demons, is the back up.
Cutting the Leafs some slack, they don't really have a choice other than to let Reimer take the reigns of the starting goalie for the Leafs. They could have brought in a veteran to ease the job for Reimer but they decided to stay with Gustavsson. That is where they will hurt. Reimer is still young, he will go through some tough stages of his development. He will need a veteran to relieve some of that pressure and guide him through his growing pains.
The Leafs have not learned their lesson from the Tyler Bozak saga and have created another pressure hotspot in James Reimer for the upcoming season. They hope the 23 year old can live up to the expectations and stride the Leafs in the right direction.
Beware Leafs fans, there are more signs pointing to Reimer faltering. If we know Reimer, he has the ability to impress over and over again, even when the odds are against him.
Hold on to your sleeves.
Follow me on Twitter and Like my Facebook page
If you have any questions or concerns, please do not hesitate to email me at: Raihanhussain@msn.com. All inquiries are welcome! 
Raihan Hussain is a young writer making a name out of himself. He has covered the Toronto Maple Leafs for various websites including Sportshaze.com. He possesses extensive knowledge about the Toronto Maple Leafs from the top of the organization to the bottom.