This is a weekly column that aims to be your one-stop shop for all the notable Anaheim Ducks news that occurred over the course of a given week. Rather than just regurgitate facts and figures (although, I'll do a bit of that, too), I'll attempt to offer insight and analysis, especially as it pertains to various subject areas like prospect development, team chemistry, and what it all means going forward. Enjoy!
The Week That Was: Anaheim Ducks News (June 10th – 16th)
The Stanley Cup has been awarded and paraded. Members of the Los Angeles Kings have taken to partying with Celebrities, Oompa Loompas, and Chuck Liddell, often sans shirts. Meanwhile, the rest of the NHL is busily preparing for the 2012 NHL Entry Draft, the first day of free agency (or, as Ryan Suter and Zach Parise have started calling it, "Christmas in July") and generally beginning to construct their rosters for the upcoming season. The Anaheim Ducks are no different, and this week they announced that they'll be letting go of two of their grizzled veterans, and also signed a fresh-faced, exciting prospect to an entry-level contract.
Ducks To Let Hagman, Blake Walk
The Ducks held their annual select-a-seat event for current and prospective season ticket holders last Saturday, and one of the highlights was a Q&A session with Anaheim GM Bob Murray, Executive VP and COO Tim Ryan, head coach Bruce Boudreau, and captain Ryan Getzlaf. As reported by the OC Register's Eric Stephens, and subsequently by various other media outlets, Murray told the assembled throng that the Ducks had no plans on bringing back veteran forwards Jason Blake and Niklas Hagman.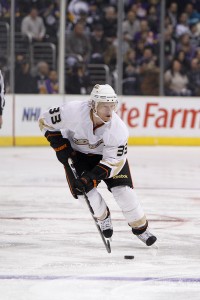 Blake, who was originally acquired alongside Vesa Toskala in the deal that sent fan favorite Jean-Sebastien Giguere to Toronto, spent parts of three seasons with Anaheim, playing a total of  147 games and scoring 29 goals, while adding 30 assists, for 59 points. The former 40-goal scorer and Masterton Trophy winner missed 37 games this past season with a nasty wrist laceration suffered in the home opener against San Jose on October 14th.
The 38-year-old Blake hasn't really lost a step in his skating, but his hands seem to have gone MIA during his tenure in Anaheim. He found some chemistry during the 2010-11 campaign playing along side fellow Masterton winners Saku Koivu and Teemu Selanne, putting up a decent 16 goals, and while his work ethic and hustle never became an issue, Blake gave up a lot in the size department, and has become somewhat easy to knock off the puck. The bottom line with Blake is that he's been on the downward slope of his career for a while now, and the Ducks not only want to get younger and bigger, but are also eager to put his $4M cap hit ($3M in salary) to better use.
Hagman, 32, was a waiver wire pick-up from Calgary, who was brought in to provide some offensive depth while Blake was on the shelf with his aforementioned wrist laceration. After becoming a frequent healthy scratch with the Flames, Hagman was brought in by Anaheim and proceeded to play 63 games while putting up 8 goals and 11 assists, good for 19 points. Like Blake, Hagman is a tireless worker, whose forechecking and willingness to use his body was no doubt appreciated by Anaheim's coaching staff, but also like Blake, he doesn't fit into Anaheim's plans to give their kids (Etem, Palmieri, Holland, et al) a legitimate shot to crack the top-six forward grouping in the fall.
Hagman is more likely to find work this summer than Blake, although neither should expect to command the type of salary they were pulling this season. By letting both Blake and Hagman walk, Anaheim has effectively cleared $7M off of its payroll – which GM Bob Murray will hopefully be able to put to better use.
Ducks Sign Swedish Prospect Max Friberg
On Friday June 15th, Anaheim announced the signing of Swedish LW Max Friberg to an entry-level contract. Friberg, who the Ducks selected in the 5th round (143rd overall) of the 2011 NHL Entry Draft, starred for gold medal winning Sweden in this year's IIHF World Junior Championships, leading the tournament in goal scoring with 9 in six games. For his efforts, he was named to the 2012 World Junior All-Star Team, becoming the first Ducks prospect to be so honored since Paul Kariya in 1993. Friberg also suited up in 48 games for Timra of the Swedish Elite League this season, scoring 5 goals and 5 assists for 10 points.
According to HockeysFuture.com:
Talent Analysis

Friberg has established himself as an early candidate for the biggest steal in the 2011 draft as the 143rd overall pick shined at the World Juniors. He led Sweden in scoring en route to the gold medal and showed a good deal of physical maturity as well. He has explosive offensive potential but does not shy away from the physical game or neglect his responsibilities on defense.

Future

Though he was the last of three Swedes selected by Anaheim, Friberg may be the most promising and the quickest to arrive in the NHL. He projects as a top-six forward with excellent ability to change speeds, relentlessness on the fore-check, sufficient strength and a very well-rounded game.
In signing Friberg to his entry level deal, Anaheim has demonstrated that they're awfully high on this young Swede, indeed. He'll likely need at least a year of seasoning in the AHL before he's ready to start playing NHL minutes, but as he demonstrated with his controversial, Tiger Williams-inspired goal celebration in the WJC's (see below), a big stage is not something that Friberg shies away from. He's a bit undersized at 5'11" 185 lbs., but once he adds some muscle and learns the nuances of the North American game, he'll be a player Anaheim fans should keep their eyes on.
And now, without further adieu, I present to you, Tiger Williams as interpreted by Max Friberg:
As a lifelong hockey fan and resident of Southern California, he recently started a blog called SoCal Puck, which aims to explore all things hockey in Southern California. He grew up playing roller and ice hockey in the Orange County area and currently plays on several beer league teams. Collin also contributes at Sunbelt Hockey Journal.