What can be said for the Washington Capitals 2012 Cup drive? It was a team effort. They got OT winners from fourth liners, divvied up ice time so that everybody got a slice, won as a team, lost as a team, and now it looks like the team will be broken up. By July 1st Alex Semin, Dennis Wideman, Keith Aucoin, Jeff Halpern and Mike Knuble all need to find a home.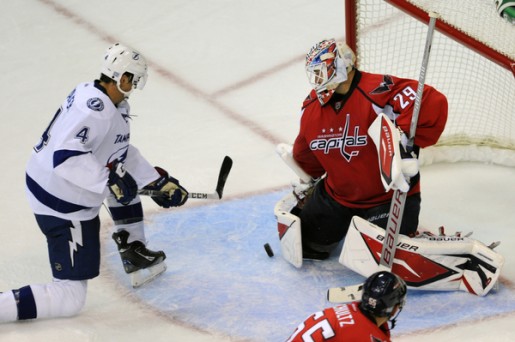 The Write Offs:
All signs suggest Tomas Vokoun will be withdrawing his name from contract renegotiations with GM George McPhee. It is heavily rumoured that Vokoun will be joining the KHL's new Lokomotiv squad next season. The speculation adds up as Vokoun was close friends with former NHLer Josef Vasicek who died in the Yaroslavl tragedy this September. Vokoun said to The Washington Post "for me, it was never my intention to be here more than a year." Vokoun added "I was looking at it as a one-year thing and I'm sure that's how it's gonna be." Well there you have it, looks like the Caps organization is again in a goalie debate having lost Vokoun, but can rest assured that they have a solid plan B in Braden Holtby and Michal Neuvirth. More will be known about Vokoun's aspirations this coming season as we creep closer to the July 1st deadline.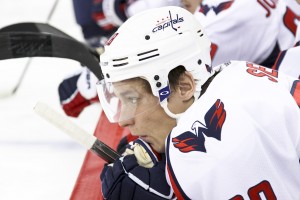 Other than Zach Parise, Alexander Semin is this season's most alluring UFA. And interest is peaking as it increasingly looks more and more like Alex Semin has played his last game as a Capital. Earlier this week Semin's agent Mark Gandler suggested Semin wasn't fitting into the Caps' system and wouldn't re-sign. "There's no question, he likes Washington and the organization," Gandler said. "He does not like the way he's being used. He does not like the role he has under the [Capitals'] new direction." Could this be and inkling to the Caps' new identity as a defense-first hockey team? A system under which Semin didn't exactly flourish with just 54 points in 77 games playing "Hunter Hockey". Semin's ice time was diminished in the playoffs and not unduly so after all Semin was a minus four with four points in 14 playoff games. You can begin to understand why Semin is steamin'.
The Hopefuls:
Three days after the July 1st deadline Mike Knuble will turn 40, but he's not done yet.
"I feel good; my body feels good and I've got nothing nagging me. No nagging injuries or anything like that and that can be the case when you get into your upper 30s that you've got some chronic things going on. Mentally too, I still enjoy playing the game and I still enjoy coming out to the rink every day and I enjoy being around the other players and I think that that's half the battle – wanting to be there –  as you get older." –Mike Knuble
Knuble's role on the team was altered this year falling from a top six forward to a bottom six grinder. His ice time diminished and was even a healthy scratch for periods of the season, including the first three games of the playoffs. However after Backstrom's Game Four suspension Knuble got a shot. From Game Four of the first round onward Knuble was in every game and recorded an assist on Joel Ward's series-winning goal in Game 7.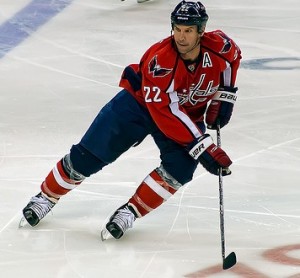 Knuble has served as an alternate captain for the team and offers leadership and experience where maybe age may begin to weigh into other facets of his game.  Knuble acknowledges that he isn't top priority in the coming months – "Well, there are a lot of people to be taken care of before me," said Knuble. "That stuff will shake itself out in the next week or two. But as a player, it's a great place to play.
In the boat with Knuble is Jeff Halpern who is approaching retirement at the age of 36. Halpern, like Knuble, saw a decreased role this season. Halpern sat out most of the playoffs until being inserted into the final two games of round two. "The team was doing well, but as far as for my own personal career and future, you hope that there's a lot of other opinions out there. I just prepare the same way." Aside from the personal disappointments Halpern asserts that he wants to play next year, but it will be up to McPhee whether that will be in Washington or elsewhere.
After the playoffs he had it's hard to believe Dennis Wideman was the only all-star candidate representing the Washington Capitals this year. Wideman had three points and  the team's worst plus/minus record with minus seven. Wideman is 29 and is at the end of his four-year $15.7 M contract, despite Wideman's post-season flop, he won't come cheap and still has a lot of good hockey ahead of him.
At the age of 33 Keith Aucoin is has still yet to seriously crack an NHL lineup. He's a six time AHL all-star and two-time Calder Cup winner. Aucoin played in just 27 NHL games this year spending the rest of the season with the Capitals' AHL affiliate Hershey Bears, but Aucoin did play in all 14 playoff games for the Caps. A sign of a re-signing?