This weekend, third-ranked North Dakota entertains non-conference foe Niagara University.  This is the last non-conference series of the regular season. This season, UND is 7-1-1 against non-conference opponents.
Series History
All-time, UND leads the series 5-0-0 (1.000) In Grand Forks: UND leads 2-0-0 (1.000) In Niagara, N/A. At neutral sites, UND leads the series 3-0-0 (1.000). Under coach Hakstol, UND leads the series, 2-0-0 (1.000)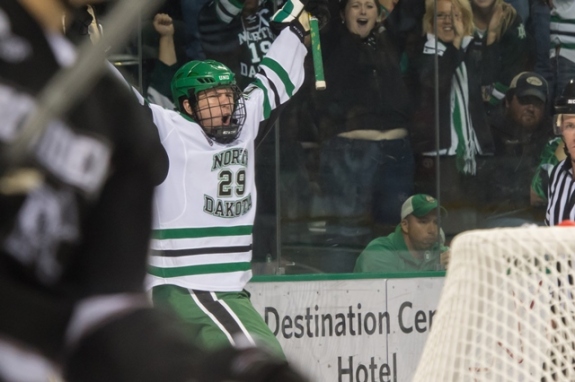 Tale of the tape
#3 North Dakota (14-5-2, 7-4-1 NCHC) vs. Niagara University (3-15-2, 3-11-2 AHA).
Date: January 16-17, 2015
Game Time: Friday 7:37 p.m. CT, Saturday 7:07 p.m.CT
Location: Ralph Engelstad Arena, Grand Forks, ND
Last time out: Niagara was swept by Air Force (3-4 L, 3-4 L)
Last time out: North Dakota split with Minnesota-Duluth (1-4 L, 5-2 W).
NU Offense: 51st Nationally
NU Defense: 57th Nationally
NU PWR: 59th
UND Offense: 13th Nationally
UND Defense: 19th Nationally
UND PWR: 6th
TV: Friday – Midco Sports Network, My9 TV (Duluth viewing area)
TV: Saturday – Midco Sports Network, TSN2 (tape delay)
Live Streaming: NCHC.TV
Key Players to watch
North Dakota – Forwards: Drake Caggiula (9g-14a—23pts), Michael Parks (6g-14a—20pts), Mark MacMillan (9g-7a—16pts), Nick Schmaltz (3g-13a—16pts), Luke Johnson (4g-6a—10pts), Brendan O'Donnell (8g-2a—10pts). Defense: Jordan Schmaltz (3g-13a—16pts), Paul LaDue (3g-7a—10pts), Tucker Poolman (5g-2a—7pts), Gage Ausmus (2g-2a—4pts). Goalies: Zane McIntyre (14-5-2, 2.01 GAA, .930 SV%), Cam Johnson (0-0-0, 5.54 GAA, .765SV%).
UND Injuries: Troy Stecher (lower body injury), Colton St. Clair (upper body injury) and Trevor Olson (mono) are out indefinitely.
Niagara University – Forwards: Isaac Kohls (4g-6a—10pts), Dan Kolenda (4g-5a—9pts), Hugo Turcotte (5g-4a—9pts), Robert Anqiolella (5g-3a—8pts). Defense: Keegan Harper (2g-4a—6pts), Nick Cecere (2g-3a—5pts), Kevin Albers (0a-4a—4pts). Goalies: Jackson Teichroeb (3-9-2, 3.11 GAA and a .903 SV%), Adrian Iqnaqni (0-6-0, 5.17 GAA and a .842 SV%).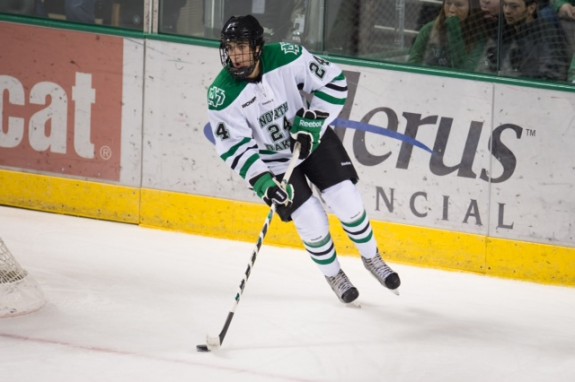 Special teams
Niagara University – The Purple Eagles penalty kill is ranked 56th in the nation (72/97, 74.2%). The Purple Eagles power play is ranked 57th in the nation (7/94 7.4%).
North Dakota – UND's penalty kill is ranked 11th in the nation (80/92, 87.0%). UND's power play is ranked 17th in the nation (18/88, 20.5%).
Hakstol on playing the Purple Eagles
"I know Dave's (Burkholder) teams will be well prepared and they will play extremely hard," head coach Dave Hakstol said. "I know that every time we've seen Dave's teams or played against them, that's the way that they play. I am sure that we're going to see their very best on Friday and Saturday night."
Series Prediction
The Niagara Purple Eagles are a bad hockey team. Their numbers speak for themselves. They're ranked 59th in the Pairwise Rankings, that means that they're the worst team in Division I hockey. Losing to the Purple Eagles is a Pairwise killer. Numbers aside, UND needs to still show up and perform or they will get beat. UND sweeps.
Eric is a 1996, 1999 graduate of the University of North Dakota. Eric covers the University of North Dakota Hockey and Division I college hockey. Eric is the Contributing Editor for Inside Hockey.