So far this season, special teams have been the Achilles Heel of the University of North Dakota Fighting Hawks hockey team.
Historically, UND is known for their special teams play. Almost yearly, UND is in the top-20 of Division I hockey for special teams play. So far this season, the Fighting Hawks have struggled on the power play and penalty kill.
How bad have they struggled?
UND is ranked 38th nationally on the power play.  That's not very UND like.
Friday night, FSN's play-by-play announcer Jim Rich said that he was surprised by UND's power play numbers.
This past weekend, UND's power play went (2/6, 33.3%). Against a defensive-minded St. Cloud State Huskies team, that's acceptable.
Over the past two weekends, UND has shown some life on the power play. Against the Miami RedHawks and the Huskies, UND has scored (3/13, 23.1%). That's an improvement over the first 10 games.
During the first 10 games of the season, UND was 6/42 (14.3%) on the power play. For comparison sake, during that same time, UND's penalty kill was 30/36 (83.3)
Taking a Look at UND's Penalty Kill Numbers
This past weekend, UND was (3/10, 70%) on the penalty kill. UND's penalty kill is ranked 8th overall in the NCHC, and ranked 49th nationally. Based on the skill of UND's forwards and defense, that's puzzling. If UND has aspirations of going deep into the NCAA playoffs, they will need to improve their penalty kill numbers. I predict they will.
UND fans should be patient, UND is replacing veteran penalty killers like Steph Pattyn, Connor Gaarder, Michael Parks and Mark McMillan with freshmen forwards and sophomore forwards. That veteran group scored 12 short-handed goals last season. This year's team isn't going to come close to that number. Not many teams have.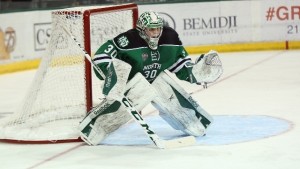 Questions at the Goaltending Position
After watching last weekend's series against the Huskies, I think that goaltending is an area of concern for the Fighting Hawks. I don't believe anyone needs to panic, but things could be better.
For the last 12 games, UND has played with their walk-on, third-string goalie. For the most part, Matt Hrynkiw (9-2-1, 2.11 GAA, .911 SV%) has done a decent job holding down the fort until scholarship goalies Matej Tomek and Cam Johnson are healthy enough to return to the lineup. Tomek has yet to see any game action due to offseason surgery to repair a nonspecific injury.
This situation could have been fatal to many teams, but UND managed to make it through basically unscathed until last Saturday night.
In the last two series against the RedHawks and the Huskies, starting goalie Matt Hrynkiw was (3-1-0, 3.12 GAA, .864 SV%).
Sophomore goalie Cam Johnson, who's been sidelined with a groin injury since October 15, 2015, relieved Hrynkiw on Saturday night and gave up three goals on 13 shots. That translates to ( 6.55 GAA, and a .769 SV%).
Overall, I thought Matt Hrynkiw played well enough to win on Friday night and made quite a few saves late to preserve the win for UND. On Saturday night, it was a different story. On multiple instances, Hrynkiw was left out to dry by his defense. One of the goals on Saturday night went off Keaton Thompson's skate and into the net.
Eric is a 1996, 1999 graduate of the University of North Dakota. Eric covers the University of North Dakota Hockey and Division I college hockey. Eric is the Contributing Editor for Inside Hockey.