The Pittsburgh Penguins have plenty of issues right now, some on the ice and some behind the bench. One of the most notable challenges facing this team is their lack of scoring and more specifically, their lack of scoring on the power play. The Penguins' power play unit began last season with an absurd amount of scoring and rode an unsustainable success rate through the first two months of the season. But, after that, there was nothing. Their ability to score with the man advantage didn't just slow down, it completely disappeared and was never heard from again. At least, not up to this point in 2015-16.
I'm not sure that I can properly stress the importance of taking advantage of power play opportunities and it's impact on overall scoring. I don't think I really have to, though, as I'm sure it's widely understood. The Dallas Stars and Montreal Canadiens are the top two scoring teams in the NHL as we speak and it's no coincidence that both of them are in the top-three for power play tallies. Say what you want about Sidney Crosby's slump or the fact that David Perron and Chris Kunitz are having so much trouble finding the back of the net. While all of that is true and concerning in its own right, the inability to score a power play goal with this firepower is arguably this team's biggest offensive shortcoming right now.
When discussing the issues with the Penguins and their power play woes, it's important to remember that not much has changed since they led the league with a 23.4-percent success rate in 2013-14. From a personnel perspective, it isn't that different. While they no longer have James Neal, their best shooter on that unit, they do have Kessel now. The result is a 15.1-percent conversion rate, which was just recently boosted from 12.3-percent over the last two games.
What the Numbers Tell Us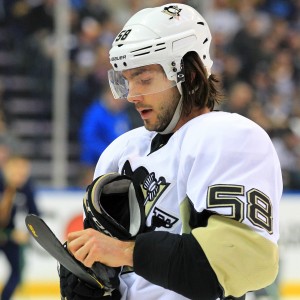 The Penguins aren't ranked 23rd in the league for power play success rate by accident. A quick look at some underlying numbers will tell you all that you need to know about why this unit struggles so much. It will also tell you that a lot of what's happening is a coaching issue and while the players clearly deserve blame in this situation, personnel and placement are crucial with the man advantage. The Penguins are struggling to make good decisions for either. Consider the following numbers, which take all power play situations into account (via stats.hockeyanalysis.com and war-on-ice.com).
Shot Attempts-For Per 60 Minutes –  96.4 (Ranks 16th)
Shot Attempts-Against Per 60 Minutes – 18.9 (Ranks 30th)
Shots-For Per 60 Minutes – 52.7 (Ranks 19th)
Shots-Against Per 60 Minutes – 10.4 (Ranks 24th)
Shooting Percentage – 10.4 (Ranks 25th)
We're looking at a team that's failing to produce shots at a high level, which is easy to see by simply watching this unit operate. Aside from falling in the middle of the pack for shot attempts and shots on goal, they also boast a bottom-of-the-barrel shooting percentage. All indications that they aren't opening clear shooting lanes, which is also an indication that they're easy to defend. Adding to those issues is the fact that they're allowing the most shot-attempts against, which means Fleury has had to bail them out quite frequently even when playing with a man-advantage. How is that possible with this group? Could it be that opposing penalty kills know they're going to look for the pretty play, as opposed to shooting?
High-danger scoring chances is another metric that many will look to in a situation like this and the Penguins are ninth in the league with 21.4 high-danger chances-for per 60 minutes. While that's not a terrible number, there isn't a major correlation with those ranked high for high-danger chances and those that lead the league in goals-for. Also, I'd almost expect a lower percentage of high-danger chances on the power play since most shots come from the perimeter. There's an easy solution, which is to start shooting. And it needs to start at the point with Letang.
Can the Penguins Right the Ship?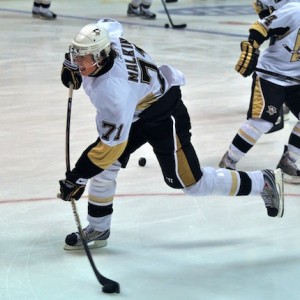 Over the past two contests, we've witnessed a marginal improvement to the power play. That improvement has started with reviving the Malkin one-timer from the right circle. When teams see that Malkin is willing to unload from that area, they gravitate to him. They can't ignore him or he'll bury it, which poses a real issue for opposing penalty kill units. What happens when they pull toward that side? It clears room for Kessel.
The Penguins are struggling to find a fit for Kessel on this unit. They continue to try feeding him for one-timers but Kessel isn't built that way. He needs time to unleash a wrist shot, which is also why it's extremely important that Malkin demands attention by shooting more. The more room for Kessel the better. If he has time and Patric Hornqvist is causing net-front havoc, as he does so well, Kessel will find a lane and bury it.
This group can and should perform much better and while I don't look for Derrick Pouliot to get recalled anytime soon, maybe it's time. Pouliot is the answer for power play quarterback, especially under the mentorship of Sergei Gonchar, who joined the team in a coaching and player development role this season. He's a much better puck distributor than Letang and isn't afraid to shoot. Unfortunately, they'll have to figure things out with the lineup as currently constructed since they have little confidence in Pouliot right now in other aspects of the game. We're now 20 games into the regular season. If they don't figure out what's ailing them on the score sheet quickly, led by diagnosing the issues on the power play, they'll struggle to stay afloat in this division over the next couple months.