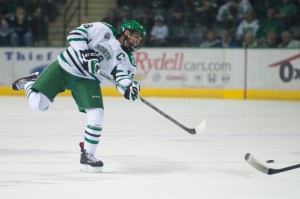 UND senior defenseman Dillon Simpson has been at the University of North Dakota for three seasons and there are incoming freshman on the UND hockey team that are older than him. Simpson is 20 years old and he will not  turn 21 until February 10, 2014, however, that doesn't seem to faze the young captain from Edmonton, Alberta. As a matter of fact, the head coach of the UND hockey team isn't all that concerned about his captain's age either.
"I don't think it's an issue," UND head coach Dave Hakstol said. "I think it's an interesting talking point and a valid one. He's only 20 years old, and we've got freshmen who are older than him. But it's really not about the date on your birth certificate, it's about your level of maturity and your life experiences, your mindset and your ability to be consistent and accountable and do things the right way. I think Dillon is at the highest level of all of those areas."
Simpson came to University of North Dakota at the age of 17. While many people his age were still in high school, the first year defenseman played 30 games in division I college hockey. Simpson ended in first season as a member of the team that went to the 2011 NCAA Frozen Four at the Xcel Energy Center. During his freshman season, he also managed to chip in (2g-8a—10pts) on the score sheet. That's not too bad for a 17-year-old kid, playing against men that are in their 20's.
Youngest captain at UND since Greg Johnson (1991-92 season)
Simpson seems to take it all in stride and he doesn't seem all that concerned about being one of UND's youngest captains in the program's history. According to the UND SID Jayson Hajdu, Simpson is UND's youngest captain since Greg Johnson in 1991-92, and is the 10th-youngest captain in UND's history.
"It's something that you put in the back of your mind," Simpson said. "It's funny to talk about and guys give me jabs about this when they can.  I think everyone gets it and we have a good group of guys.  It makes it easy for me when you have a room full of guys that are all buying into the program and the system."
Simpson on the UND Defense Corps
This season, the UND hockey team's defensive corps is going to be a bit different than years past. There are not as many bruising defensemen as years past and the UND defense corps is built for speed. This is what Simpson had to say about his fellow defenseman.
"I think on the backend we have a lot of great skaters, which is something that we're going to have to use to our advantage," Simpson said. "A couple of young guys, but I think they're more than ready for the challenge.  We have a good group of young guys coming in to help us out on the back-end. As for defensively, there little guys that can play really well defensively. I think on a whole we will good group that add to the offense and try to get up in the play as much as we can."
Loss to Yale left bitter taste in UND player's mouths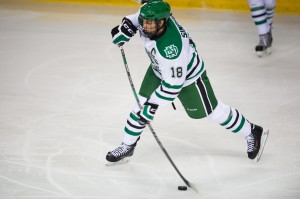 Last season, UND's season ended abruptly at the NCAA West regional to the eventual NCAA Champion Yale. That loss did not sit well with the players.  Every player that I've talked to, said that loss left a bitter taste in their mouth. The UND fan base was also not happy with the way the  season ended as well. That loss has been used as motivation during the offseason.
"It was a bitter taste, especially to lose it the way we did," Simpson said. "It wasn't the game we wanted to play. We didn't play well enough. Going into the summer it's always on your mind. I think a lot of guys use it as motivation. As a team we had a great summer, in the weight room and on the ice. I think we used to work towards this year.  It's been a pretty good preseason so far."
UND to begin NCHC Play
It's well documented; the University North Dakota will begin play in the new National Collegiate Hockey Conference. The common theme, the NCHC is going to be a tough league, top to bottom, there are no slouch teams. Keeping with the theme of change, I asked Simpson what he thought  about the new league.
"Top to bottom, it's a lot of great league," Simpson said. "This is a league, much like most of the WCHA there's a lot of good teams and you're going to be at your best to win games. On paper, there are a lot of top-end teams in our league and were going to have to prepare accordingly."
In conclusion, senior defenseman Dillon Simpson is a solid defenseman that plays a smart game  defensively and will chip in points offensively when he sees an opening. The sky's the limit for the 20-year old senior from Edmonton, Alberta.