Coming into the season, the University of North Dakota hockey team returned a majority of the team that went to that Frozen Four, this raised expectations.
After winning the West Regional Championship, UND is headed to the Frozen Four again. Last year's trip to the Frozen Four was a learning experience. This time around, UND hopes return from the Frozen Four  with a national championship.
"Yeah, I think we can always refer back to last year and look at that trip to the Frozen Four as a learning experience and use it to our advantage," senior forward Michael Parks said.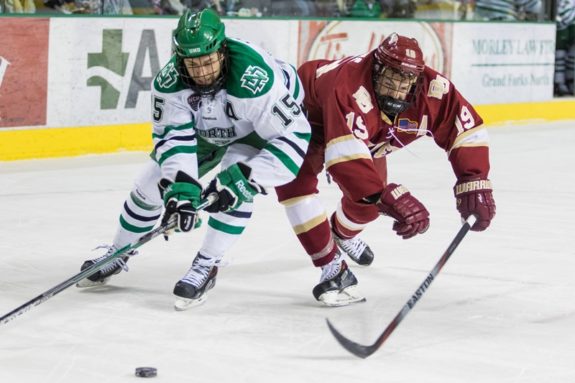 "That was one of the worst ways to end a season," sophomore defenseman Paul LaDue said. "We had to live with that all summer. You've got to try and forget about it, but you have to use that motivation. We just know how close we came last year and we know how to get there. We're going to make that sacrifice to get there."
During the 2014-15 season, UND faced their share of adversity. They lost one of their top forwards Mark MacMillan to a season-ending lower-body injury. Throughout the season, they lost key players for extended periods of time due to injury. But none of that has seemed to faze them.
Through all of the ups and downs, the UND hockey team never lost focus on their top goal, a return to the Frozen Four. Now they're being rewarded for their hard work. Obviously, there's still a lot of work to be done.
After UND won the NCAA West Regional Championship in Fargo, ND, their postgame celebration was tempered.
"We celebrated the win after winning the regional in Fargo, and that was great," Parks said. "But we still feel there's a lot left to go.  We have a great opportunity in front of us. I don't think there's any other place we would rather be right now. We're really excited, but still serious at the same time. There's a lot of work to do right now."
The head coach echoed his player's sentiments.
"We took a couple of hours and the day on Sunday to get back into it," head coach Dave Hakstol said. "We don't enjoy something when we're halfway through it."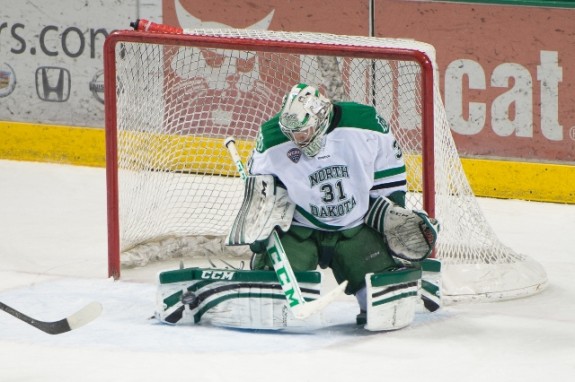 McIntyre focused on team goals
UND junior goalie Zane McIntyre has had an outstanding season and for his efforts he's made the Hobey Hat Trick. Like his teammates, McIntyre is more focused on team awards than individual honors. While being part of the Hobey Baker Hat Trick is a nice honor. It's not the top prize McIntyre is eyeing.
"It would be pretty cool," McIntyre said. "I think it would be really special to get that recognition, a little feather in your cap.  It's a cool individual accolade. Yeah. But at the end of the day, we're playing for one thing and that's national championship."
There's no I in team
I know it sounds cliché, but there's no "I" in team. This season, I haven't heard a lot me or I uttered at the press conferences. This year's team has been an unselfish bunch of players.
From the start of the season, this team has been on message. The players have said all of the right things. No one has gotten off message.  No matter who you interview, they say pretty much the same thing.
"I think our team has come a long ways," McIntyre said. "We've also gotten back to our brand of hockey that we're accustomed to. We're just working hard and coming to the rink and getting better.
"I think there's a lot of cohesion with this group," LaDue said. "There are no egos. We have our fun and we're a confident group.  But at the end of the day, we come to the rink with a purpose.  We try to get better. We try to improve our team."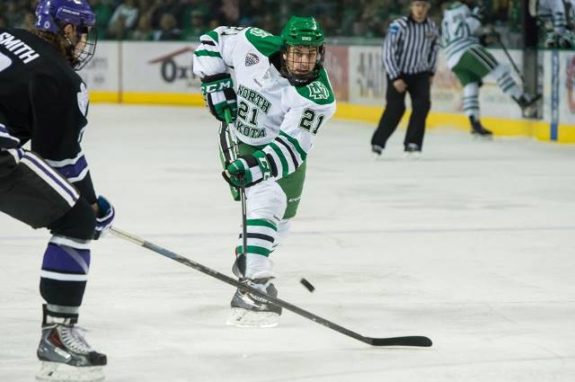 After scoring a hat trick against the Minnesota-Duluth Bulldogs senior forward Brendan O'Donnell was quick to credit his teammates for his on-ice success.
"The biggest thing was getting the win," O'Donnell said. "I think I benefited from a few great plays there. I think Gordy (Gaarder) on the second one there, he probably could have scored himself, but he gave it to me for the tap in. On the first one, Tommer (Keaton Thompson) made a great cross-ice play. On the last one, Luke Johnson just won a battle, and I just happened to be in the right place at the right time."
No matter what happens this week, it's been a successful season with the players coming together for a common goal. The final chapter has yet to be written. There's one thing for certain, the UND hockey team is going to Boston on a business trip with their sights set on an NCAA title.
Eric is a 1996, 1999 graduate of the University of North Dakota. Eric covers the University of North Dakota Hockey and Division I college hockey. Eric is the Contributing Editor for Inside Hockey.