We've finally made it to the last week of the NHL's regular season, and despite many early season predictions, the Minnesota Wild are still very much in the playoff picture.
Tonight, the Wild plays its last regular season home game against the Winnipeg Jets, a team that's been posing a threat for some time now. Before the boys take on Winnipeg at 7 o'clock tonight, there are a few things you should know:
1. The Streak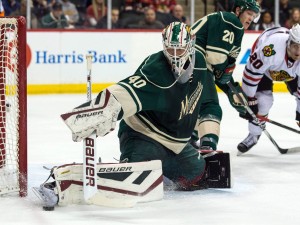 The Minnesota Wild lost consecutive games last week against the New York Rangers and Detroit Red Wings for the first time since January 19 and 20. Under the reign of Devan Dubnyk, the Wild has never lost three straight games, be that in regulation or overtime. They say third time's the charm, so let's hope that holds true for Minnesota tonight.
This is a must-win game for the Wild, who have battled for a wild card spot for some time now. The Winnipeg Jets are currently tied with the Los Angeles Kings, who have recently taken over the second wild card spot, with 92 points.
Minnesota only has three games left after tonight to grab as many points as it can, so every game is crucial. I'm pretty confident these boys can finish the season off strong, but they've got to get out of this little funk tonight if that's going to happen.
2. Mikko Koivu
The captain of the Minnesota Wild was a late scratch Saturday night due to an eye injury. Although it was apparently a minor injury, it was enough to keep Koivu out of the lineup. Now he may not be the team's top goal scorer, but Koivu definitely brings something to the team no one else can. He's also a part of Minnesota's top line, which has produced goals and assists like crazy.
Luckily for Minnesota, Mikko Koivu is "definitely in," according to Michael Russo of the StarTribune.
Koivu says he's definitely in #mnwild

— Michael Russo (@Russostrib) April 6, 2015
Hopefully the Captain will be able to help get the team back on track.
3. Lineup Woes
With Ryan Carter recently rejoining the team, and Jason Zucker getting closer to a return every day, the Wild may soon be facing some lineup problems. Matt Cooke is also said to be returning soon. Not to mention, Mike Yeo still has to find a place for guys like Sean Bergenheim and Jordan Leopold, who are rumored to be the scratches tonight. Depth is great, but the last week of the season really isn't when you want to be messing with your lines.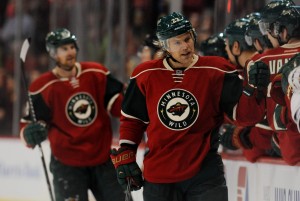 I wouldn't expect this to have an immediate impact on the Wild's game tonight, as Zucker and Cooke are still out, but I wouldn't be surprised if Yeo starts mixing up lines, trying to figure out who is going to work where.
This scares me.
But then again, maybe the team needs a little switch up to spark some scoring, and hopefully a win.
4. Back to Back
This is the first game of a back-to-back for Minnesota. The team plays the Blackhawks in Chicago tomorrow night, which could be another huge two points for the Wild.
That's not an easy team to play on the second night of a back-to-back, though. It'll also be the first of a three-game road trip for the Wild. Minnesota has the odds stacked against them, but these guys have figured it out before, and I'm thinking they're going to be just fine.
Alli covers the Minnesota Wild and has been a contributing writer with THW since August 2014. She is currently a journalism and sports management student at the University of Minnesota. For all of your Minnesota Wild news and updates, follow her on twitter: @allibaker23