The University of North Dakota Women's hockey team struggled early in the season. Things weren't going their way.
During the first half of the season, head coach Brian Idalski talked about having patience with his hockey team. Idalski said his team wasn't playing that bad. They were working hard, but they weren't getting rewarded for their efforts. A few minor things that needed to be fixed.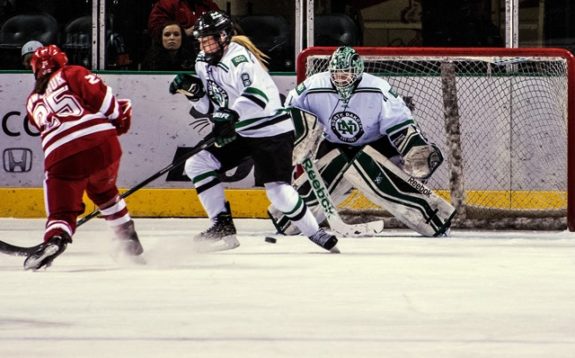 UND went through a three-week stretch where they took one out of a possible 18 points. They were swept by the Minnesota. They lost and tied against Wisconsin. Finally, they were swept by Bemidji State.
After the murderous six-game stretch, UND started to player better. Over the last 14 games, UND has gone 10-3-1 (.750). With the series sweep of the Bemidji State Unversity, UND is 7-1-0 (.875) in the past eight games.
Since the Christmas break, things have turned around for the UND women. They're currently on a four-game winning streak and they've gone 5-1-0 in 2015.
Last weekend, UND played a complete series and were good in all three zones. They were almost flawless.
"I thought we played well both ends of the ice and executed at a pretty good level," Idalski said.
UND in fourth place
After four straight wins, UND has improved to fourth place in the WCHA standings. UND is ahead of Ohio State by three points and they're four points ahead of Bemidji State.  More than likely, they will play either OSU or BSU in the first round of the WCHA Playoffs.
Shorthanded goal sets tone
The University of North Dakota women's team was down 1-0 to the BSU in the second period of last Saturday's game.
Then things changed.
UND was killing a five-minute major for charging when UND suddenly experienced some good fortune. At the 04:00 mark of the second period Amy Menke scored a beautiful shorthanded goal to tie the game. You can video of the shorthanded goal above.[tweetthis]"I saw (Michael) Parks do a nice move and a breakaway last night," Menke said.[/tweetthis]
"I saw (Michael) Parks do a nice move and a breakaway last night," Menke said. "I told Sam (Hanson) that I'm going to do the same thing if I get a chance. I did, so it was pretty cool."
Menke's shorthanded goal set the tone for UND. The Green and White never trailed the rest of the weekend. UND outworked, outscored and beat BSU for two crucial league wins. Looking back at the series, the shorthanded goal set the stage for the rest of the weekend.
For her efforts, Menke was awarded the WCHA Offensive Player of the Week. On the weekend, Menke scored (3g-1a—4pts) and was +4.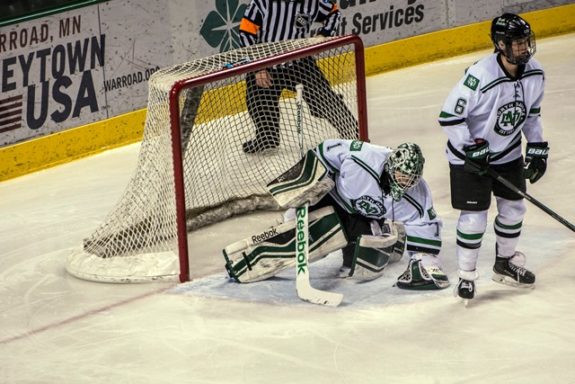 Amsley-Benzie on fire
UND junior goalie Amsley-Benzie has been red hot as of late. Since the turn of the New Year, she (5-0-0, 0.60 GAA and a .975 SV%). Amsley-Benzie has been a brick wall and only given up three goals in her last five games.
Amsley-Benzie recorded her 43rd career victory with UND's 5-1 win on Sunday afternoon. With the victory, Amsley-Benzie passes Stephanie Ney's all-time mark of 42.
The question now, can the UND women continue their winning ways? The schedule doesn't get any easier. This weekend, the women head to Minnesota-Duluth for an important two-game conference series. Stay tuned.