Last Friday, the University of North Dakota hockey team scored its nation-leading ninth shorthanded goal of the season. With that shorty, UND is half-way to the all-time record.
Checking the record books, UND's season record for shorthanded goals is 18. That record was set during the 1986-87 season.
Yeah, that team. That's the same team that had Ed Belfour, Bobby Joyce and Tony Hrkac on it.
The chances of UND breaking that record this season are pretty slim. There are  approximately 12-18 games remaining to accomplish that feat. So, anything is possible, but not very likely.
I think there's a good chance the record will never be broken. The record was set during a different time in college hockey and the game has changed drastically since. All you have to do is look at the goalie equipment that Eddie Belfour wore during the 1987 season and compare it today's goalies, it's not even close.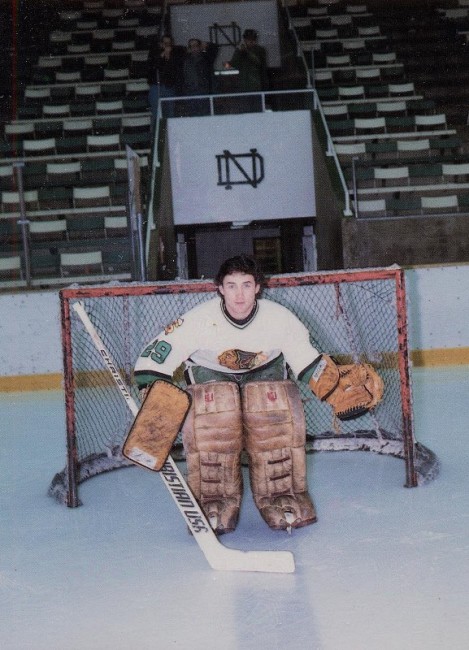 Nonetheless, nine shorthanded goals is an still impressive total. Being shorthanded is no problem for UND. The Green and White take a lot of pride killing penalties. It's a team mindset.
"It's not one specific thing," Michael Parks said. "Our team has just had a lot of shorthanded success. Playing hard, playing fast. Keeping our shifts on the penalty kill very short, I think that's underrated. If you can keep your energy high out there, you're able to able to forecheck a lot harder and create turnovers out there."[tweetthis]Last season, UND scored four shorthanded goals the entire season.[/tweetthis]
Last season, UND scored three shorthanded goals the entire season.
For those who are wondering who's ranked number two in the nation, Union College has six shorthanded goals.
What's even more impressive is that UND has four game-winning shorthanded goals this season.
If you break it down further, UND has four players (Drake Caggiula, Parks, Stephane Pattyn, and Mark MacMillan) that have scored two shorthanded goals each.
Even more impressive, six of Parks 26 points are shorthanded points. Those four aforementioned players also lead the nation in shorthanded goals.
Teams have to be on guard for the shorthanded goal when UND is on the power play.
"It's not necessarily one thing," Parks said."I think some of the power plays gets lackadaisical or sleepy. That even happens to us. If you get some forwards who can really move their feet and strip pucks – you're going to get chances."
Again, it's a mindset, UND is cashing in on their shorthanded opportunities. The current UND hockey team likes to kill penalties.  Earlier in the season, junior forward Bryn Chyzyk explained why UND is having so much success on the penalty kill.
"We're getting a couple of bounces, and getting some odd man rushes," Chyzyk said. "We're always pressuring pucks up at the blue line. We're just pressuring pucks and a couple of bounces are hopping over their d-men and were taking advantage of that. Hopefully, that will continue."
Comparing the last four years
For the most part, shorthanded goals don't happen that often. Last year, UND scored only four shorthanded goals all of last season. Former UND forward Rocco Grimaldi has three of them.
During the 2012-13 season, UND scored four shorthanded goals. Current forward Mark MacMillan scored two of them.
And finally, the 2011-12 team scored five shorthanded goals.
In conclusion, there's something very special going on with the UND penalty kill.  They're leading the nation in shorthanded goals and they're giving the opposition fits.
From the fancy stat department, UND is tied for fourth in the nation in goal scoring with 87 goals. UND is scoring goals at even strength, on the power play and on the penalty kill. UND has scored 50 of those goals on Saturday night, that leads the nation. UND is 6-5-1 on Fridays and is unbeaten on Saturdays, going 12-0-1.