Heading into the 2013-14 season, you could've been forgiven if you didn't give the Calgary Flames much of a chance to be competitive.
First off, the NHL's realignment placed the rebuilding team in a division with the murderer's row of California teams (San Jose, Anaheim and Los Angeles), as well as the dangerous Vancouver Canucks and up-and-coming Edmonton Oilers and Phoenix Coyotes. Almost immediately, visions of Aaron Ekblad or Sam Reinhart wearing the Flaming C popped up in fans' heads.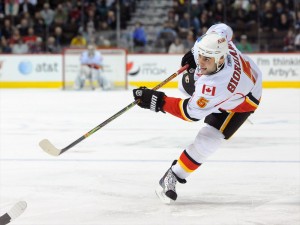 And with good reason, as the Flames roster to kick off the season was utterly bereft of star power or established top-line talent. However, that hasn't mattered, as the Flames were buoyed by two factors – an "us against the world" mentality fueled by the shared realization in the locker room that was no one "star" that was going to bail the team out, and the emergence of a trio of players that significantly tilted the balance of play in the right direction when they were on the ice. Now, it's the strength of these three players that may keep the Flames out of the Connor McDavid/Jack Eichel sweepstakes as the 2015 NHL Draft approaches.
And outside of Calgary, it's unlikely that a lot of people have paid these three players much attention.
MIKAEL BACKLUND
Mikael Backlund has been one of Calgary's best two-way players for several seasons. The 25-year-old product of Vasteras, Sweden had career highs in games played (76) and points (39) in 2013-14, which probably points out the two things he struggled with – staying healthy and offensive production. Backlund's speed and shiftiness has allowed him to really quietly emerge as a strong defensive player – playing in the Flames farm system under former coach Jim Playfair also probably helped – but his confidence has ratcheted up over the past year or so, stemming from his time with his hometown team during the 2012-13 lock-out.
Backlund also continued doing what he does best: moving the puck up the ice, regardless of the situation. He was used as a shut-down forward on the bottom-six, and moved the puck up the ice. He was used as a complementary offensive player, and he moved the puck up the ice. He was used as a primary offensive player, particularly late in the season, and he moved the puck up the ice. And due to his confidence boost and increased willingness to drive the net, he's turned that puck movement increasingly into offense, even with having the worst offensive-zone start ratio of any Flames forward outside of Matt Stajan or Lance Bouma.
Backlund was on the ice for 83 of 209 Flames goals-for (39.7% of all Calgary offense) and 73 of Calgary's 241 goals-against (30.3%).
T.J. BRODIE
The 114th player chosen in the 2008 NHL Draft, T.J. Brodie has quickly emerged as arguably Calgary's most dangerous offensive threat on the back-end. While Giordano may be more well-rounded in terms of his defensive play and physicality, Brodie is a better skater and more adept at jumping into the rush. His most dangerous weapon is likely his incredible vision; more than any player, he utilized his outlet passes from the defensive blueline to spring teammates for breakaways or odd-man rushes.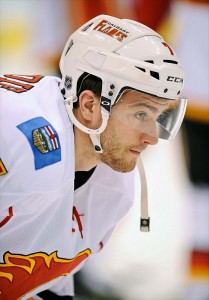 And if anything, Brodie's still getting better. He's just 24 years old and has already progressed from an promising youngster (in 2010-11), to a strong depth option (in 2011-12), to the team's best non-Giordano defender in (2012-13). He showed just how far he progressed during Giordano's 14-game injury this past season, as Brodie was thrust into the spotlight as the team's top defender. Paired primarily with Chris Butler, he really shined and showed some unexpected depth to his game. He had the toughest competition and worst offensive zone-start ratio of any Flames defenseman, Giordano included.
Brodie was on the ice for 90 of 209 Flames goals-for (43.1%) and 110 of Calgary's 241 goals-against (45.6%).
MARK GIORDANO
It's hard to believe that once upon a time, nobody wanted Mark Giordano on their hockey club. Originally signed by the Flames organization in the summer of 2004 to fill a spot on their AHL team, Giordano quietly emerged as Calgary's best minor-league blueliner. And he kept improving, learning new tricks and became a regular NHLer, then Calgary's best defender, then the team captain.
Mark Giordano is both Calgary's heart-and-soul on the ice, but also its conscience. He's good in all three zones with occasional flashes of brilliance, particularly in terms of using his size and deceptive speed to angle out opposition forwards on the rush. He's a strong shot-blocker and always one of the first players into a scrum to defend his teammates. He's also a tireless worker – which is how he (a) got into the NHL in the first place and (b) improved so rapidly – and it's no small wonder that Calgary became the NHL's hardest-working team once he was named team captain prior to the 2013-14 season.
Giordano was on the ice for 112 of Calgary's 209 goals-for, 53.6% of their goals, despite missing 14 games (17% of the season). That's nuts. He was also on for 80 of the team's 241 goals-against (33.2%).
THE DYNAMIC TRIO
Five-on-five, each of the three players are possession dynamos. When you combine them, they're downright dominant.
Mark Giordano alone has 53.3% Corsi, Mikael Backlund alone has 51.7% Corsi, and T.J. Brodie alone has 51.5% Corsi.
In pairs? Giordano and Brodie are 56.2%, Brodie and Backlund are 59.4%, and Giordano and Backlund are also 59.4%.
Per a tweet by Tyler Dellow (@mc79hockey), without any of the three on the ice, the team's Corsi is 42%. When all three of them are on the ice together generates 63.7% Corsi. That's a crazy drop-off.
The Calgary Flames have a long road back to contention. The team lacks depth. But they have a core trio of players that can eat up the tough minutes and keep the puck going in the right direction. While the on-ice impact of Backlund, Brodie and Giordano may keep Calgary out of contention for 1st or 2nd overall in this year's draft, they're also giving the team's emerging youngsters like Sven Baertschi, Sean Monahan and Johnny Gaudreau much-needed breathing room and an example to follow.
Losing out on Connor McDavid or Jack Eichel may sting, but the long-term effects of this trio's excellent play may pay even greater dividends for the Calgary Flames rebuild.