Any given hockey game is not all that predictable. It is hard enough to figure out which team is most likely to win a series, let alone any specific game within a series. Game 6 of the Stanley Cup Final between the Pittsburgh Penguins and San Jose Sharks is as unpredictable as any.
For the home team, San Jose, it's a lose and stay home game. A loss ends their season two wins shy of a Stanley Cup. For Pittsburgh, its win and celebrate. Game 6 in San Jose may be their better chance of winning the title compared to a potential Game 7 in Pittsburgh, as the pressure will mount considerably.
http://gty.im/539140364
Pittsburgh, should it continue to play as it did in Game 5, can be expected to come out on top. The Penguins have not wavered this series. Every game, they have come out confident and fast. In three games, they have been substantially better than the Sharks. Only once, in Game 3, did San Jose have the better of the play. Even then, it was Pittsburgh who won the shot battle by a good bit.
Pittsburgh was locked in for Game 5, their 18 skaters playing their best game of the series. Teams peak at certain times and Game 5 may well have been that for the Penguins. They were in front of a raucous home crowd inside Consol Energy Center. Outside the venue, an even larger raucous crowd cheered them on.
In the three minutes to open the game, the Sharks struck twice for a two goal lead. For almost every one of the next 57 minutes, Pittsburgh dominated. The Sharks spent those minutes hanging on by a thread, holding a one goal lead for 44 of those minutes. This was not the case of a team with a lead easing up with a lead. If anything, the Sharks were as intense as they've been at any point in the season. It looked like a case of men versus boys with everybody trying really hard.
Teams rarely offer the sort of game Pittsburgh put up in Game 5 twice in a row. While there has been time for both teams to recover physically, the ability to summon the same intensity in the opponent's rink is more difficult. Meanwhile, the Sharks not only dodged a bullet, but they have the sort of confidence that only comes from surviving the Stanley Cup equivalent of a near death experience. Finding a way to win in a game they were thoroughly outplayed provides the "we find a way to win" mindset. In moments where things are not going well, that mindset can make all the difference. Given how well Pittsburgh has played, one expects more times when things will not be going well for San Jose. Maybe a bunch of those times.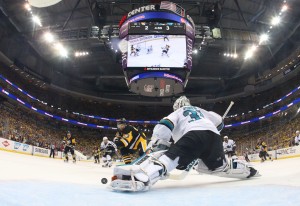 The confidence of Pittsburgh goalie Matt Murray and Sharks goalie Martin Jones are also intriguing story lines. In Game 5, Murray gave up a couple of goals where he left very small openings and the Sharks were able to find them. Not exactly terrible stuff, but a couple small notches below the top of his game.
Martin Jones gave up two goals on a night where he could have been spectacular and still given up four. Jones has plenty of reason to feel confident. Under the bright lights on the big stage, he played a sensational game. Both Murray and Jones have reason to be confident, but one would guess it'll be easier to rattle Murray than Jones.
Before Game 5, I said I liked the Sharks chances in the series if they were able to win. They won Game 5, and I like the Sharks chances in the series. Despite everything Pittsburgh has done to demonstrate they are the superior team, San Jose has found ways to stay alive. It will not surprise me if they find a way to do so, once again. Actually, very little will surprise me at this point, the series is as unpredictable as its ever been.
Zeke's Notes
I guess it was Logan Couture's day in the media on Saturday. Among those with 'Couture specific' feature articles, the New York Times (by respected former Sharks beat writer David Pollak), Puck Daddy, CSN Bay Area, Associated Press, the San Jose Mercury News and a Sharks specialty site, the Gackle Report.
It almost goes without saying that this is the biggest game in Sharks franchise history and it is the first time the Stanley Cup will be in the Sharks house with the chance to be awarded, albeit to the other team. Less than 24 hours before puck drop, there was still substantial ticket inventory on StubHub (among others), with well over 1,000 seats being offered on that one site alone. Prices dropped rapidly after the end of Game 5 in Pittsburgh. The lowest priced tickets in the upper bowl area, which only a few days prior had hovered near the $700 mark, were selling for just over $400. A few dozen lower bowl tickets were listed for under $700. The venue will be full, but the ticket demand on the secondary market is not overwhelming.
ZEKE is a native of the DC area where he witnessed the birth of the Capitals franchise. After graduating from Cornell University, which had seen hockey glory before he arrived, he moved west to San Jose. There he witnessed the birth of the Sharks franchise. His wait to witness a Championship from any of these teams finally ended in 2018.