Hockey fans are passionate. We (I think I qualify) want our game to be full of skill and grit, breed athleticism and competition, and for each player to be a real-life representative of our hockey imaginations. Blistering speed, shots so hard you can barely see, and violent hits that rattle the ancestors of an unfortunate casualty. All of it, we want all of it in this game.
Real life doesn't pan out this way. The perfect NHL player might be created in a video game, but he doesn't exist in reality. Like all walks of life, hockey players have faults. Each weakness, inferiority, or bad tendency on the ice is magnified, marginalized, and even rationalized to endless degrees. There is no such thing as perfection in hockey, no matter how much it is demanded.
That brings me to Sidney Crosby, the man who has been at the front and center of the hockey landscape for over a decade. There have been countless players to lace up their skates during that time frame, but none have matched the consistent excellence of #87. Crosby was the NHL's golden child; a prospect heralded as "can't miss" for many years who, luckily for the hockey community, didn't miss. He pulled Pittsburgh out of the cellar and into Stanley Cup lore in 2009, and has established himself and his team as a model for NHL greatness.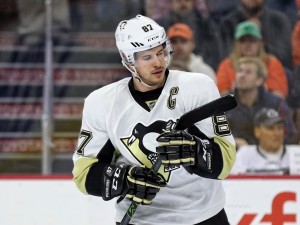 But to understand Crosby is to identify two distinct perspectives. There is the sensationally skilled hockey wizard, the guy who has the ability to effect the game regardless of whether the puck is on his stick or not. The second version is a player that whines, mixes it up just enough to get heads turned, and ultimately antagonizes every opposing fanbase with his refusal to take any altercation a step further. Ask Philadelphia about this Crosby. Or Washington D.C.. Or John Tortorella. You get the idea.
With Crosby, there is no version that involves him punishing the competition like Mark Messier or Jonathan Toews, but there's also no version that stays directly in his offensively gifted lane like Wayne Gretzky. Crosby blurs the line, and with it, blurs his reputation. But make no mistake about it, he is still the most impactful player the NHL has to offer. When he plays well, the entire Penguins roster reaps unrivaled benefits. Contrarily, if Crosby stumbles, it severely hinders the effectiveness of virtually every teammate. He's a superstar in every sense of the word, just not the one you probably imagined in the modern NHL.
Hockey Smarts
There is no greater NHL device in 2016 than Crosby's brain. A great deal of players can see plays before they develop, a select few can anticipate where the puck is going to be, but only one player has mastered hockey ESP. Crosby understands exactly where he needs to be, and what he needs to do in order to dominant the game in the fashion that he has for the last ten years.
More importantly, he accounts for the whole chessboard, and not just one valuable piece. Crosby notes the locations and skill-sets of each teammate and opposing force when he's making his decisions. Here's an example in this year's Stanley Cup Final:
It's one thing to show incredible speed and passing, it's another to make that decision to fire a blistering backhanded saucer pass right into a teammate's wheelhouse. Crosby had, maybe, a split second to make that call. But don't be fooled, that choice was made well before that. Whether you go to sleep in Crosby pajamas or fling beer bottles at the TV whenever he appears, it's impossible not to respect this unmatched hockey sense. Crosby is definitely not the most talented offensive player in the NHL (Patrick Kane's stickhandling and Alexander Ovechkin's shot are clearly superior), but his effectiveness is unparalleled. All because of that brain.
Two-Way Hockey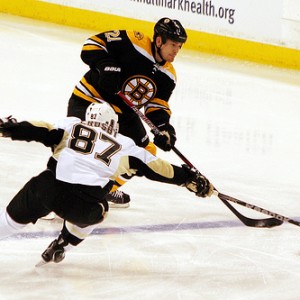 Even the best hockey players have room for improvement, and truly transcendent athletes are able to turn weaknesses into strengths over the course of their careers. Michael Jordan was not known as a great basketball defender when he got to the pros, but he tirelessly worked to earn a spot on the NBA's All-Defense Team. Similarly, Crosby came into the NHL with a reputation that many young forwards have: defensively inept at times. That's simply not the case anymore. His defensive zone coverage and attention to detail has improved mightily, with Crosby actually providing steadiness when his teammates are struggling. If you compare today's' version of #87 with that of his first few years as a Penguin, this is the greatest area of growth. His defense used to be a liability, but now it's a major advantage for his organization.
Playing two-way hockey is more than hustling in your own zone, and involves more dedication than most people realize. It's the countless work put in at each faceoff dot, the ability to get the puck deep when your team needs a change, and the simply breakout pass when an opponent is buzzing with tenacity. Hockey purists clamor over Crosby for this very reason. He plays the game like a glorified role player, despite all of his skill and mental capacity. Think about it; outside of Evgeni Malkin's stickhandling, Phil Kessel's quick wrist shot, and obviously checking, is there anything Crosby isn't the best at as a Penguin forward? He never gets enough credit for doing the daily tasks that a hockey player should do, but that sadly many superstars fail to account for.
The Physical Side
Everything about Crosby's game isn't admirable, however. While not the most physically imposing hockey player, he's certainly strong enough to absorb the violent contact this game dishes out. But nobody ever likes whining, especially when you're anointed as the hockey savior. Crosby gets slashed, bumped, and bruised as much as any player in the league, mostly because of who he is. But, and this is definitely worth noting, he's seemingly been given more rope than any NHL player to return the favor. Case in point, this not so wonderful incident with Washington's Nicklas Backstrom:
Had this play started with Backstrom being the aggressor, it might be justifiable. The first slash was thrown by Crosby, who managed to complain and retaliate in one fell swoop. There is no need for any player to whine in this regard, let alone somebody with Crosby's skill level and reputation. Yet, for reasons unknown, this happens quite a bit. This, in addition to being a terrific hockey player, is also who he is. And it's unfortunate.
Despite Crosby's propensity to whine, he is still considered one of the stronger players in the NHL. Notice the wording; strong, not tough. Crosby will handily admit that hitting is not his forte, but his strength is vastly underrated outside of inner NHL personnel circles. Check out this goal against Anaheim:
Crosby was able to withstand Cam Fowler hooking him around his midsection, and still unleash a laser-quick shot for the goal. While he doesn't have the most chiseled upper body in athletics, Sid's leg strength is a dynamic advantage when driving to the net. Combine that with good puck protection skills and a tireless work ethic, and it's easy to see why it's so difficult to knock Crosby off the scoring warpath. Again, this is the version of #87 that the entire league praises, and would like to see all the time.
Compared to His Peers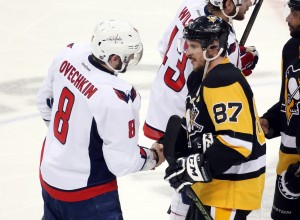 The NHL is full of supremely talented freaks and gifted specimens on skates. That notwithstanding, Crosby remains the most popular choice for the game's best overall player, with legends such as Gretzky offering up their support for that claim. When comparing #87 to his contemporaries, it is the whole body of work that sets him apart. Ovechkin and Steven Stamkos are pure snipers, with shooting precision that dwarfs that of Crosby's. But neither can pass or defend like Pittsburgh's franchise player. Kane has the best hands in the sport, but doesn't have a fraction of Crosby's presence as a two-way player. The list goes on and on, but Crosby remains the most favorable choice, regardless who's up against him.
For former players, coaches, and those who have invested years of their lives in this beautiful game, the respect for Crosby as hockey's standard bearer goes beyond what casual fans see on YouTube highlights. The Pittsburgh Penguins go as Crosby does, and no other NHL player effects more teammates than he does.
Think about his current linemates. Patric Hornqvist was drafted in the 7th round, and Conor Sheary went undrafted. Before that, Crosby skated with Chris Kunitz and Pascal Dupuis (both undrafted). Has it made a difference? Has he ever not made all those around him better, and transformed his line into a juggernaut? All of those players are thanking the heavens and their 401K's that they got to play with Sidney Crosby. He's never needed superstars linemates to boost his stats, and he probably never will. That, in it of itself, is enough to demonstrate his greatness.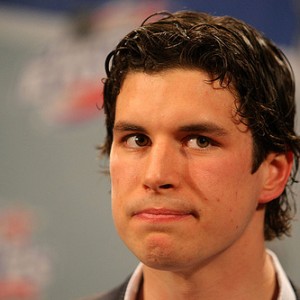 The Pittsburgh Penguins are on the verge of another Stanley Cup, or potentially a historic collapse. But either way, Crosby will be at the forefront, reaping the much deserved praise, or facing a fair amount of criticism for failing to get the job done. The narrative is all about him, as it should be. Crosby remains the face of the NHL, whether or not you agree with the way he plays the game. In the words of the Rolling Stones, you can't always get what you want.
Just a hockey loving American. I grew up in Cleveland, Ohio, and attended Saint Louis University where I skated for the Billikens. From 2013-14 I covered the St. Louis Blues for ESPN Radio St. Louis. I currently work in sports video production in Los Angeles, and will always show solidarity for stay-at-home defenseman.