Despite finishing sixth on the Connecticut Whale in points last season, Danielle Ward doesn't have a contract for the upcoming season. She does have experience though, professional hockey experience, and hopefully that experience plus her performance at the NWHL Free Agent Camp in New Jersey June 9-11 will earn her a deal with one of the four teams. As she explains below it took her a while to get going during the early part of the season, but from what we saw over two days at the camp – she was already going strong and had one of the highlight goals in a Day 2 scrimmage.
With Ward already having some roots planted in Connecticut that would seem to be the obvious choice or preference for her going forward, but the 26-year-old from Lansing, Michigan isn't ready to close the door on any chances just yet and would seem to be an asset to whichever team decides to sign her for season two in the NWHL. Following the first night of the camp The Hockey Writers spoke with Danielle Ward about if this camp is different from last year's, her college experiences in Maine and what it will take to dethrone the Boston Pride among other topics.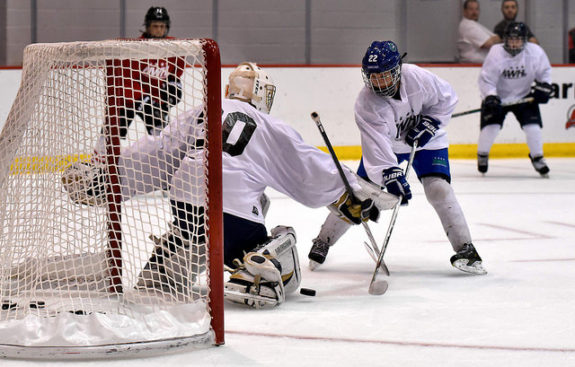 The Hockey Writers: How'd the first day of this camp go for you tonight? You looked like you were working really hard out there.
Danielle Ward: I just tried to go my hardest the whole time.
THW: Do you feel you have any kind of advantage over the other girls here that didn't play in the NWHL last season?
DW: A little bit; because I know the level of what it takes – it is a step higher than college. Coming out of college, you thought that was pretty hard and then getting here the talent is even higher. You know what to expect. It was nice having coach out there because I knew a couple of her drills. It definitely helped calm my nerves at the beginning.
THW: You had to go through a free agent camp last year too, correct?
DW: Yeah, I did the camp at Chelsea Piers (Connecticut).
THW: So you have an idea of what to expect here this weekend then, right?
DW: Yeah definitely. Four practices compared to two from last year though (laughs). Find out who's in shape.
Much needed ice bath after camp today! #NWHL #freeagentcamp #1moreday pic.twitter.com/ZIuHJe0Ih4

— Danielle Ward (@d_ward2) June 12, 2016
THW: How would you assess last season, both individually and as a team?
DW: As a team we had a great season, I think we just couldn't pull it together in the playoffs. I think we got outworked a little bit and because it was the first season maybe we just didn't know what to expect and we didn't come out hard enough. That was frustrating and we definitely wanted that one back. I personally want that one back. I think personally I had a little bit of a slow start because I had a few years off from school. But I think halfway through (the season) I finally started to find my game a little bit more. I had nerves for the first half of the season, nervous about myself. But after that it was calming and I was back to being patient; the second half was much, much better.
Forward Danielle Ward of the @CTWhale_NWHL has been named Player of the Week https://t.co/DBWftGL52k pic.twitter.com/w7qEzjfkAt

— NWHL (@NWHL) January 12, 2016
THW: As your day job you're a hockey coach, can you tell us a little bit about that?
DW: I coach for the Connecticut Oilers, our rink (Sono Ice House) is in Norwalk, Connecticut. I work with our house programs and with a lot of our younger players, starting from ages 3-4; and then I coach two travel teams – PeeWee Minors and Mite Majors.
THW: Sounds like you need a lot of patience with that…
DW: Definitely (smiles), with the Mites. They're really good skaters, but now they're at the point where we can actually teach them about the game. It takes a lot of repetition, to teach them one thing (laughs). We have a pretty tight leash on our group, but a few do stray and wander.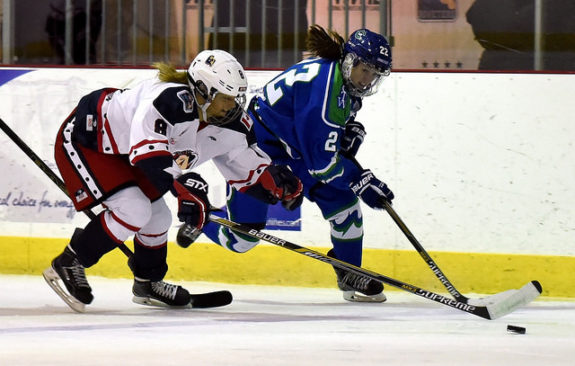 THW: In college you played for two different schools if I did my research right; can you tell us about that?
DW: I played two years at Southern Maine at the Division III level and then two years at University of Maine.
THW: What was the biggest difference from one school to the other?
DW: It was drastic (laughs), from structure to talent…everything was way different. I really liked the jump. It was fun the first two years, I really got to enjoy friends and my downtime too, but it was also nice to get really serious in the following two years. The talent level was definitely a huge gap, so the first couple of weeks took a lot of adjustments – speed, moving the puck, people are in your face a lot quicker. It was good though; I jumped into a good group and we had a new coach. So it was kind of a fresh start for everyone, even though I was the new player on the team it didn't exactly feel like that because everyone had to start over with a new coach.
MCN's Director of Womens' hockey Danielle Ward signs with the @CTWhale_NWHL of the @NWHL_ Congratulations Danielle! pic.twitter.com/S0cLpbmm55

— MCN Sports Management (@MCNAdvising) July 9, 2015
THW: So you're from Michigan and you went all the way to Maine to play hockey? Any reason why you didn't stay in Michigan to pursue hockey there?
DW: I went to Maine and then back to Michigan and then back to Maine (smiles). My first two years at Southern Maine it was pretty expensive and my parents were paying tuition for me; after that they said 'that's enough.' So I got into Michigan State and the only option there was club hockey, so I did explore that. Then a few weeks before school started Maine actually called and said 'one spot just opened up.' It was awesome, but again, the tuition thing was an issue – but I said mom and dad, please! They caved and they let me go (smiles).
THW: Did you have a favorite player growing up in Michigan? Were you a Detroit Red Wings fan?
DW: I was a big Red Wings fan, and Darren McCarty; he was my favorite player growing up.
THW: Any favorites on the Red Wings now?
DW: I cheer for the New York Rangers now a little bit, I've been converted since I've been in Connecticut for the past three years. Kevin Hayes was my favorite player the last few years.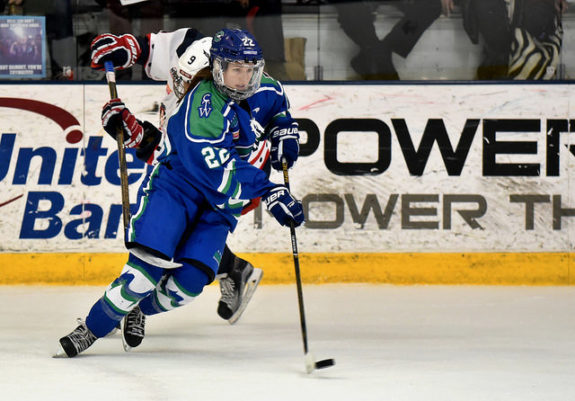 THW: What will it take for someone to beat the Boston Pride this upcoming season?
DW: Shut down their speed. They move the puck incredibly fast, they drive the net. Even their small players drive the net so hard; you think you have them and then they find a way through. Being really disciplined in the D-zone and moving the puck quick.
Dan Rice is in his 9th year of reporting for THW & has covered NJ Devils home games for 15+ years at various websites. He began his journey working for legendary broadcaster/writer Stan Fischler from 2002-04 & completed an internship at the ECHL; he also has been writing features for the NWHL (nwhl.zone) website since 2016.