Honestly, I don't even know where to begin with the Lake Erie Monsters.
Coming into the season, I knew they had potential. The Monsters were a young team with lots of talent. Certainly the playoffs were a realistic goal. I didn't think they had this in them though.
Luckily for me and for the rest of us, the team knew what they were capable of.
No matter who you talked you after Lake Erie's 1-0 OT victory in Game 4 of the Calder Cup Finals, they all acknowledged each other in the best way possible. Every reference they made had the word "team" in it.
In professional sports, that's the way it's supposed to work.
The Lake Erie Monsters are the perfect example of a team who is truly together in every sense of the word. No matter how difficult the circumstances got, they were always there for each other.
Two players in particular, Ryan Craig and Jaime Sifers, were mentioned by name by every Monsters player I talked to after the game. Each has played in the AHL for many seasons. Saturday night on the ice at Quicken Loans Arena was not just a celebration of a Calder Cup. It was a deep appreciation of two players who have paid the price over and over. Craig and Sifers are the perfect representation of what the Lake Erie Monsters were all about.
Werenski on this #Monsters team: "You look at guys like Ryan Craig and Jaime Sifers…they'd never been this far. So for the young guys…

— Rob Mixer (@RobMixer) June 12, 2016
They did everything with class.
This is the overwhelming theme of the team. The Monsters are a first-class organization that did everything the right way. This reflects the leadership this team has, from the players, to the coach, to management. Everyone did their part to make this season work in the best way possible.
I asked Ryan Craig what makes coach Jared Bednar so special. He echoed the same sentiments about Bednar as every other Monsters player did. "He relates well to his players."
The Monsters have a coach in Bednar who now has won two titles. He won a Kelly Cup. He now has a Calder Cup. If Craig had his way, he wants to see Bednar up in the NHL.
"I think that's the way it should be", Craig said. "Coaches like him (Bednar) deserve the chance at the next level. That's why we're in this business in the first place."
If that doesn't say class, I'm not sure what will.
We are going to take some time to reflect back on this season. Let's now celebrate the Lake Erie Monsters winning the Calder Cup.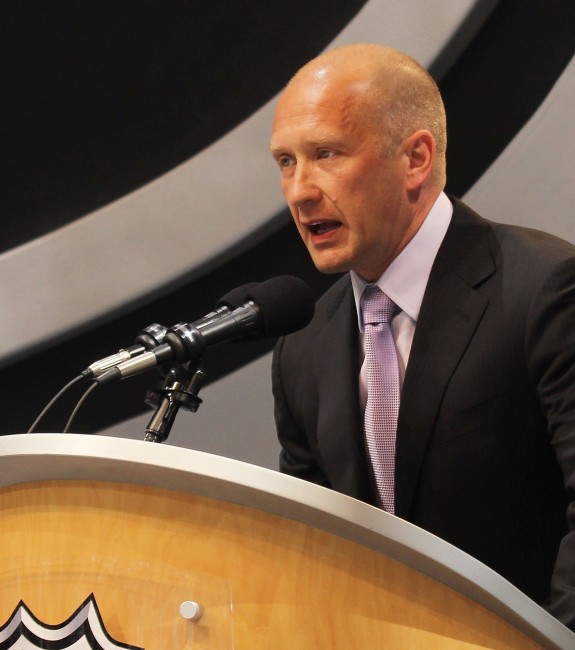 Celebrating the Management & Coaching
What kinds of things do you look for in a great coach? Whatever it is that you look for, Bednar has those things. Whether you want a coach who remains even keel, or a coach who is a great teacher, or a coach that puts his players in the best place to succeed. It's for these reasons that Bednar is a great coach.
I asked Bednar what he was most proud of with his players.
"We set out at the start of the season with one goal in mind. No matter what challenges came about, these players responded well to every adversity. This is a resilient group that went about their business the right way. I couldn't be any happier or prouder of these guys."
Yes, going 15-2 in a very demanding and tough sport in the playoffs is an amazing accomplishment. Makes you wonder what some of the keys to their success were. Bednar showed his class by his answer.
"You have to give credit to the management (Columbus) for putting it all together. Their successes at the draft table are a key reason we are here."
Jared Bednar joins Bruce Boudreau as only coach to win AHL's Calder Trophy and ECHL's Kelly Cup

— Aaron Portzline (@Aportzline) June 12, 2016
When asked why Lake Erie was so successful, GM Jarmo Kekalainen gave praise right back.
"You have to give credit to that coaching staff and the wonderful job they are doing. Their preparation for every game and situation really stands out. They don't get too high or low on themselves. They go out and get the job done."
Everyone did their part. Management brought the right players in. The coaches put them in place to succeed. The result is Cleveland's first Calder Cup in 52 years.
Celebrating the Players
There are so many good stories to share involving the players. Oliver Bjorkstrand became the first player in AHL history to win three games in overtime in one playoff year. Considering that this is the end of the AHL's 80th season, that is an amazing accomplishment.
But that was just the beginning for Bjorkstrand. His third overtime winner, with just 1.9 seconds left, clinched the Calder Cup for Lake Erie. It also earned him MVP honors.
"There are just no words right now," Bjorkstrand said. "We worked hard all year to get to this point, and to finish the way we did, says a lot about our team."
https://twitter.com/FriedgeHNIC/status/741818894952763396
There's that word "team" again. It's never about individual accomplishments with the Monsters. Whether it was Zach Werenski, Kerby Rychel, Trent Vogelhuber, or any other Monster that talked with us, they all said the same thing. "What a great team this is."
Speaking of Werenski, what a season he's had. He captained Team USA at the World Juniors. He then helped Michigan get into the NCAA tournament. Then he signed an ATO for the Monsters. Surely this would be a major transition for the still 18-year old.
He became the highest scoring U-20 defenseman in the history of the AHL playoffs. We will likely see him in Columbus next season.
How about Kerby Rychel? His season was up-and-down to say the least. Demotions, rumors of trades seemed to dominate the headlines with him. So what does he do in response? Although the score sheet didn't bear this out, he was one of the Monsters best players, especially when playing on a line with Josh Anderson. He did his part and more to help the Monsters get their championship.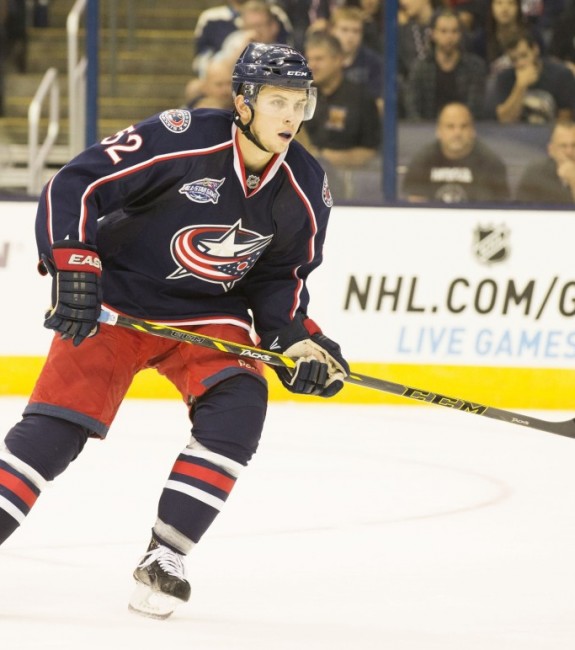 Now look at Rychel's career. He won an OHL Championship. He was a runner-up at the Memorial Cup. He now has a Calder Cup. I asked Rychel if this championship pedigree helped him here and could be the springboard he needed for the next level.
"I believe so. Going on a long run with Guelph definitely did help. You kind of know how to play in the big games, especially playing with Team Canada at the World Juniors."
You could just tell the sense of accomplishment on Rychel's face chatting with him. He looks like he's ready to take a run at a roster spot for Columbus next season. If he continues his play from these playoffs, it's certainly within reach.
Celebrating the Goalies
This story to me is one of the most encouraging parts of the Monsters playoff run. Forsberg and Joonas Korpisalo split time in net. This was a 1A/1B situation where both guys could win on any given night.
But only one guy could play. Forsberg struggled when he first got back to the AHL after a short stint with Columbus. Unsung hero Brad Thiessen helped carry the Monsters through the season while Korpisalo or Forsberg were in Columbus. Korpisalo came back and got the first crack at starting in the playoffs.
You had to feel for Forsberg. Korpisalo held his own in Columbus. Thiessen played better in Lake Erie. Forsberg rode the pine. But he never got down on himself because of this.
Forsberg and Korpisalo are great friends. They supported each other no matter what was going on. Although Korpisalo got the first shot, Forsberg was there supporting his good friend.
Then Games 4 and 5 of the Grand Rapids series happened.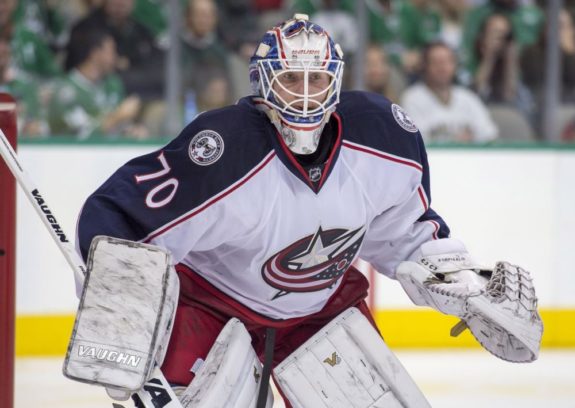 Up 3-0 in games and 4-1 in the second period of Game 4, Lake Erie seemed primed to sweep the Griffins out of the playoffs. But in a flash, thanks to four unanswered goals by Grand Rapids, they won Game 4 in a stunning way. The carryover went to Game 5, where the Griffins chased Korpisalo from the net. In came a "cold" Forsberg. Game 6 didn't start any better.
Forsberg allowed two quick goals. Was panic starting to set in? Not a chance. Lake Erie got their game back together and played to a 3-3 tie in Game 6, before Werenski ended the series with a great individual effort. Forsberg won that pivotal Game 6. He never lost again.
Think on this for a moment. The Monsters "backup" goalie came in and never tasted defeat, against two of the best teams in the AHL. Forsberg's play allowed the Monsters to do what they needed to do on the score sheet. This is a testament not only to the goalies, but to the coaching for keeping everyone mentally ready. How many goalies can come in and do what Forsberg did? Columbus' net is looking real good for the future all of a sudden.
Congrats to Monsters' GM Bill Zito and the coaching staff on winning the Calder Cup. Great job! pic.twitter.com/a0FzaA7O21

— Jarmo Kekalainen (@jkekalainen) June 12, 2016
There's just so much to celebrate with this Monsters team. From the players on up, there are success stories everywhere. But this is just the beginning. The Monsters will reload and make another run next season. Columbus now has open competition for precious few roster spots. If Lake Erie is any indication of what the future holds in Columbus, things are looking good. Unlike past seasons, we have tangible evidence in the form of a championship.
Congratulations to the Lake Erie Monsters for their incredible postseason run. Now that's worth celebrating.