After missing the playoffs by a hair for the second straight year, the Boston Bruins are in a tough spot. Unfortunately, Loui Eriksson is making their lives even tougher. The Swedish winger had a fantastic contract-year this season, tying David Krejci with 63 points, enough to give them the second-most on the team. However, his future in Boston is looking pretty bleak.
Eriksson just finished the final season of a six-year, $25.5 million contract that he carried with him from Dallas when he was traded to Boston back in 2013. He'll be turning 31 in July, will be looking to cash in big one more time as he powers through his prime as a veteran winger. Eriksson will aim to bring in the big bucks, which he earned with his production in Boston.
The Bruins have sounded optimistic with regards to their discussions with Eriksson, however, it may be tough for them to match the wishes of Loui Eriksson, who is expected to draw a long-term contract worth somewhere around $6 million a season.
"We've been in discussions with Loui and have a pretty good idea where they would like to be at, and we'll see whether we can find common ground there," said Bruins GM Don Sweeney in May, per Ty Anderson of HockeyBuzz.com. His optimism carried over into last week, when he met with Eriksson's agent and reiterated that they're "trying to find common ground."
However, as playoffs come to a close, and deals start hitting the table, the Bruins may find themselves without the talents of Loui Eriksson. Sweeney is certainly aware of that possibility.
"If we don't find common ground with Loui then we're going to have to replace him."
The Bruins have placed themselves between a rock and a hard place. After failing to move Eriksson at the deadline (a lack of action that surprised many people), the Bruins effectively committed themselves to trying to work out a contract with Eriksson this spring. However, in doing so, Don Sweeney will be anxious not to make the same mistakes as his predecessor Peter Chiarelli did.
Bruins fans are unsurprisingly nervous about signing players to expensive long-term deals. It was this phenomenon that got Boston in trouble in the first place. To make matters even more fragile, Loui Eriksson is a player with concussion issues in the past. Don Sweeney will certainly be cautious about dishing out too much for Eriksson.
However, on the flip side, the Bruins are under equal pressure to lock up Eriksson. For starters, Bruins fans will be angry if the team lets Eriksson walk without any return when they could have shipped him off at the trade deadline and received something as payment. However, more importantly, the Bruins risk losing their second-highest point-getter. It would be a devastating blow to an already-damaged Bruins lineup.
And while Don Sweeney states that the Bruins would be forced to "replace" Eriksson if he walks – well, – that's a lot easier said than done. Eriksson's worth to the Bruins this season goes beyond his offensive talents. He's an extremely smart and well-disciplined player – he committed just twelve penalty minutes while appearing in all 82 games for the Bruins this season. To put that in perspective, Patrice Bergeron, who is considered to be a pretty well-disciplined player, had 49 penalty minutes in two fewer games. Eriksson is effective in pretty much any situation that he's placed in, and his advanced stats show that his teammates are measurably more effective while playing alongside Eriksson.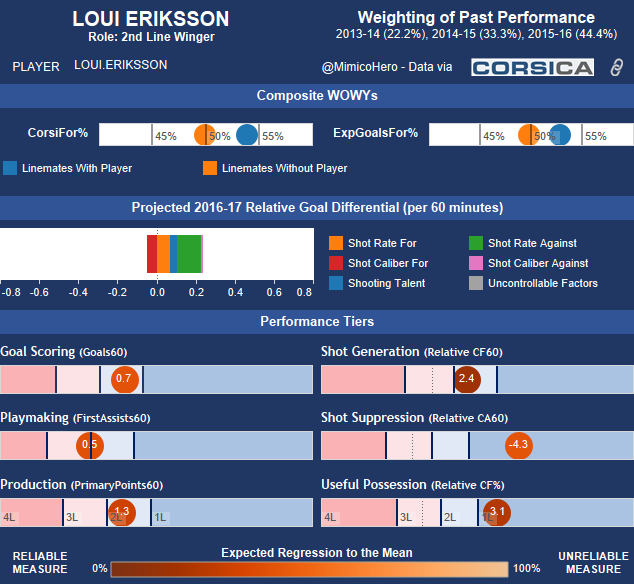 He's an extremely valuable two-way forward, and he's not someone the Bruins will be able to simply "replace."
Don Sweeney and Co. will be trying to balance between two very fragile outcomes this summer. It seems that no matter what, Sweeney will be making a great deal of fans angry. But that's the type of thing you sign up for as a general manager.
Cam is a Broadcast Journalism student at the University of Maryland. He's the Boston Bruins Beat Writer at The Hockey Writers, and is an avid college hockey fan. Find him on Twitter @CamHasbrouck!