Competition breeds excellence, right? As for Marc-Andre Fleury, he's hoping a return to excellence will be enough to supplant 22-year old Matt Murray in the Penguins' net just a mere three months after the young goaltender led Pittsburgh to their fourth Stanley Cup Championship in franchise history.
This is a much different conversation than many of us anticipated having as the 2016-17 season approaches.
Fleury recently told NHL.Com that he plans on coming to camp ready to win his job back. After suffering his second concussion of the season in late March, Fleury was replaced in goal by the tandem of Murray and steady backup Jeff Zatkoff. Murray excelled when given the opportunity and eventually helped the Penguins advance to the Stanley Cup Final before defeating the San Jose Sharks in six games.
The rest is history, which is exactly what Fleury's time in Pittsburgh was assumed to be.
However, Jim Rutherford told the world that a perfect scenario involved starting the season with both Murray and Fleury. Barring a surprise late summer trade, it looks as if that will be the case. The two will go head-to-head in what will be the most watched goalie battle in the league.
Marc-Andre Fleury or Matt Murray?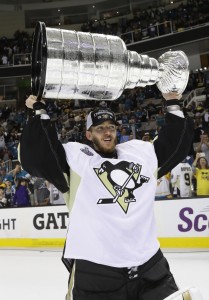 Quite the common question these days and one that has been posed since Fleury was deemed healthy during the postseason. So again, I pose the same question as when I once discussed trading Fleury…
Can you really put a Stanley Cup winning goaltender on the bench as a backup?
Yes, Fleury won a championship as well but that was seven years ago. Pittsburgh has only surpassed the second round of playoffs twice since then, and Fleury didn't play either time. Those early exits weren't entirely on Fleury but still, it's an interesting fact to consider.
Murray was spectacular for the first half of Pittsburgh's championship run. His performance dipped in both the Conference and Cup Finals but he played well enough to win. He never truly left the door open for someone to take the starting role from him but now, it looks like the door is being forced open beyond his control. He'll have to fight for his starting job against the beloved Fleury and while competition at any position is normally a good thing, I'm not sure carrying two starting goaltenders is what's best for either individual's confidence level.
This debate will continue on throughout the season, and likely until one of them is no longer wearing a Penguins jersey. I believe Murray is ready to take over and when you consider Pittsburgh's cap situation, it would make a lot of sense to continue searching out deals for Fleury's relocation. If you're in the camp that believes the Penguins need to see more from Murray before making that decision, I can't argue that either. Young goaltenders can be tough to read so a larger sample size isn't necessarily a bad thing.
Unfortunately, it's a matter of watching and waiting at this point, as one of these netminders will eventually take a strangle hold on the position.
Fleury's Professionalism Remains on Display
One conversation lost in all the Stanley Cup hustle and bustle is that of Fleury's professionalism. Throughout all of this, even now, he remains one of the good guys, displaying full support for the process in front of him. He understands that hockey is also a business and while his heart is in Pittsburgh – at some point – his job may not be.
Fleury also said the following when speaking with Robert Laflamme of NHL.Com.
I did my best to keep everyone upbeat and in a better mood around the team. I wanted to play, but that was the situation. The team was winning. The most important thing for me was to be a good teammate.
You can read his body language during the Cup celebration or facial expressions while spectating as you please, the fact remains that Fleury handled this situation as well as anyone could have asked and he deserves full marks for doing so. There were no public outcries, no fits and most importantly, no distractions.
The coming months will tell us a lot about the future of this goaltending situation. We'll revisit this exact conversation numerous times and dissect every reason why each individual deserves the crease. While doing so, it's important to keep perspective on the professionalism – both on and off the ice – Fleury has displayed.
He may be displaying that professionalism elsewhere prior to the 2017 trade deadline.
Pittsburgh Penguins writer for TheHockeyWriters.Com and PittsburghHockeyNow.Com. Youth hockey coach, and student of the game.