Following the Buffalo Sabres' second consecutive comeback victory on Saturday, fans rejoiced as they reached the simultaneous realization that this year's team is for real. That's right ladies and gentlemen, the basement-dwelling, love-for-the-game-losing, long-suffering squad that we've witnessed over the better part of the last decade is finally gone. For the blue-and-gold faithful in Western New York and beyond, hockey is fun again.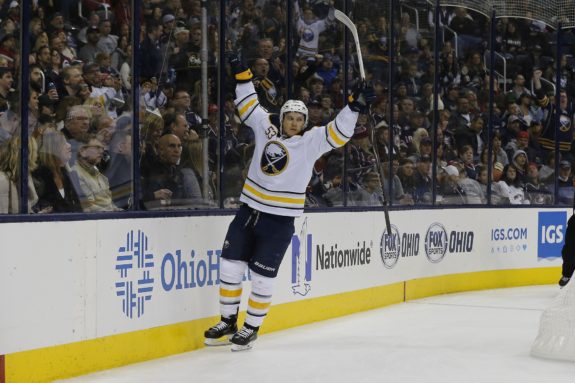 After patiently waiting through a poorly-executed rebuild courtesy of Tim Murray, there is light at the end of the tunnel. With a 9-6-2 record to start the 2018-19 campaign, the Sabres' improvement has become increasingly evident. They're far from a finished product, but for a squad that was seen as a longshot to compete for the postseason, they're exceeding expectations in the early going.
So, what has been the secret sauce? Which aspects of the new-look roster have distinguished themselves as the catalysts for such dramatic, course-altering improvement?
Offensive Reinforcements
We'll start with the most obvious reason for the team's early emergence from the doldrums of obscurity. Jason Botterill immediately went to work this summer in an attempt to overhaul a roster that inspired him to infamously slam a press-box door in frustration last season. At his end-of-the-year press conference, the then first-year general manager was noticeably perturbed, promising a roster "shake-up" that would take place in the ensuing months. He certainly delivered on that promise.
Before the free-agent market opened, Botterill orchestrated a deal that addressed his team's glaring lack of talent on the wing. When the news broke that the Sabres had acquired Conor Sheary (and defenseman Matt Hunwick) from the Pittsburgh Penguins in exchange for a conditional fourth-round pick, fans were elated. On the surface, a mid-round draft selection seemed like a meager price to pay for a player who was just one year removed from posting 58 points in 61 games.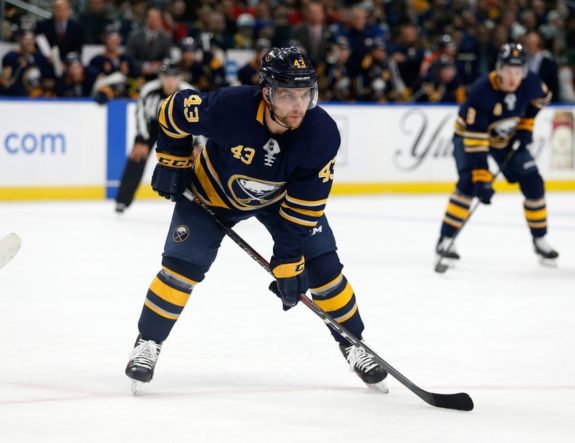 Botterill didn't stop there. Just when roster prognosticators had resigned themselves to the assumption that the Sabres were done making moves, he orchestrated what is considered by many to be the most lopsided deal of the offseason. For the modest price of three draft picks (none of which were a first-round pick) and prospect Cliff Pu, he somehow convinced the Carolina Hurricanes to part with goal-scoring forward, Jeff Skinner.
Four months later, the Sabres still appear to be the winner of both deals (though, the Hunwick cap-dup certainly allowed the Penguins more flexibility from a salary cap standpoint, so that one seems more like a mutual victory). Sheary is on pace to significantly improve upon his 30-point campaign last season with nine points through 17 games so far. Skinner has arguably been the Sabres most valuable player to date with 19 points. His 12 goals currently place him in a four-way tie for second most in the NHL.
Alongside Jack Eichel and Jason Pominville on the team's first line, Skinner has been electric. In the 10 games since his promotion, he's registered a staggering 16 points. In fact, that trio has accounted for 46-percent of the team's goals this season. Talk about effective.
As Skinner approaches unrestricted free-agent status this summer, fans have been increasingly vocal on social media regarding their desire for Botterill to lock the 26-year-old down long-term. It took the franchise three years to find a suitable left-winger for Eichel and to let him leave would be an unadulterated failure on the part of the front office.
Related: Pominville Thriving on Sabres Top Line
Between the Pipes
It's no secret that the Sabres' netminders left a lot to be desired last season. The tandem of Robin Lehner and Chad Johnson struggled mightily behind one of the worst defensive corps in the league. Despite the fact that their pedestrian stat-lines weren't completely their fault, with a combined save percentage of just over 90-percent, the team (and fanbase) felt it was time to move on.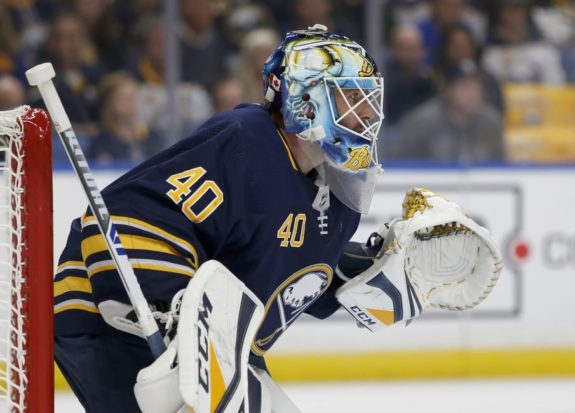 Enter the Sabres' only free agent acquisition of the summer, Carter Hutton. Last season with the St. Louis Blues, the 33-year-old netminder was sensational, posting a .931 save percentage in 32 appearances. Seeing an opportunity to become a starter in Buffalo, he passed up more lucrative contracts elsewhere, instead agreeing to a three-year, $2.75 million deal with the Sabres.
Touted by media members in St. Louis as not only a great goaltender, but also an excellent leader, Hutton's potential presence in the locker room was likely one of the reasons for the Sabres' interest. Paired with Swedish youngster Linus Ullmark, the team's situation between the pipes seems stable for the first time since Ryan Miller donned the blue-and-gold.
Given the fact that the Sabres' defensive unit that still has a lot of room for improvement, Hutton's calming demeanor has been a breath of fresh air. On Saturday, his presence as a leader on the ice was on full display. After rookie phenom, Rasmus Dahlin misplayed the puck in his own zone, allowing the Vancouver Canucks a prime scoring opportunity in the slot, Hutton skated to the bench during the TV timeout to have a little chat with the 18-year-old, presumably regarding what went wrong on the last play.
Not to pick on a player who is already gone (and actually doing quite well with his new team), but that type of patience and guidance is the exact opposite of what fans saw from Lehner (though it's impossible to know how he handled himself around his teammates), who was seemed a little too quick to blame those around him during his postgame interviews.
Morale, Culture, and Other Buzzwords
Fans sometimes have a tendency to create their own realities, despite having no real way of knowing what goes on with the team behind closed doors. It's part of the reason why discussing topics like culture and locker-room morale is an act of futility unless you're in the locker room every day, which most fans aren't.
Unfortunately, those topics clouded most of the discussion regarding what went wrong with the team in 2017-18. The burning speculation about a perceived lack of leadership on the roster had a gallon of gasoline poured over it when Ryan O'Reilly was shipped out via trade to the St. Louis Blues on July 1.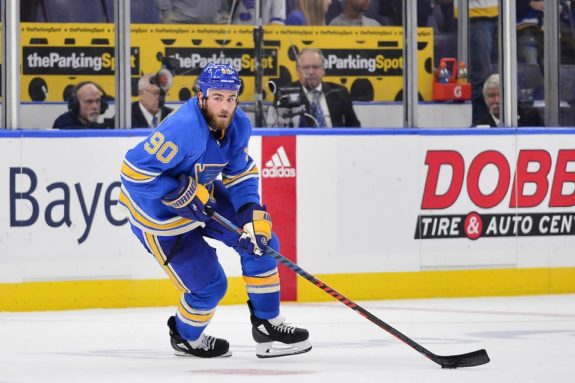 Even before O'Reilly uttered his famous "lost love for the game" line, there was rampant speculation that his seemingly negative attitude was part of the problem last season. There's no real way of knowing why the team felt that it was time to move on from the 27-year-old, who has done extremely well with his new squad, posting 20 points in 14 games to this point. Either way, something just seems different about this year's Sabres team. They're playing with an added flair and passion that was missing in years past, and there's no question that the boys at KeyBank Center are loving the game right now.
While fans continue to question the value that the team received in return for O'Reilly (and rightfully so), it's fair to wonder how Patrik Berglund and Vladimir Sobotka are positively impacting the Sabres locker room. It's something that doesn't appear on a stat sheet but could be worth its weight in gold for a young team trying to form an identity.
We may never know for sure just how much the addition of high-character players has played a role in the Sabres' newfound success, but something is noticeably different about this team's entire identity. They're orchestrating comeback victories that last year's squad would have only dreamed of, and they finally have the look of a team that's in every game until the very finish, no matter what the score. This is a group that the ever-patient fans in the Queen City deserve. The "suffering" may finally be over.
The next stretch of games is no cakewalk with teams like the Tampa Bay Lightning, Winnipeg Jets and Pittsburgh Penguins on deck, but it certainly feels like this year's Sabres could snatch a couple of unlikely wins given how they've played so far. Stay tuned.