In the first week of December, USA Hockey typically announces their selections for the evaluation camp used to pick the USA WJC roster. The roster will be evaluated through a series of practices and scrimmages. Practices will occur December 16th-19th, with a scrimmage occurring against the Boston University Terriers on the 19th. They will then have two pre-competition tuneup games against Germany on the 21st, and Sweden on the 23rd before the tournament begins.
Below is a primer on the goalies that could be selected to camp. Last year, four goalies were brought to the evaluation camp, and three were carried in the tournament. Thatcher Demko of Boston College is the only eligible returner. Goalies are listed in order of who I believe will be selected.
USA WJC Roster in Evaluation Camp: Goalies
Thatcher Demko, 6'4″, 194, Boston College (NHL Rights: Vancouver Canucks)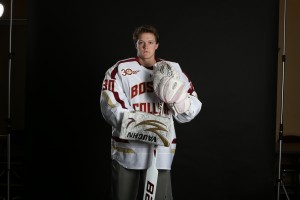 Last year, Demko was the third goaltender on the US WJC roster behind Jon Gillies and Anthony Stolarz. Though Demko did not see any playing time, as the returner the starting job will be his to lose.
Demko is a butterfly goalie that uses his size and strong positioning to defend his net. He gives shooters very little to look at when he's squared up.
As the youngest player in the NCAA last year, Demko posted a 2.24 GAA and .919 save percentage for the powerhouse Eagles. He's improved upon both of those numbers this year, shrinking his GAA to 2.09, and bringing his save percentage up to .921.
Demko has a long history playing internationally for the US and USNTDP, at both the U17 and U18 levels. He has the best pedigree of any goalie the US can pick from, and his play this year for BC has given him the leg up on the rest of the competition.
Alex Nedeljkovic, 6'0″, 190, Plymouth Whalers (NHL Rights: Carolina Hurricanes)
Going into this season, Nedeljkovic was the clear cut #2 option behind Demko. Some even believed he would have the chance to win the job from Demko with a strong regular season before the tournament and a good performance in camp. This year, however, has not been a great one for Nedeljkovic.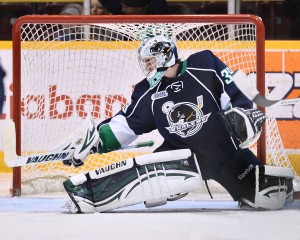 After being the third goaltender selected in the second round of the draft, Nedeljkovic has seen his GAA go from 2.88 to 3.35, and save percentage decrease from .925 to .902. Plymouth has not been a strong team, but they weren't last year either. Nedeljkovic hasn't been the problem, but he hasn't exactly been a part of the solution.
While he is relatively undersized, Nedeljkovic makes up for it with strong positional skills and sound technique. He will have to fight off the following two candidates for the right to back up Demko. One thing working for Nedeljkovic is that he will be eligible to return for the tournament in 2016.
Evan Cowley, 6'4″, 185, University of Denver (NHL Rights: Florida Panthers)
In years past, the NAHL has slowly gained a reputation for producing some decent goaltending prospects. First it was Anthony Stolarz and Connor Hellebuyck. Evan Cowley is the latest legit prospect to come out of the little known American junior league. As backup with the University of Denver Pioneers last year, he got into just four games. This season as the starter, he has already played nine, posting a 1.85 GAA and .929 save percentage.
Cowley brings good size and solid athleticism, but is an ongoing project as a goaltender. His potential is undeniable, but he is still working on rounding out and polishing his game.
Brandon Halverson, 6'4″, 179, Sault Ste. Marie Greyhounds (NHL Rights: New York Rangers)
The third of three American goalies selected in the second round of the 2014 draft (Demko and Nedeljkovic were the others), Halverson was not expected to go that high in the draft. He was expecting to go in the mid to late rounds himself, but the Rangers clearly saw something in Halverson.
There are two things that stand out immediately with Halverson: his size and athleticism. He has NHL-type size, and his athleticism and ability to track the puck through traffic is impressive. His weakness is that his positioning and angles need some work. If he is able to round out his game and become more technically sound, he will be quite the goalie.
Playing in the OHL, he has already equaled his start total from last year (19). He's brought his GAA down slightly from 2.96 to 2.94, and elevated his save percentage from .904 to .914. One thing working for Halverson is that he is eligible to return for the 2016 tournament, which is something USA Hockey looks for in their #3 goalie.
Bill Schoeninger is a Philadelphia Flyers writer and current Boston University student studying business. Coming to THW from Hometown Hockey, Bill follows and writes about the Flyers, Boston University Terriers, and NHL Draft prospects. Follow him on twitter @BSchoeninger17