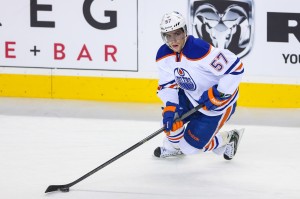 Shockingly, the Edmonton Oilers lost again last night.
This time it was somewhat close, although it really shouldn't have been.
Ben Scrivens put on an incredible individual performance in goal, stopping 37 of 41 shots, which allowed the Oilers to wrestle one point from the Central Divison powerhouse St. Louis Blues. Scrivens' great game allowed the Oilers to push the contest into overtime despite being heavily outplayed for portions of the game.
Eakins' summary of the game was spot on:
"We were able to survive a first period where we were under tremendous pressure. We got our legs underneath us in the second, had a good period and then had an average period in the third. We made a couple of mistakes that we couldn't recover from."
In the other net, Jake Allen did not look to be at his best, allowing three goals on 16 shots, although the Oilers' goals came on high percentage scoring chances.
With the loss, the Oilers pushed their record against the Western Conference to an embarassing 0-11-3, while having now lost nine games in a row. Let's be honest, when you're allowing 41 shots against and only putting 16 on goal yourself, you're not going to win alot of hockey games, especially in the NHL.
Starting goaltender Ben Scrivens echoed this after Friday's loss, stating:
"We're getting what we deserve. I don't think we're playing good enough to win in the NHL"
Simply put, the Oilers need to begin playing better hockey, which is much easier said than done. For the Oilers, things only get more challenging as the season progresses, especially to begin December as the team plays 14 of their first 15 games against Western Conference teams. If the Oilers continue to play the way they have recently, especially agianst the West, Edmonton could be assuring themselves of yet another first overall pick less than half way through this season.
The Oilers next game is Monday, December 1st against the Arizona Coyotes in Edmonton.
Brett Slawson is a four-year veteran of The Hockey Writers who covers the Toronto Maple Leafs, NHL prospects, and the OHL's Mississauga Steelheads.
Contact Brett on Twitter @brettslawson92, or by email at brett_slawson@hotmail.com.