It had to end eventually. The Chicago Blackhawks 4-2 victory over the Los Angeles Kings closed the door on an ultra impressive seven game winning streak for L.A.'s hockey club, a run that propelled the team straight to the top of the Pacific Division. By now we know the narrative all too well; lose three, come together as a locker room, let Darryl Sutter do Darryl Sutter things, and proceed to win hockey games. The Kings are no stranger to winning, but they are also acquainted with adversity and pressure situations. How then, does this team continue to pick themselves up when times are bleak?
Allow me to introduce you to the movie quote device, a creative approach to explain my thoughts on the Kings recent example in a long list of success with their backs against the wall. Each quote is from a movie I enjoy, and each quote applies directly to characteristics that the Kings displayed in the past three weeks. You might laugh, you might cry, you might want to drop your gloves and square off with me. That's OK. If you are unfamiliar with the current state of this team, allow these popular movie quotes to serve as your guide, and vice-versa. Consider this column as a bridge to connect the islands of hockey and pop culture.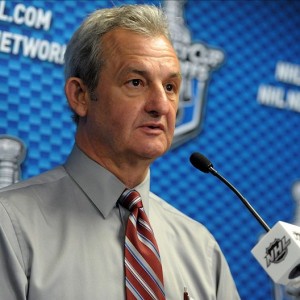 "I don't know what you teach these fellows, but they're not just regular cops. They're super cops, and the only thing missing on these guys are capes." – Axel Foley (Beverly Hills Cop)
As I covered last week, Darryl Sutter finds whatever jolt of energy he can to bring the most out of his players. It's virtually impossible not to give him a lot of credit for this winning streak. There was no big trade acquisition or returning player from IR, there was just good old Darryl and his trusty reading glasses.
In a league with 30 franchises, coaching styles tend to mirror one another. Some of them are good, some of them are brutal, and some are just plain mediocre. Distinguishing between bad and mediocre coaching can be tough to identify, but there is no mistaking a good coach who can get through to his players. L.A. has one in Sutter, and you should look no further than the development of his young talent (Tanner Pearson, Tyler Toffoli, Jake Muzzin , even further back to Drew Doughty and Anze Kopitar). Each player took a noticeable leap in productivity when Sutter arrived, and each takes it one step further by passing down his teaching wisdom to the next young player who walks in the door.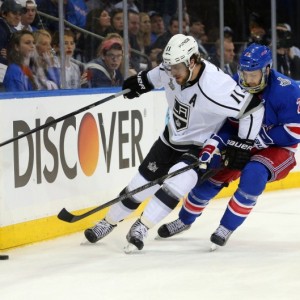 "People call those imperfections but no, that's the good stuff." – Sean Maguire (Good Will Hunting)
One of the most underrated quotes from a sensational film. Robin Williams' character explains that the idiosyncrasies of each member in a relationship are actually the characteristics that make it special. I'm not writing this to give the players dating advice, which would be downright comical if I attempted to do that to anyone in this city outside of D'Angelo Russell. No different from any other sports franchise, the Kings have their own little quirks as a club. Most of them are great, and some of them drive the fan base nuts at times. We've all yelled at our television set when our favorite player refused to shoot the puck or make the play we wanted from our living room, but at the end of the day we still love the team the same (if they are winning).
The Kings are not a perfect team, because perfection does not exist in a league as expert as the NHL. Everybody can play, and everybody wants to be a champion. The Kings are going to make their mistakes, as evidence by some of their miscues (late in regulation against Minnesota and Nashville come to mind), but they still will find a way to show tremendous resolve. Cycling in the offensive zone might seem like it's not generating enough scoring chances, until that one L.A. shot finds the back of the net. A blowout win seems more satisfying, but shockingly enough it counts as the same number of points as a prototypical 2-1 Kings victory in which they were out-shot. This is who they are, and you better learn to like them apples.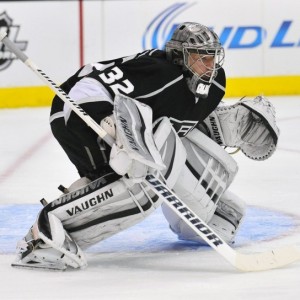 "I know you. You know you. And I know, you know, that I know you." – White Goodman (Dodgeball)
The lasting legacy of White Goodman will not be forgotten on my watch. Ridiculous grammar, tone, and wig aside, this Ben Stiller negotiation line has some powerful relevance in the sports world. The Kings started out 0-3, with a lack of goal scoring and a consistent defensive unit. But they knew they had the talent, the leadership, and the coach to overcome an early hiccup. They didn't run from the issues at hand, they confronted them. L.A. hasn't changed their approach or style in the past seven games, they simply reinforced both. Passes were a little crisper. Coverage was a bit tighter. And shots were more accurate.
Darryl Sutter made some necessary lineup changes, but that's what this team has been all along too! During his time at the helm, Sutter has made more adjustments than the Game of Thrones show (and thankfully all of his players made it to the end of the season) to determine the best combination for success. Again, that's who is he is, and that's what this team has come to expect. Whether it was Connor McDavid getting loose with the puck, Nashville scoring in waves, or Winnipeg's physical first period, the Kings didn't panic. They simply knew what they had to do, and they did it. Seven wins later, in a world without Globo Gym, it's easy to understand why it all came together for L.A. They know who they are.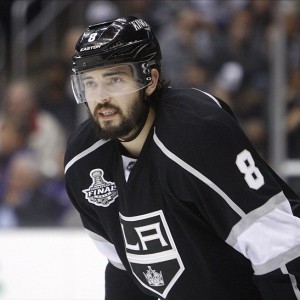 "Boy, I got vision and the rest of the world wears bifocals." – Butch Cassidy (Butch Cassidy & the Sundance Kid)
Talk about a perfect quote for this Kings organization. Dean Lombardi and his wizard cabinet of scouts have brought together a roster unmatched in its versatility. Similarly, Sutter makes coaching adjustments like he's three moves ahead on the chess board, and the league struggles to keep up. Paul Newman said this line to Robert Redford, the greatest movie duo of all-time in my unbelievably biased point of view, in response to his friend's appreciation for his creativity and ability to think. Long winning streaks in the NHL require the same thoughtfulness that L.A. continues to exhibit. Just when the rest of the league gets the answers, the Kings change the questions (much respect Hot Rod).
As far as on the ice goes, that elite vision is abundant. Tyler Toffoli has added craftiness to his game, and he's filling up the stat sheet on a nightly basis. Anze Kopitar, Dustin Brown, and Jeff Carter continue to evolve as hockey players, finding ways to enhance their team's success in all three zones of the ice. And on the blue line, well Drew Doughty has never looked more complete. He's picking his spots much more wisely in the offensive zone, and he is 100% locked in on the other end. Need evidence? Check out this play he made before Jeff Carter's winner against the Predators:
The degree of difficulty on this 3-on-1 play is the equivalent to a P.H.D. thesis, but Doughty plays it as perfect as humanly possible. He gets in the perfect distance between the puck carrier, has an active stick to disrupt both the passing lines, and uses great hand-eye coordination to knock the would-be saucer pass out of mid-air. He follows that up by beating everyone to the corner where the puck came to a stop, and instantly head-manned it to the eventual goal scorer on a breakaway. There's nobody else like him in the NHL, just like there's nobody comparable to the original Hollywood dream team of Newman and Redford. I'm not getting into another shouting match about either so let's move on.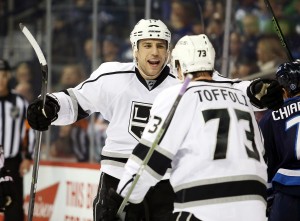 "Prediction (for the fight)? Pain!" Clubber Lang (Rocky III)
For those of you questioning whether Mr. T belongs in this column about hockey, I'll have you know that he is a loyal Blackhawks fan who once took part in their "Shoot the Puck" competition. Clubber Lang knew he could do one thing in life, and that's hurt people. Call me crazy, but I see some striking similarities between the Boxing bad boy and the Kings. When the rest of their game isn't going smoothly, L.A. can still hit. They can still forecheck, and they can still defend. In the first two games of the winning streak, the Kings could only muster two goals in each. Yet they relied on their physical presence, their resolve in the defensive zone, and an outstanding ability to create chaos in the corners when the puck was up for grabs. If the Kings weren't a physical team, and didn't bring that quality with them for the duration of this stretch, their record would look much much different.
And we're not even getting to the part where I guess which player is most like Clubber Lang, because that's too easy. Milan Lucic has the same frightening tendencies, a motor that won't quit, and a propensity to talk trash among the hockey's elite. It's no coincidence that the team's success has had a direct correlation to his improved game (he had a five game point streak in the final five games of the winning streak) and heightened physicality. Let's just hope he doesn't crash the unveiling of somebody's statue in a brown suede jacket. Because nobody wants to see that.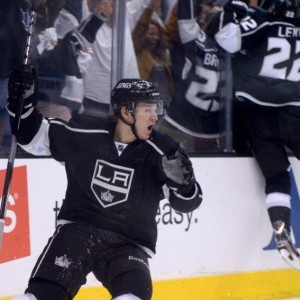 "What I've learned from you is that really one of the most important things in life is showing up. I'm blown away by your ability to show up through everything that's gone on." – Conor O'Neill (Hardball).
The Canadian living legend (and former hockey player) Keanu Reeves delivered this chilling line at the end of Hardball, amazed and impressed that his team of inner-city youth baseball players were able to keep showing up given their surrounding obstacles. Now in no way am I comparing this movie's narrative with the life of a pro hockey player, but the parallel for me is a simple one. Virtually the entire Kings lineup has remained intact, with minimal injuries having occurred throughout the course of the season. You need good fortune at times to combat the grind of an NHL season, and early in this campaign it is clear lady luck is an L.A. fan. Rest in peace G-baby.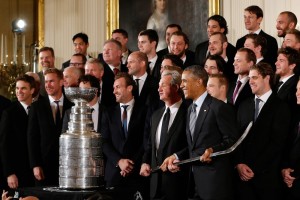 "Where we're going, we don't need roads." – Doc Brown (Back to the Future)
As I write this final quote from the backseat of my DeLorean (with my hoverboard, puffy vest, and a copy of Gray's Sports Almanac on my hip), it's clear to see why this line matters so much. The Kings don't need roads to get to their final destination, though not for the same reason as Doc Brown and young Martin McFly. The Kings have traveled down the path to title-town twice before, and they know the immense task they are undertaking. There is no direct road map to glory because glory in this game is achieved by overcoming unpredictability and learning to adapt. No two trips to a Stanley Cup are the same (much like no two people do the legendary Humpty Hump dance in the same fashion). Christopher Lloyd was letting Michael J. Fox know that the future is unlike anything he could prepare for. In NHL land, the Los Angeles Kings actually do know what the future is like, and yet they still cannot fully prepare for everything they will encounter. All they can do, and will do, is be ready.
Thanks again for reading another innovative approach to tell you about this talented hockey club from Los Angeles. The Kings may have had their seven game win streak snapped by the defending Stanley Cup Champions, but all good things usually come to an end. Expect the NHL season, that seems to last forever.
Just a hockey loving American. I grew up in Cleveland, Ohio, and attended Saint Louis University where I skated for the Billikens. From 2013-14 I covered the St. Louis Blues for ESPN Radio St. Louis. I currently work in sports video production in Los Angeles, and will always show solidarity for stay-at-home defenseman.