Does anybody remember an 0-3 hockey team in the city of Los Angeles? A team that got blown out twice to start the season, was shut out in game three, and needed a little Slovenian magic in 3-on-3 overtime to notch their first win? Anybody? It's funny how quick NHL fortunes can change. After three gutting losses the Kings are officially rolling, like the 1992-93 Pittsburgh Penguins or Fred Durst in 2000. It's workman like, it's efficient, and honestly it's not pretty. But it's Kings hockey through and through.
Lost in all of the forechecks, backchecks, and paychecks is the job that the man at the top of the pyramid has done. In the past two weeks, Darryl Sutter has pumped some serious life into his club. Once stuck on the shoulder with their blinker flashing, L.A.'s jagged head coach has made all the right moves to swerve this team into the fast lane. Sutter is certainly not the first coach to make lineup changes when times were tough, and his players deserve tons of credit for answering the bell when knocked down to the canvas in the first three games. But look deeper and you'll find that each time Sutter juggled the lineup there was a specific purpose at heart, and in every case this season it has paid enormous dividends.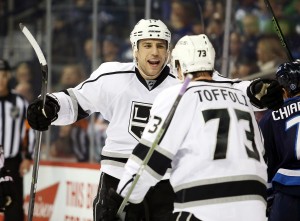 The easiest place to start is Milan Lucic, because there really is no player like him in the NHL. What he lacks in creativity with the puck, agility, and outside edges, Lucic makes up for with the ultimate power game. He hits everything, shoots with tremendous velocity and underrated accuracy, and is not afraid to do the dirty work in the corners. A coach's dream, Lucic can also be a coach's nightmare in that it is virtually impossible to find an ideal fit for him within a set of forward lines. Sutter knew that he needed Lucic, and that simply burying him on the depth chart was not an option (the Kings gave up too much for a potential 4th line/healthy scratch body). So the coach decided to play Lucic with Anze Kopitar and Marian Gaborik to start the season, and that did not go well. Lucic's linemates were playing at a tempo not to his liking, and when Milan Lucic isn't happy, Milan Lucic punches people does not respond well.
Rather than let Lucic torpedo out of control, Sutter acted fast. The pair of Jeff Carter and rising young star Tyler Toffoli have been dynamic together, and always played at a more methodical pace. Subsequently, Lucic was added to be the physical presence this line was missing, while also being a forward skilled enough not to hold them back. Through seven games, mission accomplished. This offensive line has been the most consistent set of Kings attackers, and Toffoli has blossomed into a Swiss-army knife of NHL talent. Lucic meanwhile has improved every game, learning to do more of the little things to round out this line with each shift. Sutter could have kept Lucic with Kopitar, or gone on a full tear-down/E-Harmony project to find the new forward a match. Instead he identified a clear opening in his lineup and made a call, one that has proven to be ideal for the Kings.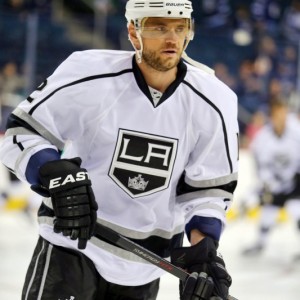 And it didn't end with Lucic. The top line of Gaborik/Kopitar/Brown was in a scoring funk at a time when goals were hard to come by for the Kings. In this case, it would have been really easy for the Sutter to sit back and do nothing, because all three forwards were proven commodities that had experience sharing a sheet of ice. But this isn't your ordinary hockey coach/beef cattle farmer. Sutter made the brave decision to take Gaborik, a former 40 goal scorer who was the acquisition that swung the 2014 Stanley Cup race in L.A's favor, and swap him out with youngster Tanner Pearson on line three. Now Pearson has quality experience playing big minutes with talented offensive players, but Gaborik was built to be a top six forward. Would he accept his role, continue to generate chances, and look to elevate his new linemates (Nick Shore and Trevor Lewis)? And would Pearson provide the breath of fresh air Kopitar and Brown were in desperate need of?
Yes, and yes. Gaborik came out against the Oilers this past Sunday with the same offensive motor he is known for. In fact, if you weren't paying attention to the other numbers on the ice, you wouldn't have known anything was different. Slotting Gaborik down in line three provides this Kings squad with a scary amount of balance, as they  now have an additional scoring punch without sacrificing defensive responsibilities.
As for Pearson, well he's looking more and more appreciative of winning the "I get to skate on a line with Anze Kopitar" contest. He has two points the three games on the top line, including the game winning power-play tally against Edmonton. Sutter effectively killed two birds with one stone by finding a player good enough to step-up his game with Kopitar and Brown, while also identifying a player that is selfless enough to move down a peg for the greater good of the team. Had this been another team, you might have had a full-on locker box match after practice. Not in L.A., where this franchise's hallmark has been unity every since Sutter took the reins.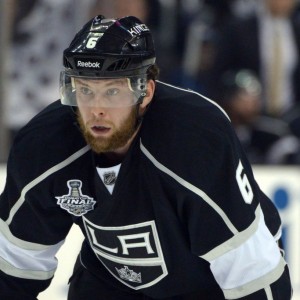 Had the Kings only made these terrific offensive moves, I'd still have written their praises in this column. But I'm a defensive guy through and through, from my perspective as a hockey fan to my stance on Van Damme action movies (in Sudden Death he saved lives and the Stanley Cup Final). Sutter faced the difficult task of shoring up his blue line with tons of moving parts and undefined roles, something that foes in the Kings' first three contests were exploiting with ease. Well Darryl got creative, and in doing so isolated a particular pairing that has been vital to his team's success.
Everybody and their grandmother knows that Drew Doughty is an ice hog. He will play until he can't play anymore, drink a Red Bull, and then go play some more. Instead of finding the perfect defensive partner for his top defenseman, Sutter attacked it from the middle. If the Kings have an effective second pair, he reasoned, that will stabilize a unit in dire straits. The pairing of Jake Muzzin and Alec Martinez answered the bell, each complimenting the other's skill-set like a glove (or an Ace Ventura investigation). Muzzin is an offensive minded player on the blue line, and has the ability to generate instant offense when the puck is on his stick. Martinez can cover for him when he gets a bit reckless, and clean up in the defensive zone in the same manner that Craig Patrick would clean up after an emotional Herb Brooks speech. Together they form essentially the perfect defenseman, so it was only natural that they work well together as a duo.
Muzzin and Martinez are playing big minutes and in turn, the Kings are getting a more polished version of Doughty. Brayden McNabb has stepped up adequately in the top pairing, with Doughty still primed to play on each special teams unit and a few third line shifts if a game calls for it. Instead of overcompensating and trying something crazy, Doughty is back to playing like his comfortable self. And when Drew Doughty's comfortable, the NHL is in trouble. I can't speak enough about how tough of a task this was for Sutter. There have been no major additions to this core in years, and the constant turmoil both on and off the ice would crumble most clubs. Yet here we are, weeks after getting embarrassed, with a superb Kings defensive unit.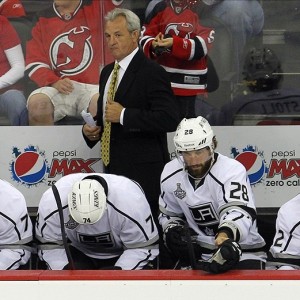 I made a few jokes in my running diary about the outward appearance of Sutter while he was coaching the Kings, but the reality is he's one of the best in his field. He may be unenthused, unhappy, and downright bored some nights, but he's decision making on a day-to-day basis is as good as it gets. The Kings are on fire and will only get better as their coach continues to tinker with his talented roster. Each coaching decision has enormous ramifications in both the public and professional spotlight, something Sutter certainly must account for. Or maybe he doesn't, because he's Darryl Sutter and he doesn't live in your world of judgments. Either way, L.A.'s coach is pushing all the right buttons.
Just a hockey loving American. I grew up in Cleveland, Ohio, and attended Saint Louis University where I skated for the Billikens. From 2013-14 I covered the St. Louis Blues for ESPN Radio St. Louis. I currently work in sports video production in Los Angeles, and will always show solidarity for stay-at-home defenseman.