Impressive Run So Far For Canucks' Farm Team
The hockey world has been quiet in Vancouver in recent weeks, as has been the norm during this time in spring over the last four years. But in Utica, New York, however, their minor league affiliate is giving the organization something to cheer about.
Comets head coach Travis Green thinks so at least.
"It's an NHL experience here. Even when I stand in line to get coffee, people are only talking about the #Comets." – Travis Green

— Comets #BuiltForThis (@UticaComets) May 22, 2015
The Utica Comets will be playing in the AHL's Western Conference Finals against the Grand Rapids Griffins, following their second round series win on Wednesday over the Oklahoma City Barons.
They've had an interesting postseason run to say the least – Utica needed all five games in round 1 to stave off the Chicago Wolves, and took seven games to knock off the Barons. Nine of their 12 playoff games have been decided by one goal and five games have gone to overtime, including game 1 against the Barons which went to fourth overtime – good for the sixth longest game in AHL history.
The Comets are in their second season in Utica as the Canucks affiliate, and after missing the playoffs with 79 points in their inaugural year, the Comets progressed greatly this season, leading the AHL's Western Conference with 47 wins and 103 points.
Depth of Comets Roster is Hard to Match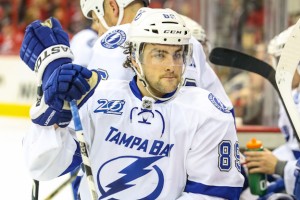 What may be most impressive for the Comets – and is causing a good problem to have for the Canucks – is the depth of this AHL squad's lineup.
Jim Benning revamped his minor league team in the summer, which made it clear the Comets were going to be a contender heading into this season. Through trades during the year, Benning acquired players in five separate deals to help Utica make a push down the stretch – including defensemen Adam Clendening in January, and forwards Cory Conacher and Sven Baertschi on the trade deadline in March.
Judging by the Comets' 12-1-1 record after the Conacher – Baertschi trades, and 15-2-3 mark overall, the moves undoubtedly paid huge dividends.
Currently Utica has five players on their roster who have been first round draft picks for Vancouver in the past four years – Niklas Jensen (2011), Brendan Gaunce (2012), Hunter Shinkaruk (2013) and, recently recalled from their respective major junior teams, Jake Virtanen and Jared McCann (2014).
The Comets have had a first-round draft pick on every forward line during most of these playoffs, complimented by a rock solid defensive core and paced by AHL wonder-goalie Jacob Markstrom.
Markstrom had a 1.85 goals against average and .930 save percentage through two rounds of the Calder Cup Playoffs, and also made some history in the Comets' game 7 semi-final series win.
Jacob Markstrom @UticaComets is second goalie in @TheAHL history with a 1-0 Game 7 shutout, joining Cleveland's Johnny Bower (1953 Finals)

— AHL Communications (@AHLPR) May 21, 2015
Comets Playoff Success Will Benefit Future Canucks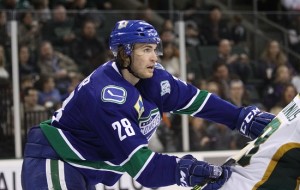 There's something to be said about players on the Comets' who are driving their success in these playoffs, and a number of these players likely won't be wearing an NHL sweater much in the near future.
Despite Comets players like Jensen, Gaunce, Shinkaruk, and Clendening who are not always the stars of the show, the up-and-coming Canucks prospects on this Utica team are gaining the experience needed to become winners at the next level.
A handful of Comets players have lots of potential in their future NHL careers, but without the leadership of players who are essentially at their ceilings, there's no way the Comets would be this deep in the playoffs, with only a plethora of talented kids who have almost no pro hockey experience.
Some have questioned Comets coach Travis Green's decisions to not give more ice time to younger players, such as Virtanen who has played in only two games, and McCann who has watched every game from the press box since being called up. But Green isn't coaching to groom select players for Canucks training camp, he's coaching to give Utica the best chance to win every night, which is what any coach should be doing in the playoffs at any level of hockey.
Looking at the contributions from a player like Alex Grenier, it's hard to say if Utica would be in the Conference Finals right now, had they relied on less experienced players to carry the team at various points.
Regardless of how large or little of an impact younger players have had on the Comets in these playoffs, they are all learning the same tools that can only have positive contributions on the Canucks organization.
Imagine if the likes of Sven Baertschi or Jake Virtanen come into next season trying to make the Canucks with a Calder Cup victory on their resume. Players with experience of winning in the playoffs is something Canucks fans would be thankful for later.  
Canucks contributor for The Hockey Writers. Maple Ridge, BC native. Contact: coltondavies95@gmail.com or @ColtonnDavies on Twitter.