For two years in a row, the Vancouver Canucks have been the most banged-up team in hockey. Most of that is due to rotten luck, but there's no doubt that the Canucks have been an easy team to play against.
NHL top 5 teams, impact of man-games lost (by cumulative minutes of players lost, CMIP)

1 VAN
2 BUF
3 MTL
4 ANA
5 BOS

— Man-Games Lost NHL (@ManGamesLostNHL) April 6, 2018
Well, Jim Benning did his best to address that issue on July 1, 2018. Enter, the grit brigade.
The Canucks went out and signed three bottom-six forwards to multi-year deals. Recent Stanley Cup champion Jay Beagle and one of the lone remaining pests in hockey, Antoine Roussel, were both signed to matching four-year, $12-million contracts. In addition, 27-year-old centreman Tim Schaller was inked to a two-year, $3.8-million deal.
In theory, these signings are good for bolstering the Canucks' depth, making them tougher, and for providing veteran leadership in the dressing room. While it's hard to ignore the unnecessary length of the deals, the Canucks should at least be a tougher team and a better one on the penalty kill.
On the other hand, the Canucks now have 20 forwards who could realistically crack the roster in the fall. Competition is a good thing, but the reality is that many young players will be squeezed out of the roster. One player who is directly affected by these signings is rookie Adam Gaudette.
Gaudette on the Brink of NHL Hockey
Although Gaudette only had a five game audition where he went pointless, one thing about him was clear. This is a player who has the talent to compete in the NHL as early as next year.
Gaudette came as advertised, at least for someone who was just getting his feet wet at the NHL level. He started the majority of his shifts in the defensive zone and certainly didn't look out of place in a defensive role. With each passing game, Gaudette looked more and more comfortable. His best game was arguably the Canucks' last game against the Edmonton Oilers. Even though that contest was overshadowed by the Sedins, Gaudette ended up with a couple of great chances to bury his first in the NHL.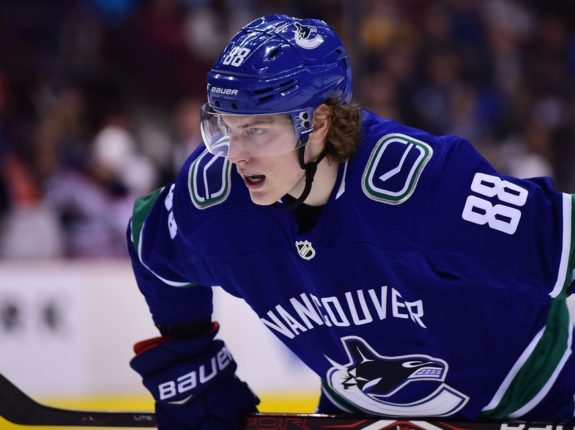 At the conclusion of the season, the underlying assumption was that Gaudette has likely done enough to earn a roster spot with the Canucks. Training camp and the preseason is obviously his time to prove that notion, but the idea of him making the team this fall seems unrealistic at this point.
After Jake Virtanen signs, there will already be 13 forwards on one-way contracts. That doesn't include Elias Pettersson, who by all accounts should make this team ahead of Gaudette.
If Gaudette does end up going to Utica to begin his professional hockey career, that's completely fine for the Canucks. Many want to compare Gaudette to Ryan Kesler, and Kesler logged over 100 AHL games before becoming a full-time NHL player.
Roster Jam Puts Gaudette's Role in Question
The Canucks could keep Gaudette on the roster for the 2018-19 campaign, and surely they'll find a way if he flat-out dominates during the preseason. If that occurs, then Brandon Sutter is virtually locked is as a number-two centre, with Beagle and Gaudette penciled in as the third or fourth-line centres. It would also mean that talented offensive players, like Pettersson or Nikolay Goldobin, would likely end up on Sutter's line.
The real question is, where does Gaudette fit in with the team two, three, or even four years down the road? He's pegged as a centreman and there's no clear path for him without taking somebody off the roster.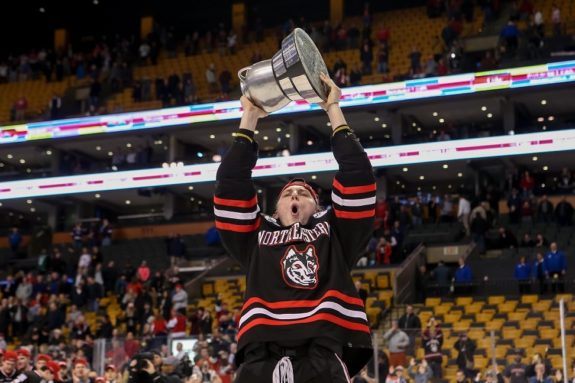 Bo Horvat and Pettersson figure to be the Canucks' one-two punch down the middle for years to come. Stranger things could happen, but it would be a surprise to see Pettersson not end up as a centreman by this time next year.
That leaves Sutter and Beagle as the current third and fourth centremen on the long-term depth chart. Both players are adored by management, and both are under contract for at three and four years respectively.
Envisioning Gaudette's NHL Path
If Gaudette is to become an everyday NHL centreman at some point during the next three seasons, then the Canucks are going to have some difficult decisions to make.
With Sutter and Beagle both signed long-term, one of them would realistically have to be shipped out of town or bought out. Beagle in particular will be 33 years old to begin next season, and he isn't getting any quicker out on the ice. In two years time, he could be a prime candidate to either be bought out or buried in the minors.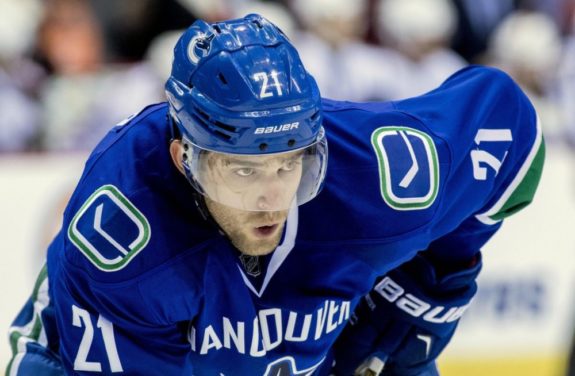 There were also rumours circulating around that teams were calling the Canucks on Sutter. Is he a guy that gets traded if Gaudette is worthy of being one of the Canucks' top three centres?
The last out-of-left-field suggestion is that Gaudette ends up being a winger. This also seems very unlikely, although he did have limited faceoff duty for the Canucks in his five-game stint. Even if that's a possibility, the Canucks' depth on the wing doesn't make his path to the NHL any clearer at that position.
Where do you see Gaudette fitting in on the Canucks' roster either next year or long-term? Let us know in the comments below.