With the departure of the Sedins, all rules have been called off in the city of Vancouver–but not like they were in 2011, don't repeat that.
But now that the faces of the franchise have left, anyone's name can rise to the top, and they are going to be names that once graced an NCAA jersey. The future of Vancouver is college, so here are some of the Canucks' best up-and-comers who have yet to get a decent taste of the NHL.
Thatcher Demko – Boston College
Demko has been in the system longer than any other. He was drafted in 2014 after his freshman year at Boston College where he was and still is, working towards a degree in applied psychology (a great major for a goalie).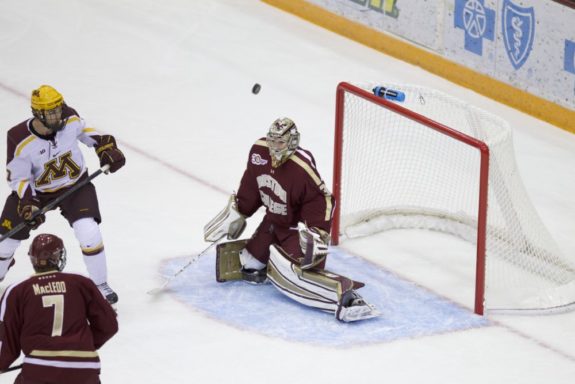 He spent a total of three years in Boston College before signing and joining Utica for two years. While at BC, he was teammates with players like Noah Hanifin, Johnny Gaudreau, Colin White, and Alex Tuch–all to-be or current NHLers.
More importantly, his numbers kept getting better the more time he spent there. His freshman season, 2013-14, he was ranked No. 28 in SV%,  and No. 17 in GAA. In the years following he went to No. 29 in SV%, No. 7 in GAA, and skyrocketed to No. 4 in SV% and No. 7 in GAA. He was also named the most outstanding goaltender when awarded the Mike Richter award in 2016.
2️⃣6️⃣ saves and a W in his @NHL debut! Have a day Demko 🔥 pic.twitter.com/F3DYWQfBcK

— Vancouver #Canucks (@Canucks) March 31, 2018
Demko has paid his dues with two years in the AHL with the Utica Comets. His first year, he didn't crack the AHL's top-10 with a .907 SV% and a 2.68 GAA. The next, however, his stats rose (just like in college) and he cracked the top-10 in each category. An important note is the team in front of Demko was hardly any better, only increasing their win percentage from .520 to .579.
Given how successful the offense is projected to be for the Canucks come the 2018-19 season, Demko's first backup season will come sooner rather than later (that's a story many Canucks fans have been hearing for a while, but really, it's close). After neither Nilsson nor Markstrom had stellar years in net, it wouldn't be a surprise to see one (likely Nilsson since he has value to teams like Philadelphia) scratched or moved to give this NCAA star a shot at the big league.
Adam Gaudette – Northeastern
It's a weird situation that Adam Gaudette is a Hobey Baker winner (whose competition for the award were no easy match) and NCAA leading point-getter but he's not often talked about since his debut for five games in March. Gaudette has the making to be a great depth sniper in the NHL.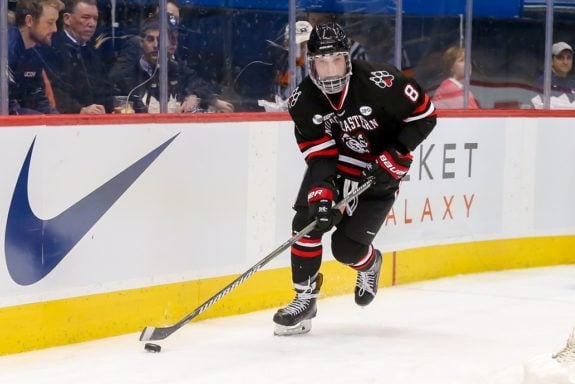 In his junior season at Northeastern University, the eldest of three Gaudette brothers suited up with an 'A' on his sweater and lead the NCAA with 60 points (30 goals, 30 assists). Gaudette also helped lead his team to the Frozen Four Regionals where they lost to Michigan (and Quinn Hughes, another Canucks prospect).
Gaudette was a slippery player in the NCAA with a wrist shot with a long wind-up, something he displayed in the NHL with the shots on goal he generated. He's a player who is hot in close around the crease, and he's had no problem finding those places in the NHL.
Unlike many prospects expected to make the roster for the next season, Gaudette has already made his impact. Will that affect where he's slotted in the lineup? It's very likely. His faceoff percentage while bouncing around on the third and fourth lines was a low 37.5%, so a good move would be swapping him and Brandon Sutter on the second and third lines to get him the valuable experience.
It's not like Gaudette won't be able to handle it.
Quinn Hughes – Michigan
Quinn Hughes is the newest addition to the Canucks family after he was drafted seventh overall in the 2018 NHL Entry Draft. While the youngest player in the NCAA was No. 19 in scoring among defensemen with 29 points (5 goals, 24 assists), his intangibles were some of the reasons he was drafted so early.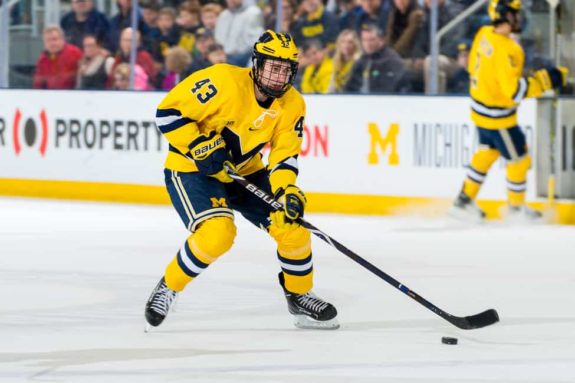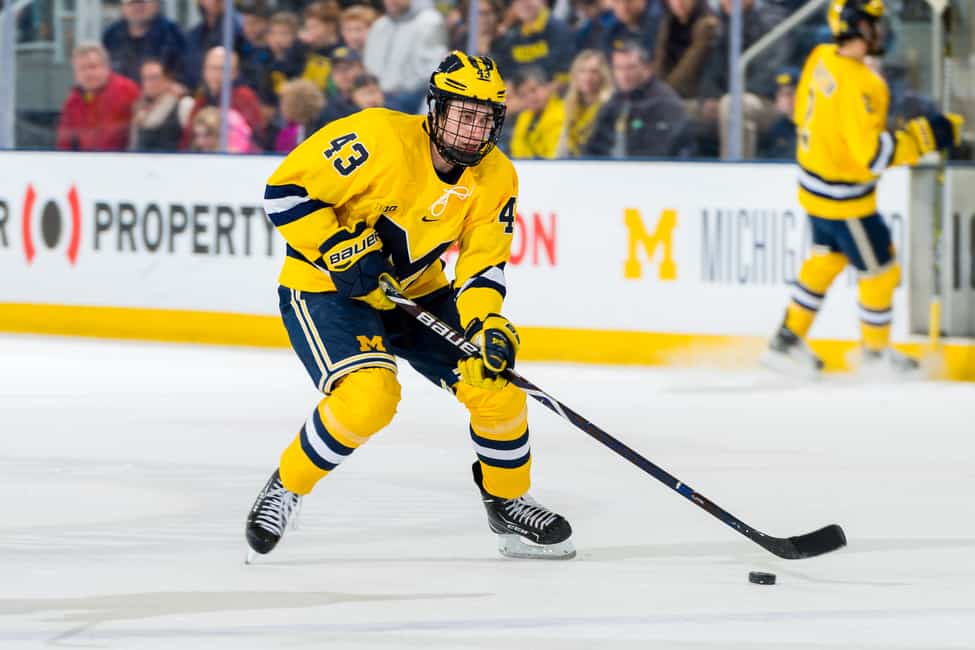 Skating is the No. 1 factor and is a big reason why he could make the jump to the NHL now rather than later. His acceleration is a trait not only most defensemen in his draft class lack but most defensemen in the NHL lack. His skating is the equivalent of an ideal breakout: fast and effortless.
Another of his greatest strengths was his craftiness on the power play. He's not a one-trick pony and plays anywhere on the ice during the PP. Vancouver's PP was top-10 last season at 21.4%. Add in Hughes' craftiness and its a recipe for success. General manager Jim Benning told Sportsnet he has high hopes for Hughes and thinks he's the best fit for the group.
"He's going to fit perfectly with the style of game we want to play because he can get back, get the puck and beat the first forechecker with speed. He can transition the puck up ice either by skating or making a good play. And he plays fast," Benning said.
But what's arguably more important than all the little pieces that add up to equal Quinn Hughes is that he, as a whole, fills the need for a puck-moving, top-two defenseman. The answer to that need had originally appeared to be Ben Hutton, a University of Maine product, but after a rocky year that raised several trade rumors, the Canucks are likely looking to alleviate pressure from the 25-year-old defenseman and onto the shoulders of soon-to-be 19-year-old Quinn Hughes.