Goaltender Anders Nilsson's has played eleven consecutive periods for the Vancouver Canucks. For the most part, Nilsson has dominated, making big save after big save. Even though he has only come out with one win since Nov. 30, he has played well enough of late to keep the dreadful Canucks competitive in games.
Coming into Valentines Day, when he subbed into the game against the Florida Panthers after started Jacob Markstrom allowed four goals on 14 shots, Nilsson's numbers at home were awful. He had a 4.78 goals against average and .863 save percentage. As a result, he had only one win in six games. In the last eight periods at Rogers Arena, he has stopped 93 of 99 shots. He has been producing at the level the Canucks anticipated when they gave him a two-year, $5 million contract on July 1.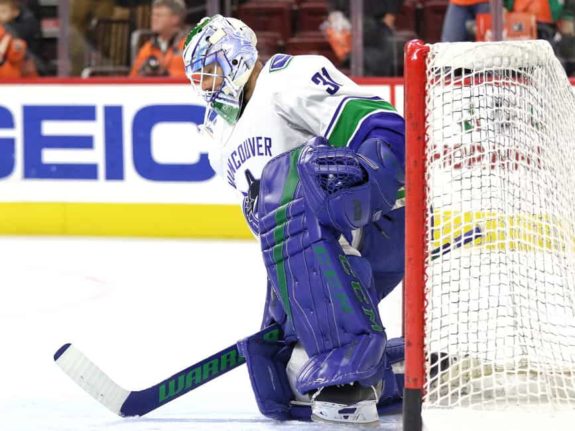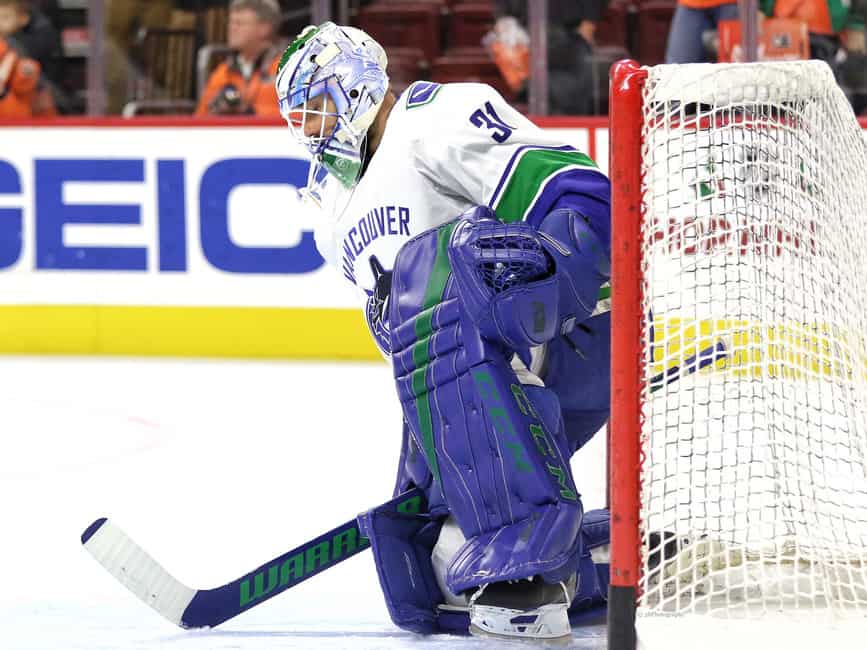 Nilsson has shown he is capable of dominating and winning games for his team. On the Canucks first road trip of the season, he got a shutout in his first start with the Canucks, as well as a second one in his third game. He was the fastest goalie in team history to record two shutouts for the franchise. To put that into perspective, it took Markstrom 108 games in a Canuck uniform, as he got his second career shutout Sunday, Feb. 11 in Dallas.
Where Could He Have Been Traded?
With the clock ticking and the trade deadline nearing, talks between general managers should continue to heat up.
One general manager that the Canucks should have contacted was Ron Hextall of the Philadelphia Flyers.
The Flyers, who currently hold a playoff spot in the Eastern Conference, have been one of the leagues best teams after a disastrous stretch in earlier in the season where they lost ten straight games. For the most part, they have been carried by their top line, consisting of Claude Giroux, Jakub Voracek and Sean Courturier. And while their goaltending has been far from stellar, the duo of Brian Elliott and Michal Neuvirth have been steady enough to hold down the fort. Until now.
Why Philly?
In the past week, the Flyers have lost both their goalies to injury. Elliott is believed to be out for four-to-six weeks after having surgery on a core muscle, while Neuvirth left Sunday's game against the Rangers with a lower-body injury. His timeline is also considered to be around four-to-six weeks.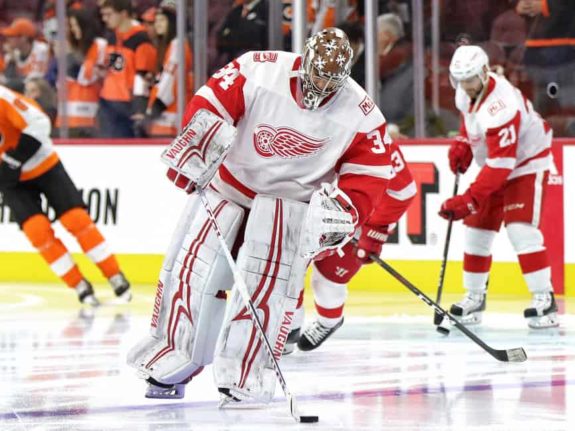 The Flyers were left with two inexperienced goalies for the indefinite future. With their playoff position currently held by a thread, they can't afford to lose ground due to lacklustre goaltending. And while they have plenty of assets and draft picks at hand (including an extra first-rounder in the Brayden Schenn deal), it is evident they don't want to sell the farm for a quick fix.
What Happened?
The Flyers, who originally declined an offer from the Red Wings for 26-year-old Pete Mrazek after the Elliott injury, turned back around and struck a deal with Detroit. In the end, the Flyers sent a conditional fourth round pick to Detroit, that in the end can turn into a pair of second and third round picks.
Why Nilsson-To-Flyers Would Have Made Sense
A deal between the Canucks and Flyers would have benefited both parties. The Flyers would acquire an experienced goaltender who has shown moments of brilliance and offer stability in between the pipes. The Canucks on the other hand, would have likely acquired a middle round draft selection, which would slot in nicely after they shipped their fourth-rounder at the beginning of the season in the Derrick Pouliot trade. As a result, the Flyers likely would have given up less for Nilsson, yet still would have received a short-term fix between the pipes.
Are There Any Other Teams Worth Calling?
At the moment, the New York Islanders may be interested in giving Nilsson a shot. Nilsson, who actually began his career with Long Island, have some of the worst goaltending and defence in recent memory by a contending team. With the tandem of Jaroslav Halak and Thomas Greiss between the pipes, although they haven't been fully to blame, they also have not played to the level they were the last few years. With Halak's contract expiring at the end of this season as well, perhaps they would be willing to take a flier on Nilsson to stop some pucks.
Demko's Time
If the Canucks could pull the trigger on a Nilsson deal, it would be an open roster spot behind Markstrom. This would appear to be an excellent opportunity for the Canucks to continue their development plan with their prized goalie prospect, Thatcher Demko.
Demko, a 22-year old Californian, was selected in the second round, 36th overall in 2014. Each year since, he has continued to thrive and prosper at each level of hockey he has played at. He broke records at the NCAA level, and was also an AHL All-Star this season.
Sound familiar? Canuck fans may remember the team going down a similar path with a fellow Canuck prospect named Cory Schneider. Schneider, now the starter for the New Jersey Devils, also dominated at each level until he was eased into the NHL behind no other than Roberto Luongo.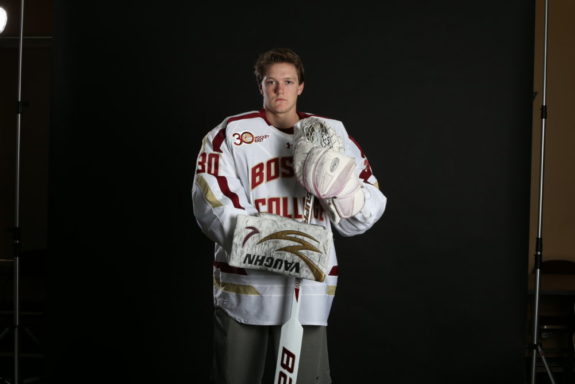 Now, the Canucks have made it clear they have a timeline for Demko. With Nilsson and Markstrom both signed through next season, it is tough to see Demko cracking the Canucks anytime soon, barring an injury or two. That being said, the Canucks had the opportunity to sell high on Nilsson, and potentially kill two birds with one stone. The Canucks could have acquired another draft pick asset, as well as give Demko the opportunity to take the next step in his development.
The Verdict
Although Demko is only 22, he has proven all he needs to at the AHL level. He is among the league leaders in the minors, and has proven he deserves to get a shot as some NHL games. By having him backup Markstrom, who also recently just graduated from the AHL-to-NHL backup to now starter, he would be able to learn the ropes from a proven goalie. By doing it this season, he would get a trial at the big leagues for the remaining 20 or so games (remember how well that worked for Boeser last season?).
If things go accordingly, Demko would solidify his position on the Canucks for next season. If he struggles, then the Canucks could bring in another veteran goalie in the offseason to push him come training camp. Either way you put it, if the Canucks could pull the trigger on a deal, each team, as well as Nilsson and Demko, would all come out as winners.
What do you think?