As NHL 2020-21 regular-season play begins tonight for the Vancouver Canucks, who play the Edmonton Oilers to start season, there's a lot of news emerging from Vancouver that could have both short and long-term impact on the team. There's news about two players on quarantine, a number of roster moves, and the official signing of Travis Hamonic.
Related: Vancouver Canucks News & Rumors: Hamonic, Ferland & Podkolzin
In this edition of Canucks News & Rumors, I'll share the news that's emerging from the team as a way to help Canucks' fans stay up-to-date with the organization.
Item One: Jordie Benn Gone to the Team for "A Couple of Weeks"
The most recent news is that defenseman Jordie Benn will not be with the Canucks for 'a couple of weeks.' Benn is currently being quarantined and will miss at least two weeks. Because the Canucks play eight games over those next 14 days, that's a big miss. Although the Canucks have the bodies to replace Benn, if the defense sustains another injury the team will be hurting.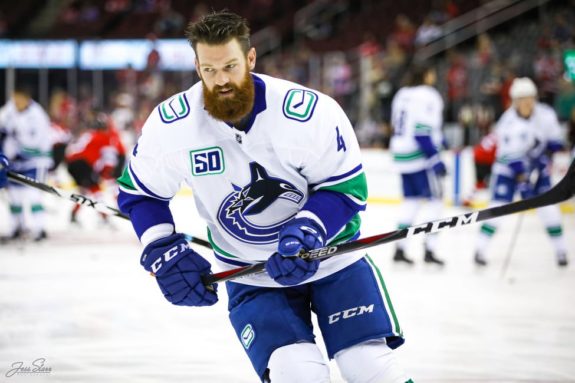 Given Benn's situation, the Canucks can count themselves fortunate that they were able to sign former Calgary Flames' defenseman Travis Hamonic to a one-year contact yesterday.
Item Two: J.T. Miller Might also Miss 'A Couple of Weeks'
Perhaps more important to the team, the news was also that one of the Canucks' best forwards J.T. Miller was also likely to miss two weeks because of COVID-19 issues. Miller's absence is likely a much more difficult problem to cover. Miller was scheduled to start the season partnering on the team's top line of Elias Pettersson and Brock Boeser.
Miller had been staying with teammate Benn in his Vancouver home. Miller was supposed to begin the season on a line with Elias Pettersson and Brock Boeser. His 27 goals and 45 assists will be hard to replace as the Canucks start the season.
Related: Minnesota Whitecaps 2021 Season Preview
Item Three: Nils Hoglander Is in Mid-Season Form and Ready for Action
With Miller missing, that means that the Canucks will find a replacement somewhere. This offers young Swedish prospect Nils Hoglander a chance to show what he can do much sooner than the organization perhaps hoped. Hoglander has had rave reviews during the team's training camp and there's a chance he'll spend some time on the Canucks' first power-play unit to start the regular season.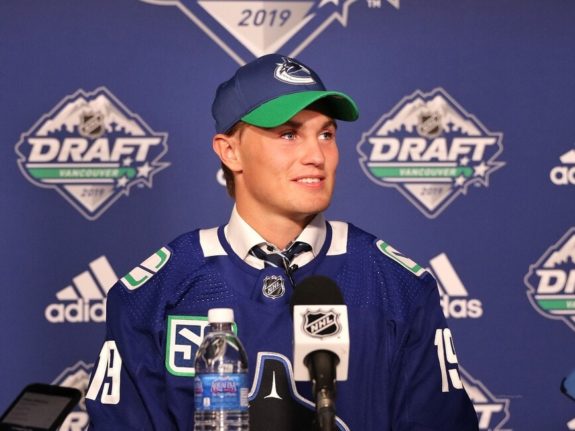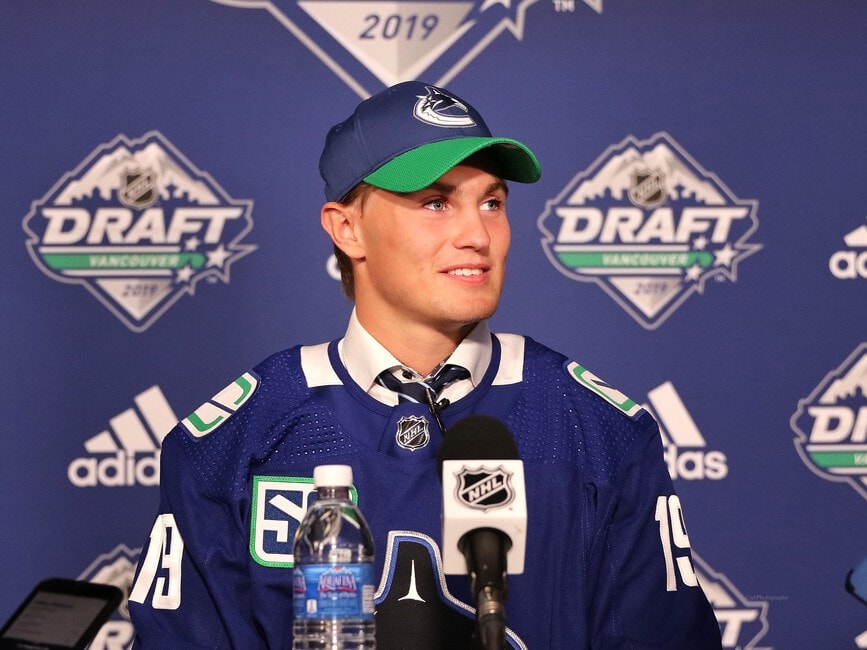 It's been reported that Hoglander – who's known for his ability to carry the puck and pull off incredibly creative goals – is looking like a strong prospect, who's already in mid-season form. Many of his new Canucks' teammates have been surprised with how ready he looks.
There's also a new opportunity for young power forward Jake Virtanen to get more of an opportunity to show that he's capable of being a top-six forward with Miller gone.
Item Four: Travis Hamonic Signs One-Year $1.25 Million Contract with Canucks
The Canucks organization announced that Travis Hamonic has signed a one-year, $1.25 million contract with the team. Hamonic isn't much of a scorer, but he's a solid defensive defenseman and the Canucks are fortunate to have him with the team now that Benn has been lost.
After Hamonic first skated with the team on Monday, head coach Travis Green had reported that "He looked pretty good today, but I'm not hasty to judge a player that has missed a week of training camp."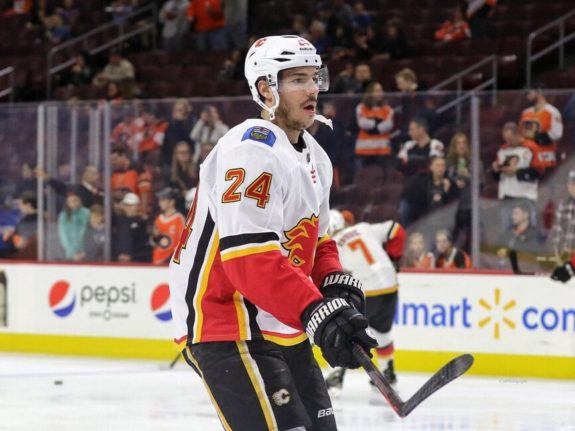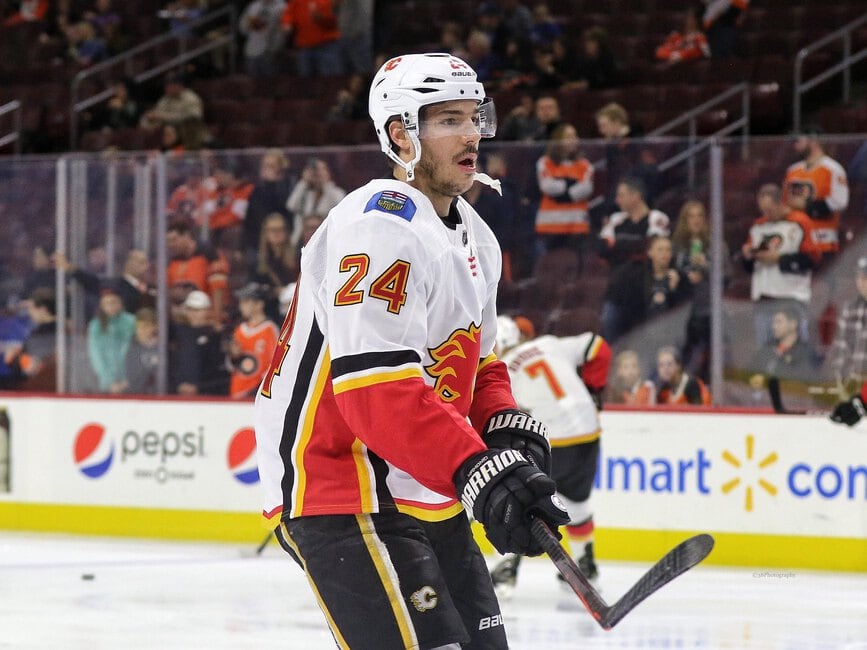 At the time, Green had noted, "We'll just talk with him day-by-day, see how he feels. My guess is he's going to want to play sooner than later and my guess is he'll probably want to play Game 1."
Related: Canucks' Draft-Day Steals
During Hamonic's first Canucks' practice, he had skated on a defensive pairing with Quinn Hughes. At the time, he wasn't projected to hit the lineup so quickly but, given recent events, now he's likely to become a member of the team's first-pair defense with young star Quinn Hughes for the game against the Oilers tonight.
Item Five: Jayce Hawryluk Didn't Make Tuesday's Canucks' Practice
The 25-year-old Yorkton, Saskatchewan, native Jayce Hawryluk didn't make the Canucks' practice on Tuesday. The team didn't release any details about why Hawryluk wasn't available. Hawryluk, who played with the Florida Panthers and the Ottawa Senators last season, had scored three goals and 10 points in 26 games split between those teams.
Item Six: Seven Canucks' Players Sent to the AHL's Utica Comets
Earlier this week, the Canucks sent seven players to the Utica Comets of the AHL. Those players included Jonah Gadjovich, Lukas Jasek, Kole Lind, Josh Teves, Jett Woo, Jake Kielly, and Will Lockwood. None of those players were a surprise.
Item Seven: Canucks Place Six Players on Waivers
The Canucks also placed six players on waivers. These included Loui Eriksson, Justin Bailey, Sven Baertschi, Guillaume Brisebois, Tyler Graovac, and Ashton Sautner. It isn't clear if these players will be on the taxi squad of if they'll end up in Utica.
What's Next with the Canucks?
Fans have to hope that the Canucks' recent difficulties with COVID-19 won't become a regular issue throughout this 2020-21 season. The NHL doesn't need new scares. Vancouver is now the fourth team to cancel practice. Although two teams – the Columbus Blue Jackets and the Pittsburgh Penguins – returned quickly, the Dallas Stars have not been so fortunate.
Related: Canucks News & Rumors: Podkolzin, Hoglander, Pettersson & Hughes
Given this shortened and compressed season, a team can find themselves in a big hole if a player has to miss two weeks of games.
---
---
The Old Prof (Jim Parsons, Sr.) taught for more than 40 years in the Faculty of Education at the University of Alberta. He's a Canadian boy, who has two degrees from the University of Kentucky and a doctorate from the University of Texas. He is now retired on Vancouver Island, where he lives with his family. His hobbies include playing with his hockey cards and simply being a sports fan – hockey, the Toronto Raptors, and CFL football (thinks Ricky Ray personifies how a professional athlete should act).
If you wonder why he doesn't use his real name, it's because his son – who's also Jim Parsons – wrote for The Hockey Writers first and asked Jim Sr. to use another name so readers wouldn't confuse their work.
Because Jim Sr. had worked in China, he adopted the Mandarin word for teacher (老師). The first character lǎo (老) means "old," and the second character shī (師) means "teacher." The literal translation of lǎoshī is "old teacher." That became his pen name. Today, other than writing for The Hockey Writers, he teaches graduate students research design at several Canadian universities.
He looks forward to sharing his insights about the Toronto Maple Leafs and about how sports engages life more fully. His Twitter address is https://twitter.com/TheOldProf