Even in a city like Vancouver, where many are predicting another lowly finish, there's hope.
There's no hope of competing for a Stanley Cup this season. Even any talk of the playoffs seems far-fetched. Yet, there remains hope.
Jim Benning has assembled a strong cast of young players who will continue their development this season in hopes to play for the Canucks. The signings of veterans like Sam Gagner, Thomas Vanek, and Alex Burmistrov means that many of the Canucks' young forwards will ply their trade in the minors.
One player who's unlikely to ply his trade in the minors is Brock Boeser.
Boeser's Debut
When we talk about hope, Canucks fans likely have less than fans of most teams. Can you imagine how low the hope meter would be without Boeser's debut last season?
After Boeser's North Dakota Fighting Hawks were eliminated from the NCAA Div. I hockey playoffs on Friday, March 24, Boeser hopped on a plane to Minnesota. He then signed his first NHL contract and stepped onto the ice for his first NHL game in his home state.
What a whirlwind 24 hours.
On top of that, Boeser would go on to score the game-winning goal in front of friends and family.
Boeser would continuously build hype over the next eight games, where he scored three more goals. Many will point out that he would have scored more if Alex Edler passed him the puck.
Even without those extra couple of passes on the power play, Boeser blew away those already lofty expectations. Those lasting images of Boeser being one of the Canucks' best players throughout those nine games has created a sense of hope and excitement surrounding the young winger.
The Boeser Hype
Boeser started writing a blog on the Canucks website before the Young Stars Tournament, a tradition they've kept with a few players. Here's his excerpt from reporters asking about his NHL debut last season.
"In a word: overwhelming. I went back to school and finished the year there after last season ended and it wasn't until my classes were done that I was able to take (a) step back from everything and reflect on my first games with the Canucks. It was special, but it was only just the beginning."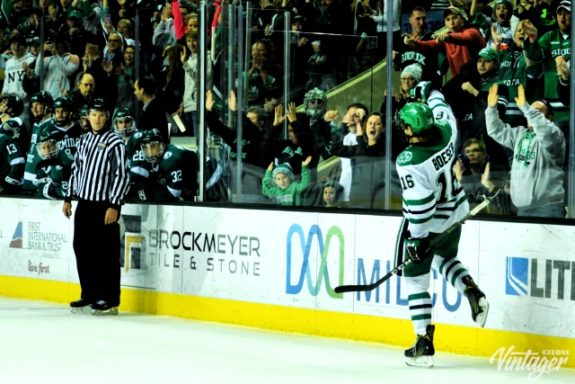 It was a jam-packed, fast-paced couple of months for Boeser, but it should prepare him for the upcoming season. There's often an adjustment period for players making the jump from college hockey to the NHL. We saw it with Ben Hutton in his first season, and a bit with Troy Stecher last season.
Still, nothing is going to slow down the Boeser hype train. Even though he has only nine games under his belt, the Calder hype about Boeser is real. He was an offensive force for North Dakota in college hockey. Some of his comparables as a prospect included Kyle Okposo and Joe Pavelski. Since being drafted, Boeser has only strengthened those projections.
Youth Presence in Veteran Lineup
Some are enraged about the number of veterans being plugged into this lineup. Others commend the patient approach brought forth by Benning and company. No matter what side of the argument you sit on, the signings mean that most of that hope won't flourish in Vancouver this season. Hope might come from Elias Pettersson in Sweden, Olli Juolevi in Finland, or from a powerhouse Utica Comets team.
With the Canucks, most eternal optimism for this season rides on the shoulders of Boeser.
The Canucks haven't had this much hype around one of their players contending for the Calder Trophy since Pavel Bure. There might have been some "dark horse" whispers if Boeser didn't make his NHL debut last year, but he's injected steroids into those predictions. Canucks fans are buying in.
Who will win the Calder Trophy this season?@TSN1040

— Dave Pratt (@DavePrattSports) August 29, 2017
There might be a veteran presence on the team this year, but young players on the Canucks will still get a chance to make an impact. Boeser could easily slide beside Sven Baertschi and Bo Horvat on the Canucks' second line. Depending on how the Sedins play, that could very well be the Canucks first line.
If you're looking for hope this season, look no further than that trio. Of course, they aren't likely to become the next West Coast Express, at least this season. They won't even play through all 82 games together. Still, don't bet against this young trio making noise for the Canucks this season.
If Baertschi stays healthy, he's a good bet to set career-highs in goals and points. At 24 years old, he's hitting his prime. Horvat should be hungry to prove he's worth $5.5 million per year.
As for Boeser, well, he hasn't even made the team yet. If, ahem, when he does, he has a chance to be the Canucks' most electrifying player.
KPU Journalism Graduate. Trevor has been writing for The Hockey Writers since October 2014. He has contributed articles related to the Ottawa Senators, Vancouver Canucks, and other issues/stories regarding the game of hockey. Trevor currently lives in White Rock, B.C.