When the Vancouver Canucks picked fifth in the 2017 NHL Entry Draft, the team's surprise selection was a skinny Swedish kid named Elias Pettersson. And, what an amazing selection it was. Pettersson, almost personally, has changed the fortunes and the future of the Canucks. He gave fans a reason to attend games, and game after game he dazzles with his abilities to elude defenders, find open teammates, and score himself.
Saturday's game against the division-leading Calgary Flames was no exception. Although Pettersson noted, "I think (the Flames) were the better team overall, but Marky (Jacob Markstrom) played really good and kept us in the game." The Canucks' star rookie failed to say that he had two assists and scored when it counted, potting the only goal in the shootout.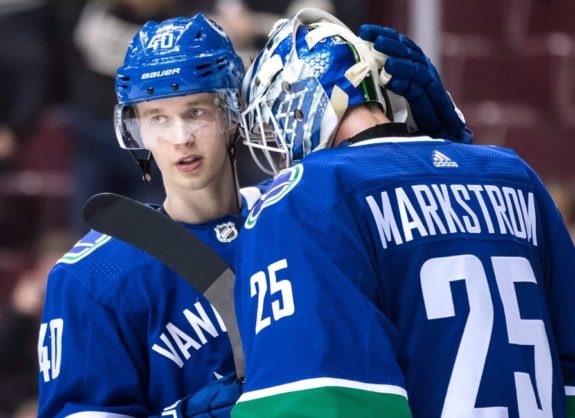 One play stood out. During overtime, it was as if Pettersson stopped in the middle of a rush, stood still for a split second, and easily deked a Calgary defender to create a clear path to the goalie. No goal resulted, but it was an amazing move nonetheless.
What Makes Pettersson so Good?
For those interested in watching a video breakdown of what makes Pettersson such a skilled player, there's a fine YouTube video narrated by NHL skills coach Justin Rai that breaks down Pettersson's play. One thing Rai noted is what he calls Pettersson's "curl and push" technique, which allows Pettersson to create distance between himself and defensemen and offers him options to either pass or shoot.
Related: 5 Reasons the Canucks Will Make the Playoffs
There is little doubt Pettersson is skilled. And, he's far from a one-trick pony. He has both a great release and accuracy on his snapshot and wrist shot. Notably, he's first in the NHL in shooting percentage for players with more than 10 goals at 26.6%. [For the record, Winnipeg Jets' Left Winger Brendan Lemieux has nine goals in 40 games at a 27.3% clip.]
Despite his lean physique, Pettersson's slapshot technique almost flawless. He won the Hardest Shot event at Canucks SuperSkills with a winning speed of 99.4 mph. He has great puck control, and Canucks' fans can see his excellent stickhandling first-hand each game he plays.
Pettersson easily maneuvers through traffic, and he's shifty. Few fans will forget the great penalty shot goal he scored by faking to his backhand, then quickly pulling the puck to his forehand to slide it under Pekka Rinne's pad during a win over the Nashville Predators on Dec. 6.
Pettersson showed similar abilities at the Skills Competition at All-Star Weekend in what should have been an event to showcase goaltenders. During the Save Streak event, where the goalie with the longest streak wins, each All-Star took turns doing shootouts. Pettersson's first shot was against Rinne, who anticipated Pettersson replaying the forehand dangle he used during the penalty shot, so he stayed up instead of butterflying. Pettersson easily tucked a backhand under him. In his second attempt, Pettersson beat Devan Dubnyk with a quick shot to the top corner when Dubnyk took his deke away with a poke check.
Finally, because he's such a smooth skater, Pettersson is far faster than he looks. His powerful stride is deceptive. Power skating coach Robby Glantz called Pettersson "sneaky fast" on NHL Now and fans have seen him create separation with his acceleration all season.
Will Pettersson Break Pavel Bure's Scoring Record?
Granted, Pettersson is good. But, is he the best Canuck rookie ever? The obvious comparison is with former Canucks' Hall of Fame player Pavel Bure. Bure's was nicknamed "The Russian Rocket" because he was so speedy. During his NHL career, Bure played 12 seasons with the Canucks, the Florida Panthers, and the New York Rangers.
Bure set the Canucks' rookie scoring record with 34 goals and 26 assists during the 1990-91 season. However, simply stated, unless Pettersson sustains another injury, he should break Bure's Cauncks' rookie scoring record. The young star is easily the best player (the Sedin twins aside) the franchise has had since Bure, so it's easy – and right – to compare the two.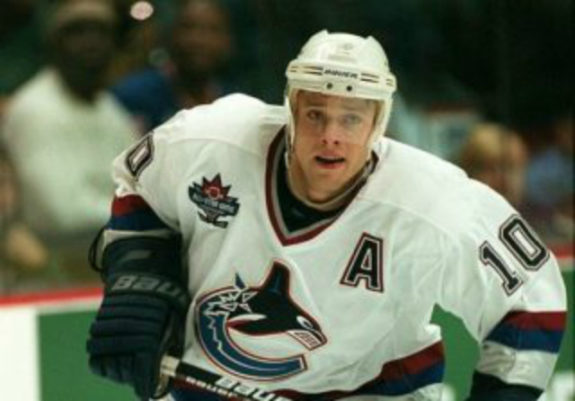 Almost 30 years ago, Bure set a record no other Canuck rookie has come close to besting. Perhaps, Canucks' second-year player Brock Boeser had the best chance to break the record last season, but a back injury put him out of the lineup for the last part of his rookie season. Boeser's 29 goals during his rookie season are nothing to sneeze at, but it will be far fewer than Pettersson will put up unless, of course, he suffers a similar fate to Boeser. There's even a chance Pettersson will score 40 goals this season.
Where Does Pettersson Stand in the Rookie Scoring Race?
Pettersson has been extremely effective when he's been healthy, but injuries have limited him to 45 games. The Canucks have 26 games left in the season. Currently sitting at 25 goals (and 25 assists as well), Pettersson is only nine goals from breaking Bure's record. His 25 goals in 45 games average more than a goal every other game. Stretching that out, he would likely score about 13 more goals, putting him ahead of Bure.
Related: Canucks Shouldn't Trade for Ferland
Pettersson also looks to easily beat Bure's total of 60 points, and here's estimating he will pass 70 points by season's end. That seems well within reach because Petterson, as confident and skilled as he is, is gaining more skill, confidence, and experience each game. The team is also putting together a playoff push, which amps up everyone's game.
About Pettersson's growth this season, Canucks' head coach Travis Green noted, prior to All-Star Weekend, "Obviously, he's improved." Green added, "The rate of improvement for young players, it's not the same for every player. I think elite players tend to make adjustments and improve a lot quicker. And I think he's done that."
Looking past Pettersson's Rookie Season
That Pettersson will break Bure's rookie scoring record really isn't as big a stretch as wondering if he might come close to Bure's scoring history with the Canucks. During his second and third season, Bure scored 60 goals each season.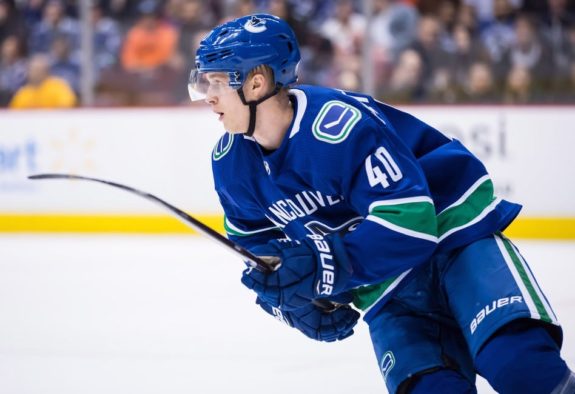 That record will be tough for Pettersson to beat. Today's NHL isn't the high-scoring league it was during Bure's time as a Canuck. Still, it will be fun to watch to see if Bure's NHL totals of 437 goals and 342 assists (779 points in 702 games) are within reach of the young rookie.
Related: Canucks Beat Predators – Pettersson Converts Penalty Shot
Obviously, it's too early to guess what Pettersson's future holds. But he has given the Canucks' fan base a playoff run during his first NHL season. It will be fun to see what happens the remainder of this season and as the seasons roll on.