Former Canucks defenseman Nikita Tryamkin made waves earlier this week when an interview he did with the Russian website Sport-Express surfaced on this side of the Atlantic. One of the topics that got the most play was when reporter Igor Eronko asked Tryamkin about Vancouver's reputation for drug use. The 23-year-old responded with "They smoke weed everywhere. The city was like in the fog. Everywhere you go it's not just smell, it really stinks of weed. Sometimes we could smell it from our place at the tenth floor."
The entire interview was translated by my colleague Alessandro Seren Rosso and it reveals a lot more than just Tryamkin's opinion about marijuana use in Vancouver. One of the most telling things when reading Tryamkin's thoughts is how much the Canucks screwed up the handling of one of their top blue line prospects.
A Roller Coaster Beginning
The Canucks chose Tryamkin in the third round, 66th overall of the 2014 NHL Entry Draft. He spent two more seasons playing for his hometown Avtomobilist in the KHL. The 6-foot-7 defender signed a two-year entry level contract with the Canucks on March 9, 2016 and made his NHL debut a week later against the Colorado Avalanche. The contract contained a clause that the youngster had first right of refusal when it came to being assigned to the AHL's Utica Comets.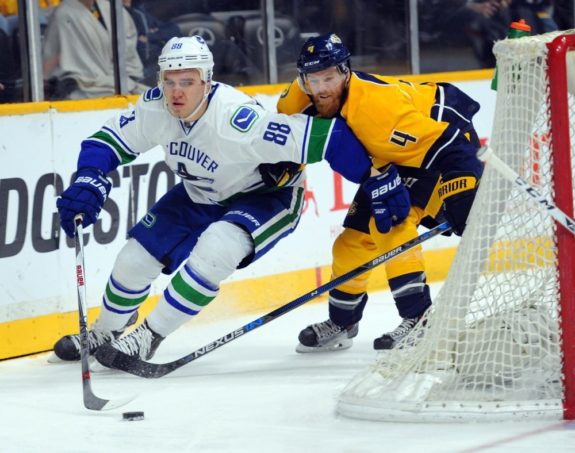 He wanted to be used in crucial situations and take a regular shift right off the hop, which likely didn't endear him to his coaches. An entitled attitude goes a long way toward fragmenting a dressing room and adds tension to the coach-player relationship. However, Tryamkin's play through 13 games in the 2015-16 season endeared him to the Canucks' faithful and it looked like he would be a big part of the team in 2016-17.
The Canucks coaching staff wasn't happy with Tryamkin's conditioning at the start of last season and kept him out of the line-up for the first ten games. He eventually turned his conditioning around and became a mainstay on the blue line – albeit due to a rash of injuries on the Canucks' backend. He didn't play until Chris Tanev was injured and probably would have been taken out when Tanev came back, except Erik Gudbranson's season ended with an injury at the same time.
His imposing size, solid physical play and strong offensive instincts made him a fan favorite, but he didn't appear to be a favorite of head coach Willie Desjardins and assistant coach Doug Lidster, who handled the defense corps.
By the end of a dismal 2016-17 season, Tryamkin was arguably one of the Canucks better defensemen. His usage by Desjardins and Lidster didn't show it, as his average time on ice was actually less in his sophomore season than during his rookie season. Even more bizarre was Desjardins inferring that Tryamkin was the reason why the Canucks lost a game to Boston last March.
No Ice Time Tryamkin
When Tryamkin signed a three year contract with Avtomobilist earlier this spring, Canucks general manager Jim Benning claimed the Russian blueliner went home due to family reasons. Tryamkin confirmed during this latest interview that to be partially true, but he emphasizes that much of his decision was based on how the Canucks used him last season.
Tryamkin was regularly benched in late game situations when he was in the line-up, with struggling players like Luca Sbisa, Alex Edler and Gudbrandson playing ahead of him. This isn't to say that Tryamkin is a better overall player than those three, but he was at times.
It seemed like the Canucks coaching staff was unwilling to adjust how it doled out ice time for its defense pairs according to the flow of the game and who was playing best. He finished with less ice than every blueliner on the Canucks roster except for Philip Larsen, which means the team saw Tryamkin as nothing more than a seventh defenseman. He also ended the season 14th among rookie defensemen in total ice time.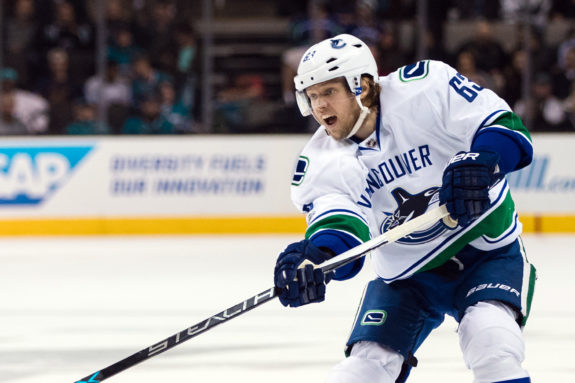 Corsi numbers for last season favor Tryamkin, with takeaways/giveaways coming in better than grizzled veterans Edler, Sbisa and Gudbrandson. No doubt his inexperience showed at times, but if the Canucks are fully in favor of a rebuild – whether they are or not is a discussion for another day – they'll have to live with young players like Tryamkin making mistakes and hopefully learning from them.
Happy in the KHL
No doubt there was a certain amount of culture shock for Tryamkin coming to a new country and city when he arrived in Vancouver in March 2016. It's a feeling that may not have gone away by the time he decided to go back to Russia and he seems genuinely happy being home.
In the interview with Eronko, Tryamkin makes it pretty obvious that returning to the NHL isn't a priority for him. Even though the Canucks had a two-year offer on the table, he signed a three-year deal with Avtomobilist. The silver lining is that Canucks do still own his rights. He'll be only 25 at the end of the 2019-20 season, which is when his KHL contract runs out.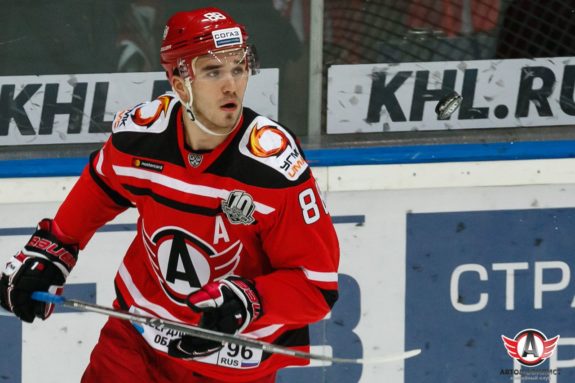 The Canucks blue line brigade will look much different when that date rolls around, with not one player on the current roster signed beyond the 2019-20 season. That said, the Canucks may be looking a defensive group that includes Ben Hutton, Troy Stecher, Olli Juolevi, Jalen Chatfield and Guillaume Brisebois by then. A group of veterans and youngsters like that may entice Tryamkin to come back and try his hand at the NHL again.
When Desjardins and Lidster were fired on April 10, Tryamkin hadn't yet left to the KHL. He signed with Avtomobilist just ten days later, so likely had already made up his mind. One has to wonder if he knew about a fresh start with a new coach, if it may have convinced him to stay. Regardless, it seems pretty clear that something was lost in translation when it comes to the relationship between the Canucks and Tryamkin.
I'm a faculty member in the BCIT Radio Arts and Entertainment Program and Operations Manager for Evolution 107.9 FM. Also Assistant GM/Director of Media and Communications for the Port Moody Panthers, Media Relations Director for BC Superweek, and Podcast Host for the BC Intercollegiate Hockey League.