As the Washington Capitals get closer to the regular season, there are still a few prospects remaining on the roster who are looking to lock down a spot. On the blue line, there are still four defensemen vying for two open vacancies, and one of them is Madison Bowey.
Over the years, the 22-year-old has been making himself a prominent member of the Capitals organization, all while working toward his goal of making the NHL. In fact, he was playing outstanding hockey with the Hershey Bears in the middle of last season and was poised for a recall from the Capitals, until he experienced one of the worst injuries of his career.
During a game against Syracuse in late December, an opposing skate sliced Bowey's foot which lacerated a tendon in his ankle. The injury required surgery and held him out indefinitely, taking away any chance he had of joining the NHL last year. And in 34 games with the Bears last year, he ended up registering three goals and 14 points.
Since then, though, he has made a full recovery and has been a huge asset to the team through training camp. And with the preseason winding down and just a few days remaining before the season kicks off, he is remaining confident as he inches closer to a spot on Washington's opening night roster.
"I'm feeling pretty good," Bowey said. "Obviously there's a few games left here and a few guys, and I think for myself, it's just making sure I come out and be consistent every night and go about things right, and I think I put myself in a good spot."
Taking it All In
Though Bowey has been in the system for about four years now, he hasn't stopped trying to grow as a player. On the ice, he'll receive advice from his teammates, and even got time to play with veterans like Brooks Orpik. He seems to be learning a lot from some of the more seasoned players in the room, especially as a prospect who is coming in and adapting his game to match the NHL level.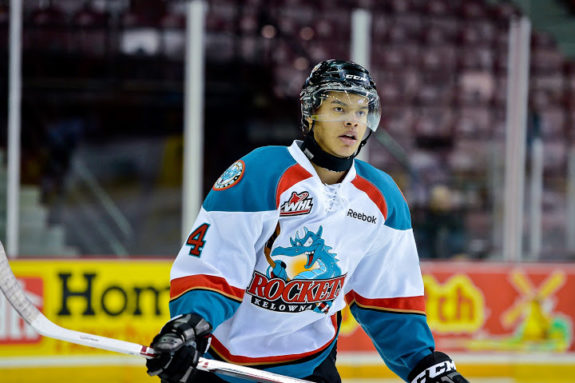 "Every day, you have to come to the rink prepared and get ready to get better and improve and I think that's happened already in these two weeks here," Bowey said. "I think obviously my game is feeling pretty good right now and I think I have to keep doing that."
As he looks to make himself a staple on the Capitals main roster, he owes some of his performance to his offseason training. This summer, the 6-foot-1, 195-pound defenseman lost 11 pounds, which has made him more mobile on the ice. In addition to that, he said he worked on his skating and speed, which appears to be one of the most important factors when it comes to cracking the Washington lineup.
"It's getting quicker," Bowey said. "Making sure I can come here and really compete with the big guys and making sure I can keep up with the speed. I think I did just that and I feel a lot better on the ice than I did previous camps, and I'm a lot more comfortable."
Making the Cut
Bowey is one of four prospective Capitals defensemen vying for a spot, along with Taylor Chorney, Christian Djoos and Aaron Ness. So far, he has played well enough to set himself apart from other prospects who didn't get as far as him, and the mentality he has going forward is pretty much the mentality he had coming into camp.
"I think just consistency with my play," Bowey said. "Being physical and shutting guys down early and being hard to play against and also moving the puck well. I think I've done a pretty good job at getting the forwards an opportunity to take it into the zone and be offensive, so I think as long as I'm consistent with all these things, I should be fine."
As camp comes to a close, the team seems to be moving some of their players around and still figuring out where each player will be to start the year. In Bowey's case, he has gotten to play alongside Djoos in these last few days, and with both of them looking to join the ranks of the NHL, they appear to make a strong combo. The duo also saw time on a pairing last season in Hershey as well.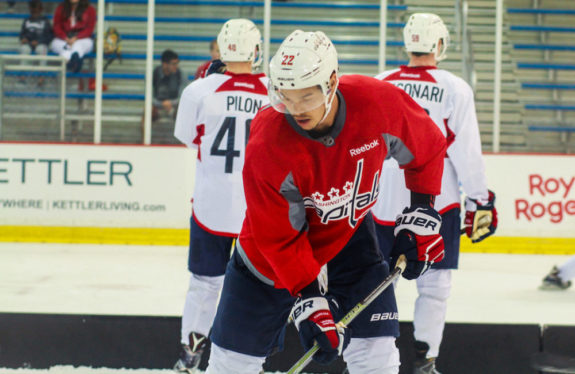 "[Djoos] and I have a little bit of chemistry coming off last year," Bowey said. "He's a tremendous player with the puck and he's a really smart defenseman, so I think we suit each other pretty well."
Looking at both, they seem to compliment each other well — Djoos is an offensive-defenseman who can make breakout passes and loves to jump up on the rush, and Bowey seems to be a shutdown guy who brings physicality and aggression but can also move the puck well.
"I can bring a more physical element to the table and he has tremendous skill," Bowey said. "Both of us together make a pretty good tandem," Bowey said. "He's really smart with the puck and makes great plays. Both of us, moving our feet, skating well, we can make some stuff happen."
In the end, Bowey affirmed that this is the best training camp that he has had in his relatively young career.
"Obviously there's a lot more opportunity for us prospects and I think having that, it really motivates you every day to come to the rink and really give it your best," Bowey said. "And so far, it's been a tremendous experience and I'm learning a lot from the older guys and it's been great."