Many hockey players are not only stars on the ice but are also heroes within their own communities. They use their platform as athletes and the aura of their team's social and corporate responsibilities to participate in philanthropic initiatives that benefit individuals in their franchise's city.
The Vegas Golden Knights are entering their second full year of existence. Already, many of the players on the team are taking part in charitable events, benefiting underprivileged individuals living in Las Vegas. For a city that showcases glamour and charisma regularly, it is masked by an underlying economic disparity, where many families and young people are struggling socioeconomically. The Golden Knights have a prime opportunity to utilize partnerships within the community, in order to raise awareness and make a difference in improving social issues in Las Vegas.
Engelland Teaches Hockey at Youth Clinics
Golden Knights defenseman Deryk Engelland is one of the top blueliners on the team. This season, he had five goals, and 18 assists, totaling 23 points.
This summer, Engelland is hosting street hockey clinics for children ages 6-10 at community centers all across Vegas. The kids got to meet the defenseman as well as the Knights' mascot called 'Chance the Gila Monster,' and they also got to learn important hockey skills such as passing, stickhandling and shooting the puck.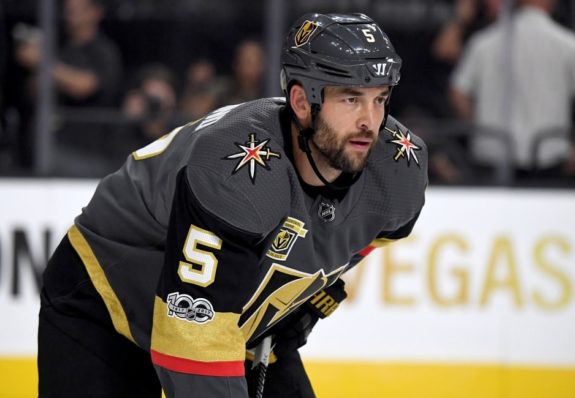 "You want to get out in the community and do as much as you can," Engelland said. "Your first love is hockey and you want to grow it here in Las Vegas. How much it's grown in just one season is phenomenal to see."
The Golden Knights started the program last summer called "Sticks for Kids," where the team is trying to grow the game amongst youth in the Vegas area. Currently, the community initiative has expanded to 11 community centers in the city.
"This is about buildings fans and an appreciation for the game," said senior manager of youth hockey development, Matt Flynn. "For a lot of these kids, hockey is a foreign concept in general. This is the least-accessible sport in Vegas, but this at least gets a stick in their hands and shows them that they can do it out in the street with their friends, or at these summer camp programs."
As a result of the team's partnership with these community centers, youth participation in hockey has increased. In the last year alone, registration numbers increased by 15.2 percent.
"It's tremendous," Flynn said. "I was pleasantly shocked by the number of kids that were making the leap from being casual fans to playing the sport."
Golden Knights Reducing Cost of Hockey for Kids
In addition to higher participation in the street hockey clinics, the city of Vegas is seeing more than 1,500 new members for the team's "Learn to Skate" programs. These programs are a result of a grant from the NHL, aimed at reducing the cost by 50 percent for children to participate.
Per the Las Vegas Sun:
Not every parent can afford to get their child involved in ice hockey, especially right away, which makes the street hockey clinics that much more important. Children all over the valley will get a chance to learn from Engelland and other Golden Knights staffers this summer and take the sticks home.
It's the off season, but #Vegas @GoldenKnights are still busy! Today, spending time in the community, giving out hockey sticks and equipment and introducing kids to #hockey. @ChanceNHL joined in the fun as well. A great day for all as #VGK builds a new legion of young fans! pic.twitter.com/P8zTeORe7b

— Clark County Nevada (@ClarkCountyNV) July 10, 2018
As Engelland stated, "It's good just to get kids involved, show them the way and hopefully they fall in love with it," Engelland said. "We just want them to have fun. That's the most important part."
Derek Stevens, the owner of Downtown's Golden Gate and The D Casinos, also weighed in on the impact of Vegas' community efforts as a franchise.
"I think you're going to see a boom in youth hockey," says Stevens, who donated $100,000 to the Golden Knights Foundation. "A lot of kids who were never on the ice now have sticks in their hands. I'm glad that we could be a part of that."
Golden Knights Serve up Meals for Vegas' Vulnerable
Not only are members of the Knights team investing time at the youth hockey clinics, but are also helping out charities for Vegas' most underprivileged populations. During the offseason, members of the team visited Catholic Charities to cook meals for Southern Nevada's most vulnerable men, women, and children.
Using his platform to make a difference for the Vegas community is why Golden Knights center Nick Suzuki loves events like this.
"I took a couple of pics with the one lady," said Suzuki. "It's just great to help them out and bring them food—and they were having a lot of fun with it just like us."
This offseason, players served more than 1,000 of Vegas' underprivileged population at Catholic Charities. Not only did the professional hockey players help out but also the Golden Knights prospects, getting a taste of how their stage as an athlete can be utilized to make a difference within the community. Catholic Charities CEO Tom Roberts is grateful for the support of the Golden Knights.
Vegas Golden Knights prospects arrive at Catholic Charities of S. Nevada to serve a special free community meal to 1,000 of S. Nevada's most vulnerable men, women and children at@reviewjournal pic.twitter.com/5veaRdSRwt

— Bizuayehu Tesfaye (@bizutesfaye) June 25, 2018
"We are excited for the opportunity to welcome the new additions of the Golden Knights to the Las Vegas Valley," said Tom Roberts, CCSN's president and CEO. "We couldn't be more grateful for the players and staff taking the time out of their busy schedules to help their community."
The Golden Knights are in the infant stages of their franchise. It is clear that their objective is to not just entertain the fans with great hockey but also participate in philanthropic endeavors. While they made history on the ice as the first expansion team in their inaugural season to make the Stanley Cup Final, they are also making quite the positive impact in the community of Las Vegas, helping people for many years to come.