Mediocrity is underrated — Mary-Louise Parker
The Toronto Maple Leafs and Arizona Coyotes have virtually no shot of winning the Stanley Cup. Or so Las Vegas pundits would have you believe.
Granted, both teams were truly awful last season. The Leafs went 30-44-8 last year (68 points) while the Coyotes posted an even worse 24-50-8 record (56 points). Both are rebuilding, which doesn't exactly bode well for playoff contention.
That said, it's a good thing the games aren't played on paper. History is replete with unlikely Stanley Cup champions. Kings fans witnessed one of the most unlikely championship runs in league history just three years ago.
As a companion article to my piece quantifying the five most overrated teams to start the new NHL season, the following identifies clubs in the reverse situation: the five most underrated teams for 2015-16.
The premise
My goal was simple: identify teams that appear to be underrated with respect to their chances of winning the Stanley Cup, per the Las Vegas odds found in the above link. I've attempted to factor in rosters, divisional foes, general prospects and other relevant considerations. Inclusion on the list doesn't necessarily mean the teams in question are either good or bad — it's all relative to Vegas odds.
In my judgment — such that it is — the betting lines as of the date in question are skewed.
Possible underrated teams per Vegas odds this year
So what teams are saddled with longer odds than they deserve? Read on:
#5: Dallas Stars
How does a team that just missed the playoffs (41-31-10, 92 points) last year and then proceeded to acquire sniper Patrick Sharp, goaltender Antii Niemi and defenseman Johnny Oduya earn just a 40/1 shot to make the playoffs? Owner Tom Gaglardi discussed his team's approach to the offseason in the following quote (NHL.com):
We had a plan. I attended the pro meetings in the middle of the summer. We bring all the staff together, and it's a very inclusive, thorough process full of analytics and discussions about every roster player, virtually every roster player around the National Hockey League, with a focus on those who might be available for trade or through free agency. And it includes the farm systems and what players might be available. It's a hard look at yourself, trying to analyze where we fell short last year.
Why the Stars are underrated. The West is tough, but few teams improved as much as Dallas did over the summer.
#4: Calgary Flames
The Flames made the playoffs for the first time in six years in 2014-15, edging past the Los Angeles Kings for the final Pacific Division slot. They weren't a juggernaut by any means, and on paper, they still aren't.
And yet, last year's 45-30-7 (97 points) club had a busy offseason. They inked Czech defenceman Jakub Nakladal to an entry-level contract, traded for towering defensemen Dougie Hamilton, and signed Karri Ramo, Michael Frolik, David Schlemko and depth forward Derek Grant. They lost Brian McGratton, Josh Ramage and Raphael Diaz, but overall, they are a better team today than the one that lost to the Anaheim Ducks in the second round of the playoffs.
Why the Flames are underrated. General Manager Brad Treliving retained his key RFAs and improved both the offense and defense this summer. A young team on the rise, the Flames deserve better than the 28/1 shot (16th overall) Las Vegas has them to win the Cup.
#3: Colorado Avalanche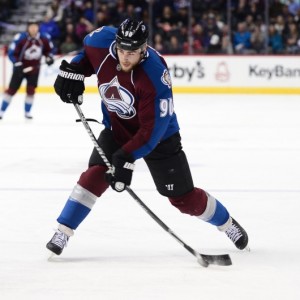 Colorado took a step backward last year (39-31-12, 90 points) after winning the Central division the year before. Losing 495 man-games due to injury wasn't the only reason they failed to make the playoffs, but it didn't help.
After a number of offseason moves, the Avs look to be a more balanced club this year. They traded for Carl Soderberg, Nikita Zadorov and Mikhail Grigorenko, shedding 55-point pivot Ryan O'Reilly and ultimately dodging his legal problems in the process. They also signed Francois Beauchemin and Blake Comeau
Why the Avalanche are underrated. Beauchemin will add veteran leadership on the blue line, Soderberg is a 40-point producer, Grigorenko (2012) and Zadorov (2013) are former first-round draft picks and Comeau scored 16 goals last year for the Penguins. The loss of O'Reilly will hurt, but this is a deeper team, much better than Vegas' 80/1 line would suggest.
#2: Detroit Red Wings
In days of yore when the Wings were dominating the West, I'd have reveled in seeing Detroit pegged with just a 24/1 shot of winning it all. That said, it's a new day, a new conference and virtually impossible to imaging a franchise with a 24-year playoff streak not being a serious contender. Vegas odds have Detroit possessing just the 15th best chance of winning it all.
Losing head coach Mike Babcock was huge (although adding him hasn't seemed to improve Toronto's chances), but signing Mike Green and Brad Richards — along with replacing aging veterans Marek Zidlicky (38) and Erik Cole (36) with youth — should be a net positive. Detroit finished 43-25-14 last year but lost in the first round to the conference champion Tampa Bay Lightning.
Why the Red Wings are underrated. 24 straight playoff appearances, the addition of Mike Green (and to a lesser extent, Brad Richards) and the pedigree of one of the NHL's marquee franchises deserve better than a 24/1 shot at the title.
#1: Vancouver Canucks
Vancouver had a head-scratching summer. They shipped away Eddie Lack, traded Kevin Bieksa, paid a small fortune to acquire Brandon Sutter, and somehow concluded that 31-year old gritty forward Brandon Prust was preferable to 24-year old gritty forward Zack Kassian. On the heels of a 48-25-9 (101 points) campaign, the direction the franchise is going isn't clear to fans and critics alike.
Is there any real optimism about this Canucks team?

— Travis Yost (@travisyost) September 30, 2015
Brandon Sutter, cornerstone of the Canucks franchise. Good luck with that!

— Fear the Fin (@fearthefin) September 22, 2015
Wake me up at the trade deadline. #Canucks

— Ottokickeditin (@ottokickeditin) September 22, 2015
Why the Canucks are underrated. They may have made some pretty strange moves and haven't looked very good during the preseason, but c'mon — this is a franchise that rarely misses the playoffs. The Canucks took the Bruins to seven games in the Stanley Cup Final just four years ago and still have the Sedin twins, Radim Vrbata, Chris Higgins (fractured foot), Alexander Edler, Ryan Miller and a number of other solid players. They may not have improved, but Vegas odds of 85/1 border on the ridiculous.
What do you think? Did I miss anyone, or do you disagree with any of these choices? Leave your thoughts below, or message me @McLaughlinWalt.