After months of complaining about the move to the Barclays Center, the 2015-16 New York Islanders campaign has finally begun. Just like the ice at Barclays, the season has started a little choppy.  Here are a few observations that have caught my eye.
Thomas Greiss
Backup goaltending has been an issue for the Islanders for quite some time. The Isles thought they rectified it last season with the signing of Chad Johnson, they didn't. Johnson was traded to Buffalo for Michal Neuvirth at the deadline. Neuvirth then signed with the Philadelphia Flyers on July 1. The Isles have finally found their replacement in Thomas Griess. With starting goaltender Jaroslav Halak day-to-day with an upper body injury, the former Pittsburgh Penguins backup became the seventh goaltender ( Halak, Evgeni Nabokov, Al Montoya, Rick DiPietro, Dwayne Roloson, Joey MacDonald) in the past eight seasons to start to opener. Greiss has looked strong in his first two starts (1-0-1, 2.46 GAA, .915 save pct.). The only question mark could be his durability. If Halak has to deal with this, or any injury this season, the load will fall on Greiss, who has never played more than 25 games in a season.
Ryan Pulock
The 2013 first-round pick made the opening night roster out of training camp. Islander fans were hoping to see Pulock make his NHL debut this weekend but were forced to watch Brian Strait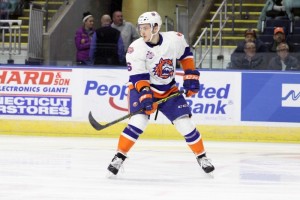 struggle instead. It seemed like the only reason Pulock made the team was due to Thomas Hickey's injury and was never going to get a shot in these first three games. I understand why head cacoh Jack Capuano would not want to have Pulock straight up replace Hickey. Pulock is a right-handed shot while Hickey is a left-handed one. It would not have been fair to have Pulock make his NHL debut on the opposite side. My question to Cappy, why have the youngster sit in the press box when he could have gotten 20-25 minutes a game for the Bridgeport Sound Tigers in their two games this weekend? The Islanders buried defenseman Matt Donovan in the press box for 70 games last season. Donovan had to be placed on waivers in order to be sent to Bridgeport, Pulock does not have the same problem. Pulock was finally loaned to Bridgeport Tuesday when the Islanders signed Eric Boulton to a one-year deal.
Power Play
The Islanders carried over their atrocious power play from last postseason vs the Washington Capitals into the first two games of this season. The Islanders' cure for their power play woes…the Winnipeg Jets, who were shorthanded a league-high 308 times last season. The Islanders took advantage of the Jets inability to stay out of the box with two power play goals. New York peppered Jets goalie Ondrej Pavelec with 10 shots on 4 power plays in the first period. The Isles took advantage of the lively Barclays Center boards during Monday's game as Ryan Strome fired home the first power play goal off of Kyle Okposo's shot/pass. Another observation, defensemen Nick Leddy and Johnny Boychuk need to be on the top unit, not newly acquired Marek Zidlicky and an extra forward.
The Columbus Day Curse
As I looked around the Barclays Center yesterday I was curious as to why there were so many empty seats for a holiday matinee game. Like most afternoon games, there were a lot of children celebrating their day off from school at the game. But the empty seats were very noticeable. The attendance was just 11,183. Was it a Brooklyn backlash? To my surprise, the Islanders actually do not draw well on Columbus Day at all.
#Isles played 6 Columbus Day matinees between 05-11: 05 vs. FLA (11,256), 07 vs. WSH (16,234), 08 vs. BUF (13,523), 09 vs. LAK (12,145)…

— Arthur Staple (@StapeAthletic) October 12, 2015
… 10 vs. NYR (11,748) and 11 vs. MIN (11,278). So one sellout in 6 games.

— Arthur Staple (@StapeAthletic) October 12, 2015
So lets throw out Monday's game in the "Brooklyn will not work" argument. Their next two games (Thursday vs Nashville and Saturday vs San Jose) are at the Barclays Center. We will see how many seats there are.