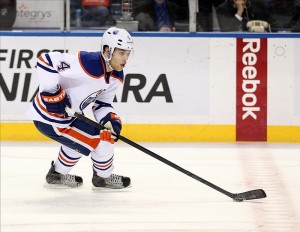 The NHL's department for player safety announced Friday night that they have suspended Edmonton Oilers forward Taylor Hall two games for his hit on Cal Clutterbuck. Unless you're a fan or member of the Minnesota Wild, you probably wouldn't consider Taylor Hall a dirty player. The controversial hit on Clutterbuck was the second time a player from the Wild organisation was taken out at the hands of Hall. During the lock-out when Hall was playing for the Oklahoma City Barons, he knocked out Jonas Brodin for a couple of months with a big hit, one that didn't sit well with the Wild.
The hit on Clutterbuck earned Taylor a five-minute major penalty and game misconduct. Taylor Hall has never been suspended before, and save for a few fights throughout his career, he hasn't had any other major penalties. Clutterbuck has a thigh contusion, which is interesting considering many are calling this hit knee on knee. The question is, was it a hit Hall had to make? He clearly had Clutterbuck in his sights, but it appeared as though he led with his hip rather than his knee.
As is often the case with these types of plays, it's a split second decision, and while Hall himself admits it may have been a little late, he was going for the puck and it took a weird bounce. He was committed to the hit. Did he have to finish that hit, at that particular point of the game? Was Hall frustrated with the his team, with the state of the game? Reporters decided to question Hall on the matter. Not surprisingly, Hall was a little defensive about the play.
Players are taught to finish their checks. Because the play was deemed to be illegal, it will have many questioning the necessity for making it. Taylor Hall has shown a willingness to play with an edge. His team hasn't been performing well this season. He's one of the few forwards on the Oilers top-six with some size. He might be trying to take the initiative and amp up the physical play. The Oilers are playing a perimeter game and they are in danger of getting a reputation for playing soft. Hall is a power forward and he's beginning to play like one. Despite being a first-time offender, the NHL feels this was a suspendable play. What say you?