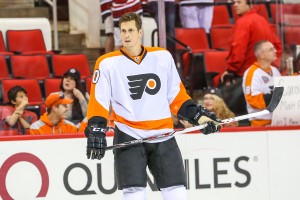 The Philadelphia Flyers have been looking to unload Vincent Lecavalier and the remaining four seasons of his contract since the end of the season. Of late the Arizona Coyotes have been mentioned to be interested in acquiring Vincent Lecavalier. Would this be a good move to make? Let's examine that thought.
Why are the Flyers looking to move him?
After signing Vincent Lecavalier as a free agent only one year ago the Flyers already want to move him out. It is clear that this is a salary cap issue for the Broad Street Bullies. Lecavalier's contract has a $4.5 million cap hit through the 2017-18 NHL season.
Currently the Flyers and newly minted general manager Ron Hextall are working with being over $3 million above the salary cap. Moving Lecavalier would get them under the cap as well as leave them roughly $1.5 million in breathing room to work with through the season.
Aside from the clear salary cap considerations the Flyers also have a logjam at centre ice. The Flyers will have Claude Giroux, Brayden Schenn, Sean Couturier and hot prospect Scott Laughton all potentially vying for playing time next season Lecavalier is expendable. As well R.J. Umberger can shift to the centre position when needed.
What the Flyers currently lack are natural left wingers to fill out their roster. Currently their depth on the left side consists of R.J. Umberger, Michael Raffl, Zac Rinaldo and Jay Rosehill. Clearly an improvement is required there to balance the roster.
What do the Flyers want in exchange for Lecavalier?
At this point general manager Ron Hextall appears willing to take less than market value in exchange for Vincent Lecavalier. However in the case of this type of trade Hextall is apparently unwilling to retain any part of Lecavalier's salary.
There is no doubt that the Arizona Coyotes have the cap room to absorb his salary now and moving forward. Currently general manager Don Maloney has over $11 million in cap space to work with. Although it is well known that the Coyotes do have a lower internal budget due to the well documented finances in their case.
However current CEO Anthony LeBlanc has made it known in the past that they would be willing to spend more if the right fit was there.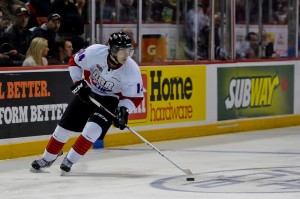 The Flyers currently have a lack of talent and depth within their
centre position
when it comes to their prospects. As of the fall they will have no centre prospects outside of the pro level. Perhaps a combination of current AHL right winger
Philip Lane
and CHL centre
Laurent Dauphin
would be enough to make the trade work without the Flyers retaining any salary.
Both Lane and Dauphin are not likely to amount to anything more than second line players, more likely third line players. However with the Flyers desperate to make a deal and being willing to take less than market value it may be enough value along with the $4.5 million in cap relief to make things work.
Will Vincent Lecavalier come to Arizona?
He currently has a no movement clause in his contract and would need to approve a deal to any team. There has not been mention of any specific teams that he would not go to; however it appears he may have been willing to move to Nashville.
The question remains, will he come to Arizona and be a Coyote? Granted the Coyotes are in a stage of retooling, however with the addition of Vincent Lecavalier he would join Shane Doan, Keith Yandle and Oliver Ekman-Larsson has a solid group.
At this time it is not clear whether or not he would approve a trade to see him land in the desert. There are most definitely worse places to end up in the NHL.
Why should the Coyotes acquire him?
The acquisition of Lecavalier would add to a very thin offense in Arizona. While much has been made of his so called "decline" he still has not scored at less than a 20 goal pace since the 1998-99 NHL season.  That is a 14 year streak of scoring 20 or more goals.
By comparison the Coyotes only had three 20 goal scorers last season in Antoine Vermette, Shane Doan and Radim Vrbata. Only two of those three are returning for next season with the loss of Vrbata to the Vancouver Canucks this off season.
Based on the past three seasons I project the following totals for Vincent Lecavalier: 20 goals and 26 assists for 46 points in 67 games played. Out of the returning Coyotes point totals from last season he would rank fourth behind Shane Doan (47 points), Mikkel Boedker (51 points) and Keith Yandle (53 points).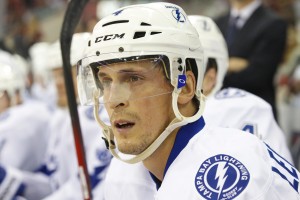 With Mike Ribeiro and his 47 points being bought out due to behavioral issues, Vincent Lecavalier could come in and replace his production while bringing a much better attitude and more character to the dressing room.
This also allows the Coyotes to trot out Lecavalier, Gagner, Vermette and Hanzal as their top four centre ice men. One of those four could also be shifted to the wing in order to have Joe Vitale centre the fourth line. In a tough Western Conference a solid centre ice position is essential in order to compete.
Vincent Lecavalier also plays an underrated defensive game. He blocked over three shots per 60 minutes last season to go along with over four hits per 60 minutes. In general he also has good giveaway to takeaway ratios. Over the past four seasons he has a combined 4.9 takeaways per 60 minutes to 5.2 giveaways. For an offensive player these are respectable totals.
Of more concern is the fact that his goals for percentage at five on five while on ice has dropped consistently from 54.9% in 2010-11 all the way to 42.4% this past season.
Final thoughts
If Vincent Lecavalier would waive his no movement clause to come to the Arizona Coyotes I believe that deal should be made. Of course the optics on a $4.5 million cap hit until he is 38 years old does not seem like a good way to build a team.
However if you project the salary cap moving up by roughly four percent each season it would be projected at over $77.5 million by the time Lecavalier's contract was up. Without a doubt the Coyotes are not likely to be a cap team by that point but his cap hit would not hinder any future spending in terms of the salary cap.
By the time the final two contract years come around the actual salary drops to $3 million with only a signing bonus of $500,000 in the second last year. During this time the veteran leader with a Stanley Cup ring would also be able to help bring Henrik Samuelsson and Max Domi along as professionals.
Overall this is a manageable contract for the Coyotes and a move that could improve their team now and in the future.