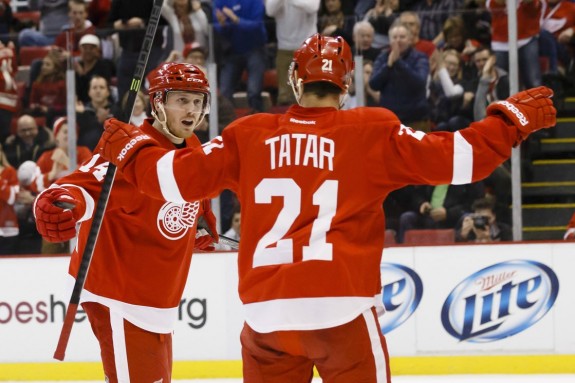 If you've been following the Detroit Red Wings at all this summer, you'll know it's been a less than stellar offseason. The free agents they missed on and the players they re-signed have been discussed and debated ad nauseam for the past month.
So are the Red Wings doomed to repeat last year's eighth-place finish in the Eastern Conference? I don't think so.
First, let's move past the underachieving offseason and focus on the opening day lineup for the Red Wings in 2014-15.
Assuming Tomas Tatar and Danny DeKeyser, who are restricted free agents, get re-signed before training camp starts and Daniel Alfredsson decides to play one more season, the Red Wings will have 15 forwards on their roster and seven defenseman.
The only changes from last year's roster to this year's roster are the subtraction of Mikael Samuelsson, Todd Bertuzzi, Cory Emmerton and Jordin Tootoo and the additions of Riley Sheahan, Tomas Jurco, Gustav Nyquist and Luke Glendening. The defense remains exactly the same.
If Alfredsson does re-sign, that means Jurco in all likelihood will start the season in Grand Rapids since he is the only player who is waiver exempt.
Last year's opening day lineup looked like this, according to MLive.com's Ansar Khan.
First Line: Henrik Zetterberg-Pavel Datsyuk-Justin Abdelkader
Second Line: Johan Franzen-Stephen Weiss-Daniel Alfredsson
Third Line: Daniel Cleary-Joakim Andersson-Todd Bertuzzi
Fourth Line: Drew Miller-Cory Emmerton-Mikael Samuelsson
Scratches: Tomas Tatar Injured reserve: Jordin Tootoo and Darren Helm
First D Pair: Niklas Kronwall-Jonathan Ericsson
Second D Pair: Danny DeKeyser-Jakub Kindl
Third D Pair: Kyle Quincey-Brendan Smith
Scratches: Brian Lashoff
Here's what I predict the opening day lineup will be for the start of the 2014-15 season.
First Line: Henrik Zetterberg-Pavel Datsyuk-Gustav Nyquist
Second Line: Johan Franzen-Stephen Weiss-Tomas Tatar
Third Line: Daniel Alfredsson-Darren Helm-Justin Abdelkader
Fourth Line:  Drew Miller-Riley Sheahan-Daniel Cleary
Scratches: Luke Glendening, Joakim Andersson
First D Pair: Niklas Kronwall-Jonathan Ericsson
Second D Pair: Danny DeKeyser-Brendan Smith
Third D Pair: Kyle Quincey-Jakub Kindl
Scratches: Brian Lashoff
It's not a big shakeup from last year, but there are some noticeable differences. Mostly, Nyquist, Tatar and Sheahan are in the starting lineup, as opposed to last year when Tatar was a healthy scratch and the other two were in Grand Rapids. Glendening started last year in Grand Rapids, and Andersson will have to work his way back into the starting lineup.
By the looks of the predicted lineup and how the Red Wings finished last season, it would be easy to see why one might think they could be fighting for a playoff spot once again come March and April.
However, the Red Wings were near the top of the Atlantic Division for the first two months of the season before injuries started to derail the team.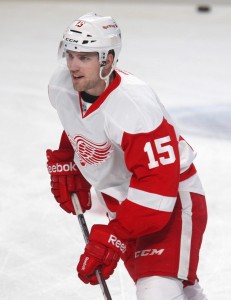 After all games played on December 3, 2013, Detroit was tied for second place with Montreal with 35 points just behind Boston's 38 points. It was from this point on the Red Wings slowly slid down the standings until finishing the regular season fourth in the Atlantic Division and eighth in the conference.
The Red Wings even had three more goals scored (78 to 75) than the Bruins on Dec. 3, but had also given up 73 to Boston's 55.
They had a solid team and were winning half of their games, but injuries kept the team from remaining competitive in the Eastern Conference.
With that being said, it wouldn't be unheard of if the Red Wings find themselves in a similar spot to start the 2014-15 season. I don't believe they will be competing for the top spot in the Atlantic Division, but if they can remain healthy, they can be fighting for second or third place in the division with Montreal, Tampa Bay or Toronto.
And if they can hold that second or third spot in the division at the end of the season, it will give them an easier first-round matchup come playoff time.
The lack of change on defense is a bit worrisome, but Smith is not the same player he was at the start of last season, and hopefully, Kindl can take a step forward instead of a step back like he did last year. DeKeyser got some extra playing time at the World Championships, and I think he'll continue to get better and better.
This team is slightly better than last year's team, but there is also a lot of youth and inexperience. There will be growing pains, but I expect the Red Wings to be competitive with the rest of their division if they can manage to avoid injuries.