The Nashville Predators have entered the sweepstakes for the services of Kevin Hayes, and are apparently one of the front runners.
FWIW, talked to somebody close to Kevin Hayes and sounds like not much of a chance he signs w/CHI. Avs and Preds appear to be lead suitors

— Joe Haggerty (@HackswithHaggs) July 22, 2014
The 2014 Hobey Baker Memorial Award finalist is awaiting a contract from the Chicago Blackhawks, who drafted Hayes 24th overall in the 2010 NHL Entry Draft. Under the current CBA, the 22-year old will become a free agent on August 16 if Chicago fails to sign Hayes to the required two-year entry level contract by August 15 at 11:59 p.m. (EST).
Hayes did not attend Chicago's development camp this year for the first time since 2010.
Chicago does not have the cap space to give Hayes $925,00o, due to the mega-contracts given to Patrick Kane and Jonathan Toews, nor would he have the opportunity to play in the NHL right away. Other teams throughout the league can provide both.
As it stands, many believe Hayes will hit the market.
What Does Hayes Bring To The Table?
Last season, Hayes played for Boston College scoring  67 points (28 goals, 39 assists) in 39 games, finishing second in the nation in scoring to teammate Johnny Gaudreau. The native of Boston, Massachusetts possesses a natural scoring touch that developed later than most. During the 2012-13 year, Hayes amassed just 6 goals, 19 assists in 27 games. That type of upside has a lot of NHL general managers licking their chops.
Hayes also has a big frame at 6-foot-3, 205-pounds and can play both right wing and center.
While Hayes will likely spend a year (possibly less) in the AHL honing his skills at the professional level, he could turn out to be quite a rewarding piece in the future. Justin Schultz of the Edmonton Oilers and Blake Wheeler of the Winnipeg Jets were in the same situation as Hayes and they are now key pieces to their respective teams.
What Does Nashville Bring To Hayes?
There is a bloodline connection between Hayes and the Predators. His cousin Tom Fitzgerald was the first captain in franchise history.
With the current depth the Predators have, there is a remote chance that Hayes makes the NHL team out of training camp this season. Does that deter Hayes away? Surprisingly not. So then what is driving him to potentially play in Tennessee's capital?
Even if Hayes does not make the team right away, the talent surrounding him in the next 2 to 3 years will be outstanding. By that time, defensemen Roman Josi and Seth Jones will be at their prime, while superstars Shea Weber and Pekka Rinne will still don the gold and navy. At forward, Calle Jarnkrok, Filip Forsberg, Colton Sissons and Kevin Fiala could emerge as key contributors to the offense nightly. Nashville's supporting cast for Hayes will be there, and that may appeal to him.
Predators' head coach Peter Laviolette already has experience coaching Hayes at the 2014 IIHF World Championships for Team USA. Not only has Hayes had a feel for Laviolette, but he also played alongside Craig Smith and Jones in the tournament. In 8 games, Hayes scored 2 points (1 g, 1 a) and averaged 10:26 of ice time per game.
The Competition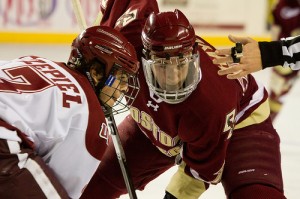 Although it is great to look at the fit between Hayes and the Predators, you have to also look at the reality of the situation. There are several other teams looking to sign Hayes, as well, and other team appear to make more sense than what the report suggests above.
Florida has brother Jimmy Hayes on their roster. The New York Rangers have holes in the bottom-6 of their lineup that Hayes could fill immediately. He could play in his hometown of Boston. While Fitzgerald does have ties to the Predators, he is currently the assistant GM in Pittsburgh. Colorado has a great forward unit in place for the future that he could assist in.
There is heavy competition for Hayes and he will have the ultimate decision. It will not be about contract terms or money, but rather his own personal reasons, which makes this a compelling saga.