Vlasic Channels Inner Scott Parker
You've heard it once, you've probably heard it 100 times, the San Jose Sharks are weak and don't stick up for each other. You can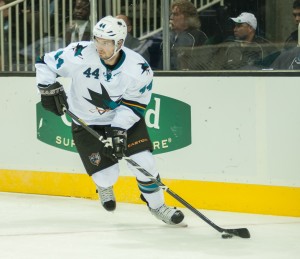 take liberties with them and there will be no repercussions. That has been the reputation of Team Teal ever since this hit by then Oiler Raffi Torres on Milan Michalek. That was back in the 2006 playoffs. Nearly nine years ago. Yet certain fans, including some of San Jose's own, but mostly fans around the league, still like to attach this negative stigma on the Sharks.
While the Sharks currently employ John Scott, you don't need a goon to send a message. In Saturday's 5-3 third period comeback win over the Dallas Stars, Marc-Edouard Vlasic went immediately after Antoine Roussel for roughing up goaltender Alex Stalock. A major scrum ensued with everybody involved. Vlasic can be seen trying to fight off the linesman like he's a steaming hot goon channeling his inner Scott Parker. This is one of best defensemen in the league (who never fights) rightfully losing his mind trying to get after Rousell.
This scrum isn't something unusual when the Sharks are victim of a cheap shot. They went right after Max Lapierre for last season's hit from behind on Dan Boyle. Immediately upon seeing Boyle down and out in the corner, Andrew Desjardins makes a straight beeline for Lapierre.
There was also Tommy Wingels, another valuable player for more than just fighting, who asked Dustin Brown to fight in the first game after the Tomas Hertl injury. And let's not forget a few years back Joe Thornton coming to Michalek's aid after Steve Ott took a run and jumped into a high hit along the boards.
There was also Dan Boyle and Marcel Goc each punching Corey Perry after Perry did what Perry does and cross-checked goaltender Evgeni Nabokov after the whistle. The Sharks over the years punish the opponent with rough justice just like any other team. This reputation for being soft, lacking toughness, and not sticking up for one another is completely wrong. People say the Sharks are weak and that Thornton is a terrible leader. It's ridiculous nonsense. The Sharks defend their own on a regular basis like a momma bear protecting her cubs. Yet people want to dismiss them for being soft because it's the easy thing to do for a team that annually struggles to get deep in the playoffs.
Andrew has been credentialed to cover the Sharks since 2010 and the 49ers since 2012. He graduated with his BA in Broadcast Electronic Communication Arts in 2013 from San Francisco State University.