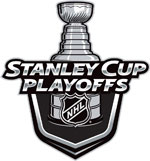 I want to start out with a thank you to Logan Couture and Patrick Marleau, for making me look like a hockey guru on Sunday night. The Duo combined for five points leading the Sharks to a landslide 5-2 victory over the listless Vancouver Canucks (after I said Marleau and his playoff experience would need to ignite the young Logan Couture. As guru as I may have been in that piece, I called the HP pavilion a "Southern California rink" (it is actually in the bay area), and Raffi Torres the game one overtime winning goal scorer (fun fact: game one didn't go into overtime). Readers-1, Byron 0.5.
The Canucks seemed all but ready to pack up after Corey Schneider gave up three goals in just over two minutes in the third period haplessly forgetting there is still a game four. Kevin Bieksa, however, didn't forget.
He called out the Sharks Logan Couture and Joe Thronton for embellishment of several calls, helping San Jose gain a significant advantage with a white-hot powerplay. Now forget for a minute that the Canucks have been outscored 11-5 in the series. Maybe Bieksa has a point; his team has 21 minor penalties while the Sharks have been called for just ten.  Bieksa acknowledged that the Canucks have been undisciplined but the Sharks are making it easy for the refs to call marginal penalties.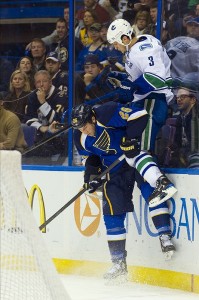 This is part of the gamesmanship that goes along with the Stanley Cup playoffs. Team A goes ahead by a large margin; Team B complains about penalties or cheating; refs make an adjustment and Team B wins one game before the better team, Team A wins the series.
Bieksa is a veteran of the Stanley Cup playoffs and he knows his team is behind the eight ball. It's a last ditch effort from a team leader who has one point in three games, is a minus two and is responsible for six of his team's 42 penalty minutes.
The most ridiculous of all is that he called out his fellow countrymen out for being uncanadian in the way they play the game. I'm sure that's one thing Jumbo Joe and Couture have never been called in their lives. Thronton has been called just about everything else from a faceoff cheater to a washed up playmaker who can't get in done in big games, but never for compromising the integrity of the game. Couture may embellish, but he is certainly no worse than any player on the Vancouver roster (just ask the Boston Bruins from the 2011 Stanley Cup Final).
The penalty margin is always of much dismay in the NHL playoffs because players and teams are constantly under the microscope. Every powerplay is twice as critical, every slash or penalty three times as televised and replayed. Playing against the same team for at least four games and maybe seven on the most crucial of stages makes their tendencies all but second nature. Especially if you add in all the regular season games, pre-series scouting and film sessions.
Familiarity breeds contempt as the saying goes in regular society but it's more like resentment in the Stanley Cup playoffs. Resentment in this case comes from Kevin Bieksa who probably wishes his team was winning the series three nothing and he didn't have to answer the barrage of questions about Roberto Luongo and his team's inability to score (even with five goals in three games).
(Anyone with a weak stomach for cheesy puns should stop reading here).
Bieksa is taking one last gasp to reverse a wave of momentum that is swallowing the Canucks in this series. The usual swift swimming whales are sinking fast and maybe the only flotation device they could grab onto was the penalty deferential in the series. The Bieksa quote could also be the final 'harpoon' in the coffin on the Canucks for the 2013 playoffs.
I recently graduated from a Post- graduate Sports Journalism program at Loyalist College. I also have a bachelor's degree in English Language and Literature from Brock University. I love everything about sports and all sports, but hockey was my first passion. Hoping to find a career, writing, talking, researching, reporting and or analyzing any sport, anywhere in the world. One small step at a time.