As the 2013 NHL entry draft gets underway, the Washington Capitals are at a point where they look to add some pieces to become a formidable contender heading into the 2013-2014 season. Unlike the 2004 NHL entry draft, General Manager George McPhee isn't in a rebuilding face. Washington should look to draft a balanced center for years to come. The Hockey Writers takes a look back at the 2004 draft class by the Capitals, showing which picks were a success and which picks didn't pan out. It was one of the best drafts in team history for Washington; including three first rounds pick who are still on Washington's roster.
First Round
Washington's three first round picks have made an enormous impact as a collective group to the Capitals up to this point. First overall pick Alex Ovechkin looks to be a Capital per life and has compiled 735 points (371 goals and 364 assists) in 601 games. The "Great Eight" is signed until 2021 as owner Ted Leonis has put big faith in their Captain. After an average 2011-2012 campaign, Ovechkin had a great year in a shortened 2012-2013 season, totaling 56 points in 48 games along with two points in Washington's first round playoff series loss to the New York Rangers.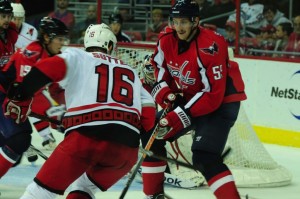 With the 27th and 29th overall picks in the draft, Washington then selected defensemen Jeff Schultz and Mike Green. Schultz appears on the way out after posting 75 points in 399 career games and Green's turned into a top tier offensive defenseman in the NHL. Schultz requested for a trade and could be used as Washington's only compliance buyout, which must be made by July 4th.
Green is signed for two more seasons after signing a three year deal last summer as a restricted free agent. He is now paired with shutdown defenseman and restricted free agent Karl Alzner. He has 277 points since he was drafted and should look to regain a good chunk of his past production next season.
Second-Third Round
After a very strong first round, the players Washington took in the second and third rounds never really amounted to much. Forward Chris Bourque was selected 33rd overall, but has played in a total of 51 career NHL games, with only 13 of them in a Washington Capitals uniform. He signed to play overseas next season after a one year stint playing for his father's (Ray Bourque) old team, the Boston Bruins.
Washington selected Russian forward Mikhail Yunkov 62nd overall in the second round, but he would never play a game in the Washington Capitals organization, spending his whole career in Russia, mostly in the KHL.
McPhee then drafted defenseman Sami Lepisto in the third round with the 66th overall selection. He now plays in the KHL following a short stint with the Chicago Blackhawks in 2011-2012 (26 games) and two years for the Phoenix Coyotes from 2009-2011 where Lepisto compiled 22 points in 117 games. The Finland native played only 14 career games for Washington, where he posted five points.  He had two strong years for the Capitals' AHL affiliate, the Hershey Bears. He was traded for a fifth round draft pick (Caleb Herbert) at the 2010 NHL entry draft.
Washington also selected defenseman Clayton Barthel in the third round, but he never stepped foot in the Capitals organization, or any NHL team for that matter.
Fifth-Sixth Round
The fifth and six rounds were very costly for the Capitals, as the three players they selected have never played an NHL game, for any team. They selected defenseman Oscar Edman from Sweden 132nd overall along with forwards Pasi Salonen and Peter Guggisberg 138th and 166th overall.
Seventh-Ninth Round
After those picks, Washington selected future Hershey Bears' fan favorite Andrew Gordon in the seventh round with the 197th overall selection. Gordon, recently a player for the Vancouver Canucks, has played in 55 career NHL games, posting three goals and four assists. He totaled two points in 12 games for Washington, but will be remembered for his time in the AHL with the Capitals. Gordon recorded 45, 71 and 57 point seasons from 2008-2011 for the Hershey Bears, helping them hoist back to back Calder Cup championships during his time in Chocolatetown.
The Capitals selected goalie Justin Mrazek (zero NHL games)out of the SJHL in the eighth round followed by Travis Morin in the ninth round with the 263rd overall selection. He played in the WCHA for Minnesota State University. He played in three games for the Dallas Stars after leaving the Capitals organization and recorded 44 points in 59 games for the Dallas Stars last season.
Stay tuned at The Hockey Writers for past Capitals draft reviews and a recap of Washington's selections from this entry draft.
You can follow Matthew on twitter @m_speck and email him at mspeck21@yahoo.com with any questions or comments.
Matthew Speck covers the Washington Capitals organization for The Hockey Writers. He provides coverage of both Washington at the NHL level and prospect related content. Matthew also covers local sports for the Lebanon Daily News in Central Pennsylvania. You can email him at mspeck21@yahoo.com with any questions or comments.