Buyouts are swelling the ranks of a barren 2013 NHL free agent class, as teams have begun trimming their fat to free up salary and roster space and comply with a shrinking salary cap.  According to the league's new compliance buyout provision, each team will be able to buyout two contracts from their pre-CBA roster without the normal cap hit penalties.  Although several teams petitioned to use their buyouts mid-season, sending perennial worst-contract-in-the-league contenders Scott Gomez and Wade Redden into unrestricted free agency, the "real" start of buyout season on June 26th has brought far more interesting and impactful names to the fore.
While Nashville likely won't eat any of its own contracts, another team's trash could very well become the Predator's treasure, with the stigma of a buyout keeping the cost of recently-released players to a reasonable level.
Vincent Lecavalier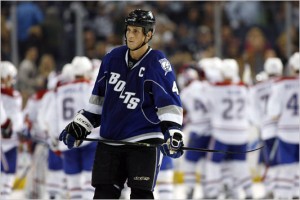 Position: Center
Formerly of: Tampa Bay Lightning
Last Cap Hit: $7.727 million
After Lightning GM Steve Yzerman announcing the buyout of his captain on Thursday, the former 40 goal scorer instantly became one of the most-discussed free agents on the market.  Unlike the others on this list, Lecavalier's departure was primarily due to term and dollars instead of his raw stats.  He's still good for about 60 points per season while adding leadership qualities to the locker room, and even outscored Steven Stamkos when the Lightning reached the Eastern Conference Finals in 2011, posting 19 points in 18 games.  That production, while valuable on the open market, is still a far cry from the 40 goal, 90 point, one-season-removed Rocket Richard winner he was when he signed his contract extension however, and the Lightning just couldn't afford to pay him 7.727 million through 2020.  Lecavalier has also had his share of injury trouble, starting with a concussion suffered at the hands of the perpetually-nefarious Matt Cooke back in 2008, and hasn't played a full 82 games since 2010.
Concussions, broken bones and all, the 33 year old would still be an excellent pickup for Nashville on a 3-4 year contract at around 15-20 million, and his mentorship of Sasha Barkov or Jonathan Drouin on a rebuilding Predators team would be worth it by itself.  Unfortunately for Nashville, there are at least 10 other organizations with similar ambitions, and most of them have more advantageous monetary or talent situations than the asset-poor Predators.  While Poille should and probably will kick the tires on the former Lightning Captain, the response from Vinny's camp will likely be "thanks but no thanks."
Daniel Briere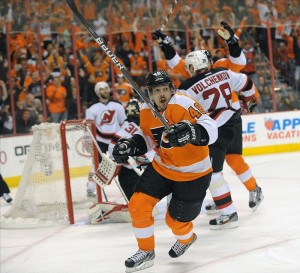 Position: C/W
Formerly of: Philadelphia Flyers
Last Cap Hit: $6.500 million
While the diminutive center's playoff numbers are staggering, his injury history and 6.25 million dollar cap-hit proved too much for Paul Holmgren and the Flyers to carry into the 2013 season.  After a strong 10-11 campaign where he, Ville Leino and Scott Hartnell were Philadelphia's most consistent line, Briere's output sunk to 49 points in 70 games the following season, and down again to 16 points in 32 games in the lockout shortened year.  Not only was the 33 year old veteran ineffective offensively, he was an utter liability in his own end, on the ice for the third-most goals amongst Flyers forwards despite being one of Philadelphia's least relied on defensive players.  He's also suffered a concussion in each of the past two seasons, and that the Flyers turned around and pumped 4.25 million of their cap savings into a 35 year old Mark Streit should also throw up red flags about Briere's longevity.
For Nashville, it depends how much they can shore up their defensive depth, and what their plans for Craig Smith are.  If Barry Trotz wants to continue developing the University of Wisconsin pivot behind David Legwand and Mike Fisher, Briere shouldn't even get a phone call from the organization.  If the Predators are ready to move on after a stagnant season from the 24 year old, Briere could step in as a third line center and power play specialist with leadership qualities while Smith is shipped to bolster a weak bottom four behind Shea Weber and Roman Josi.  There's also the complication of Briere's children, and he might opt to stay geographically close to Philly for custody purposes, the result of his 2010 divorce.
Rotislav Olesz
Position: LW
Formerly of: Chicago Blackhawks
Last Cap Hit: $3.125 million
Starting his career with the Panthers, the former 7th overall pick ended up Chicago in a swap of terrible cap hits involving Brian Campbell.  While Soupy turned into Florida's #1 defenseman and all-around minute eater, Olesz was banished to waivers and the AHL as the salary cap decimated the rest of the Hawk's 2010 Stanley Cup winning squad.  His minor league numbers are fine, with the Czech Republic representative scoring 60 points in 64 games, but his abilities at the NHL level are limited.  Olesz lacks hockey IQ, and his one-way offensive game and nonexistent defensive acumen is analogous to other busts like Wojtek Wolski and Nick Bergfors.  His scoring wasn't even that notable when he was able to stick in the league, topping out at 30 points all the way back in 2007.
On a tryout contract, Olesz might have some value, and his intellectual limitations could be mitigated with effort if he's hungry to prove himself at the NHL level after two years out of the league, but the likelihood of this actually coming to fruition is small.  Considering how the Predators cycled through a revolving door of tryout contracts and waiver pickups this past season, it wouldn't be surprising to see Olesz in Nashville for an evaluation period, and even less surprising to see him on waivers when it's done.
Steve Montador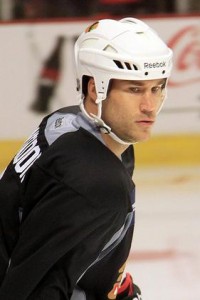 Position: RD
Formerly of: Chicago Blackhawks
Last Cap Hit: $2.750 million
The second and final Blackhawk compliance buyout, Montador was a well-traveled 4/5 defenseman in his prime.  Unfortunately, post-concussion syndrome has put all that in the past, and the former Panther, Duck, Bruin and Sabre, hasn't played a game since a concussion in late March of 2012.  Renowned for his ability to take a punch as much as his actual play, Montador's history of head injuries will be an ever-present concern as he struggles to return to the bigs.
Unfortunately for the 33 year old defenseman, the Predators have enough bottom pairing types already, and Steve just isn't good enough to carry a second pairing defensively.  If John Blum and Ryan Ellis find themselves in new homes for next season however, Montador could step in as a decent veteran stopgap alongside Victor Bartley, and his handedness and coach-ability should keep the seasoned veteran in the league for a few seasons more, provided the headaches are behind him.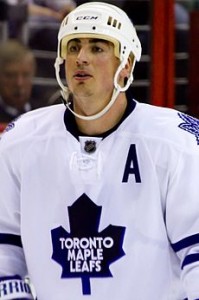 Tomas Kaberle
Position: D
Former Team: Montreal
Last Cap Hit: $4.250 million
Remember when Kaberle was a premier puck moving defenseman and power play quarterback?  When the Flyers were ponying up Jeff Carter and a first round pick to add him to the fold, only for Kaberle to stick to his no-trade clause and shoot the deal down?  When Leafs fans everywhere were throwing his name into every Norris and "top ten defensemen" discussion on the internet?
Oh how the mighty have fallen.  After multiple seasons on the trade block, Kaberle finally wore out his welcome in Toronto and was traded to the Bruins for a glut of futures at the 2011 deadline.  In Boston  however, he was hardly the transition wizard he was billed as, and by the end of the playoffs, Kaberle was barely seeing the ice, especially at even strength.  That summer, the Hurricanes gambled that a change of scenery would bring back the Toronto version of Kaberle and signed him to a 3 year, 4.25 million dollar deal.  The contract worked so well Kaberle's scenery changed again in the deal's first year, getting shipped to the Canadiens for Jaroslav Spacek's expiring contract.  Back in Canada, Kaberle remained ineffective for both of his seasons with the Habs, and as a result, is back on the market again with the Canadiens exercising one of their compliance buyouts on his last year with the team.
Nashville has no reason to become Kaberle's fifth team in four years.  Despite their struggles, Blum and Ellis are superior players right now and the gap will only widen with any form of development from the young blueliners.  The Czech defenseman's defensive game has deteriorated to the AHL level, and his offensive contributions have dwindled as well.  Any team that signs him expecting anything more than a shell-of-his-former-self #6 defenseman, will be profoundly disappointed.  Even calling Kaberle an NHL defenseman might be a stretch.
Ilya Bryzgalov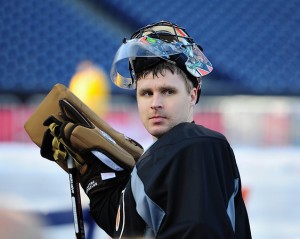 Position: G
Former Team: Philadelphia Flyers
Last Cap Hit: 5.667 million
The Flyers have had enough of Bryzgalov and his "humongous big" contract, buying out the goaltender they lured out of Phoenix after just two seasons between the Wells Fargo Center's pipes.  The .921 save percentage he left in the Arizona desert seems a universe away at this point, with the 33 year old netminder posting .909 and .900 save percentages in two seasons under Peter Laviolette.  His playoff numbers are even worse, having to DeLorean back to 2007 and the Stanley Cup winning Ducks team to find the last time Bryz posted a .910 or better save percentage in the postseason.
Even if they hadn't extended Pekka Rinne at a premium for the next century, the Predators front office should have nothing to do with Bryz, a goaltender whose success has come exclusively in out-and-out defensive systems and who lacks the mental toughness to truly succeed in the league.  If there's a poster-boy for goaltending weirdness, it's Bryzgalov, and the Predators need instability like they need to go through losing Ryan Suter again.
Will Eldredge covers the Nashville Predators for the Hockey Writers. Previously, he's studied the Sabres for Buffalo Sports Daily and SabresFans.com, and his nuanced take on Nashville was honed in by four years at Skidmore College and even longer discussing the sport on HF Boards. Will has plans of someday working in an NHL front office.