The preliminary round of the World Junior Hockey Championship gets underway on December 26th, with four different match-ups set. While Andre Burakovsky is back in Washington with the Capitals, Brian MacLellan will have three of his prospects playing in Canada during the WJHC.
Madison Bowey, Jakub Vrana and Vitek Vanacek will play in the tournament following Christmas Day, representing Canada and the Czech Republic, respectively. Below is a preview of the Washington Capitals' prospects participating in the tournament.
Madison Bowey, Defenseman, Canada
Still yet to turn 20 until April, Bowey is Washington's best defensive prospect in their system. He was drafted 53rd overall in the 2013 draft by George McPhee and the Capitals' brass and is in his second season as Captain for the Kelowna Rockets. He amassed 72 points in 60 games in the WHL last season and netted 21 goals in a team record for goals scored by a Kelowna defenseman.
He's a dynamic playmaker on the blue line and has the ability to bring the puck up the ice on the rush along with quarterbacking the power play. Bowey brings an attractive right-handed shot and could be in play to make the Capitals out of training camp in the 2015-16 season. Mike Green could be with another club this time next year and Bowey could slide in on Washington's third defensive pairing, give the Capitals cap relief to use at the forward position.
Defensive play is an aspect every young defenseman aims to improve on and it is crucial at the NHL level. Players are faster, quicker and stronger at that level compared to the CHL or the AHL. He joins a host of potential NHL players on Canada's blue line and could play with Flyers' prospect Sam Morin for the bulk of the tournament for a top WJHC contender.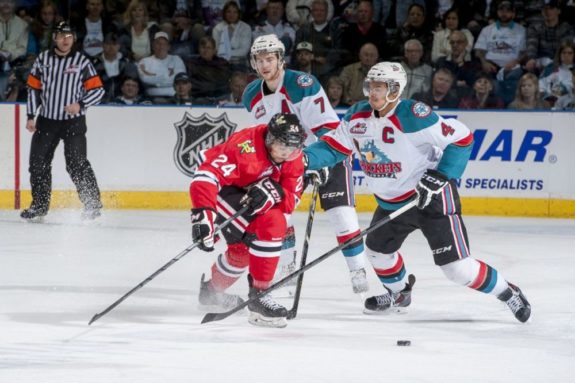 "Madison Bowey is an intriguing defence prospect with the potential to be an impact player for the Capitals within the next few NHL seasons. He's still somewhat under-the-radar as a late second-round pick in the 2013 draft, but Bowey has surpassed several of the blue-liners selected ahead of him in both statistics and accomplishments, doubling his production from 30 to 60 points last season.Why he fell to 53rd overall when he was rated substantially higher remains a mystery, but he has the size, skating ability and offensive instincts to be successful at the next level. Bowey's detractors question his decision-making and defensive awareness, but he's improved by leaps and bounds in both departments and will always be an aggressive type that isn't afraid to take risks at either end of the ice.
That's what makes him special. Picture a poor man's P.K. Subban, even if he prefers to pattern his game after Drew Doughty. Either way, he projects as a high-end talent. Bowey could surprise at Washington's training camp this fall, but he'll almost certainly be returning to the Kelowna Rockets for another campaign as captain of the last season's WHL regular-season champions. He's also a strong candidate to play for Canada at the world junior championship, which could serve as a coming-out party with an impressive showing on the international stage." –Larry Fisher, Kelowna Courier
Jakub Vrana, Forward, Czech Republic
Selected 13th overall in the draft this summer, Vrana is one of Washington's top forward prospects. While just 18 years old the young forward could still have a huge impact on the Czech Republic's team.
While somewhat undersized, Vrana has worked on gaining strength and is one of the best skaters in Washington's system. He has played alongside former Hershey Bears forwards Jeff Taffe and Jacob Micflikier, who are both first and second in team scoring respectively.
#Caps prospects Jakub Vrana & Vitek Vanecek have been invited to the Czech Republic's selection camp for the 2015 World Junior Championship.

— CapitalsPR (@CapitalsPR) December 4, 2014
"A creative, sneaky forward who was among the best attackers in the NHL draft class of 2014, going No. 13 overall to the Capitals. Vrana has nine goals and 16 points as an 18-year-old on a strong Linköpings squad." –Nate Seager, Yahoo Sports
Vitek Vanacek, Goaltender, Czech Republic
Drafted earlier than most Capitals goalie prospects, Vanacek is just another name to add to Washington's goalie talent in their growing system. He could join the Hershey Bears in his first pro season in North America for the 2015-16 campaign.
"A prototype future NHL goalie who helped the country win medals at each significant under-18 tournament last season. The Capitals were so happy with Vanecek's showing at their post-NHL draft development camp that they immediately signed him to a three-year contract." –Neate Sager, Yahoo Sports
All three players are intriguing prospects for the Capitals moving forward. Bowey is the most NHL ready, but both Vanacek and Vrana could play integral roles on a Czech Republic squad that is less likely to win the WJHC than Canada.
Matthew Speck covers the Washington Capitals organization for The Hockey Writers. He provides coverage of both Washington at the NHL level and prospect related content. Matthew also covers local sports for the Lebanon Daily News in Central Pennsylvania. You can email him at mspeck21@yahoo.com with any questions or comments.